/ News
MV Agusta partners with Akrapovič exclusively designed exhaust systems
Bikes that look good, and will sound even better.

on Aug 05, 2020
---
MV Agusta motorcycles have just announced its partnership with Akrapovič, the Slovenian brand known for manufacturing performance exhaust systems. The partnership will have Akrapovič producing exclusive designs for the Italian motorcycle brand which would then bring not only good looking bikes dubbed as "Motorcycle Art", but now even better sounding.
Timur Sardarov, MV Agusta's CEO has emphasized the importance of a motorcycle's auditory components to be just as important its visual appearance. A bike's sound should just be as thrilling as it looks.
Sound is part of the MV Agusta experience. It's a key element to its style and we pay a lot of attention to it. Our 3- and 4-cylinder models have quite unique personalities and we've always worked towards matching them with hair-raising sound but this partnership goes well beyond the look and sound. It is really about leading-edge technology, performance, and uncompromising quality.
Akrapovič has had its own titanium foundry since 2009 which gives them even more control over the materials they work with and how they shape it into magnificent exhaust systems that have been used for so many vehicles around the world. Thus, we can expect various components to be present into the new MV Agusta's exhaust systems like titanium, carbon fiber, and other various combinations of metals and alloys. After all, the company's founder, Igor Akrapovič spent so many years as a motorcycle racer who wasn't afraid to get his hands dirty and do the work leaving no bolt unturned in finding the best performance from the bikes he used to race.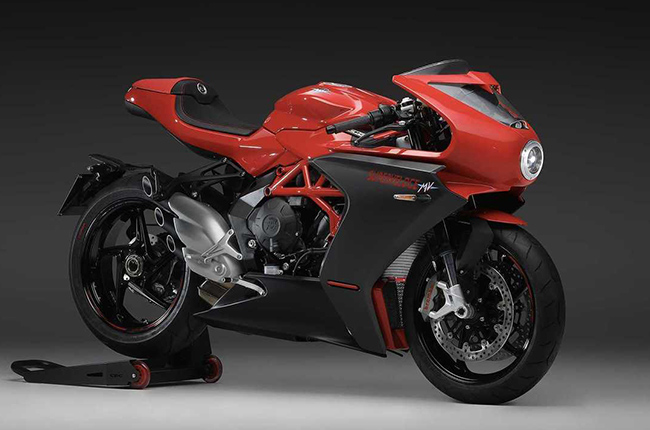 Uroš Rosa, CEO of Akrapovič is now extremely excited with its partnership with MV Agusta, one of considered one of the most iconic brands in the industry sharing a similar ethos and DNA with his company. He added, "Count Domenico Agusta and Igor Akrapovič both came from a racing background and created winning global brands through their passion, making this collaboration a natural fit,". With a strong partnership forged between two formidable brands both with strong racing backgrounds, we're more than excited to see and hear what new machines that would roll out from their factory doors.
---
Related Articles
After being officially launched online a couple of days ago, the MV Agusta Superveloce Alpine was sold out in a matter of hours

MV Agusta has teamed up with French automaker Alpine for a special edition motorcycle.

In celebration of its 75th anniversary, MV Agusta has launched the Superveloce 75 Anniversario, which is now sold out.

MV Agusta to expand its dealership network by entering into a partnership with QJ Motor who will be adding 21 more stores within the next 12 months.

MV Agusta reveals its future plans through its social media channels with new motorcycles in the near future and the possibility of turbocharged engines.
---
Latest News
Harley-Davidson has updated its 2021 model lineup and unveiled it in an online event

Husqvarna has launched the 2021 701 Enduro and Supermoto in the global market.

KTM has unveiled the KTM 890 Duke just one year after launching the 890 Duke R.