/ Featured Article
The dangers of children riding a motorcycle
Motorcycling can be a fun and safe experience, even for your children.
---
With the rise in motorcycle sales year-on-year, we're starting to see that the two-wheeled segment has been enjoying steady double digit growth for quite some time now. It's a market that's ripe with opportunity, and the influx of brands and investment in motorcycle businesses is a good indicator that two-wheeled mobility is here to stay. While motorcyclists transcend gender and social status, there is one thing in common; we all accept the dangers and responsibility that motorcycling entails.
Some of us have families and children to raise, and it's only natural that we want them to enjoy our hobbies, too, creating a time to bond and share interests. I personally know a few motorcyclists who would regularly take their children to school or the mall atop their 1,200cc adventure bikes; it's a fantastic way to introduce them into the world of motorcycling, but we must always understand that we need to inculcate in them the importance of safety and understanding the consequences of bad riding and bad decisions. Children on motorcycles have always been a hot topic, raising a few eyebrows, and a law has even been created to regulate their riding. What kind of dangers can we expect when we ride with our children?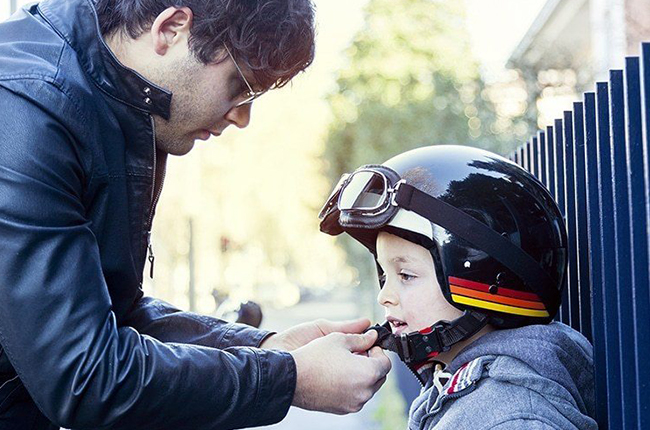 Without talking about legislation, common sense dictates that children are exposed to the same dangers as any motorcyclist. As passengers, they are limited to hanging on and keeping their hands wrapped around the rider of the motorcycle. They are also subject to the helmet law, and must be properly geared up, just like any other motorcyclist. Thankfully, many local shops offer children's sizes for helmets and other gear, so invest in the proper equipment early. Naturally, they should be old enough to listen and understand the instructions and basics as a motorcycles passenger, and the earlier you can expose them to the proper habits, the better they will become as a passenger or future motorcyclist.
One must always ride defensively when a child is riding as a passenger, and other vehicles should take note of the more vulnerable road users. Children are also subject to the same laws of physics and are more vulnerable when an accident happens, and the chance of the child being launched from the bike or being dragged underneath the motorcycle are very high.
Legally speaking, Republic Act 10666 covers similar safety points and applies penalties for violators. Called the "Children's Safety On Motorcycles Act of 2015", the law has been in effect as of May of 2017, and it seeks to ban children unfit to be passengers on a two-wheeled motor vehicle. The main points state that children must never sit in front of the rider, and are not allowed to be a passenger unless he or she can reach the rear passenger pegs and be able to wrap their arms around the rider. This law is applicable to all motorized two-wheeled vehicles operated on public roads such as but not limited to national highways, provincial roads, and municipal and barangay streets. Of course, a motorcycle is only limited to one passenger at a time, regardless of the child's size. Violators can face a fine of P3,000 for the first offense, P5,000 for the second offense, and P10,000 plus one month suspension of driver's license for the third offense. However, the law does not apply to children who are being rushed to a medical emergency atop a motorcycle. The Land Transportation Office (LTO) is responsible for enforcement, and has also deputized members of the PNP, MMDA, and LGUs to catch violators.
While the law has been in effect for two years now, we can still spot motorcycles and scooters with more than one child on the saddle, especially in provincial areas where LGUs are supposedly tasked to keep an eye out. While the state has enacted the law to better protect children, isn't it the primary task of parents to have the best interests of their child in mind in the first place? As always, proper discipline and good riding habits start at home, and our common sense and love for our children should always point us down the right path; and we honestly don't need laws for that.
---
Related Articles
A motorcycle's battery is considered as the heart of its electrical system, as such, taking good care of your battery can dramatically extend its lifespan.

Here are the most popular motorcycle brands based on the number of inquiries in 2022.

Here are the most popular motorcycles, based on inquiries on MotoDeal.com.ph, for December, 2022.

With the start of the new year, spirits are high that we can be better than ever before. Here's what we have set as our New Year's Resolutions for the year ahead.

When it comes to upgrading your motorcycle, you may want to think twice before installing these 3 mods.
---
Latest Features
Want to ride a big bike but don't want to break the bank? These 5 affordable models may be worth considering.

Floating discs or solid discs—which one is better and is it worth upgrading to aftermarket rotors?

Here are 5 Chinese-made motorcycles we're looking forward to seeing in the local market in 2023.