Nico tells us that you won't need a time machine to get classic styling from a bike in the Philippines. The 2019 Honda CB1000R returns after a 2-year hiatus from the Japanese manufacturer to give us this neo-classic sports bike with 4 cylinders, a thousand CCs, and class hidden in its seamless bodywork.
998 CCs, neo-classic styling, and it's a Honda. The CB1000R, the last bike you would expect to see with a round headlight, and boy does it look good. Just seeing this bike in person is not enough to justify the quality on the body work. It's seamless, no edges, just flowing sheet metal with no roughness that lets you hug the bike tightly and comfortably as you're ripping through the road.
It's engine will bring you from a standstill to – well however fast you want to go. Let's just put it that way, it's a beautiful beast. With a round headlight, it gives you the impression that it's a laid back cruiser. Trust us, looks can be deceiving, it's not a cruiser, but it is a sports bike that still remains pliant on Philippine roads.
Nico finds that the suspension strikes a good balance between sporty handling, and long ride comfort. On that note, the seat can give you the confidence to shift your weight and bank a corner because it isn't just the engine that inspires confidence, but the bike as a whole.
As seen in the video, it'll only cost you P865,000 in order to have this Honda. For the price you really might not find anything better. Premium in both looks and performance, Nico would gladly get one for himself, if he had some extra coin. It was a sad day at the office when he had to hand his test unit over to our friends at Moto Bisyo.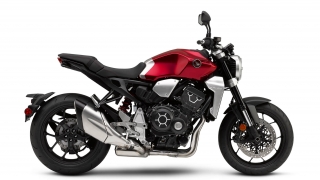 ---
Find out more info or request a brochure by sending an inquiry below.
---
Related Videos
The BMW C400X is the scooter that can take you anywhere in the city, and we go on to tell you that it can do a lot more.

We go On the Saddle of an Italian Retro-inspired motorcycle from Ducati Philippines, and while it has retro styling, its tech is far from what it looks make it out to be.

With the new tax on cars, more are considering motorcycles as the new primary means of transport. The number of attendees in the IR Bike Fest proves just that.
---
Related News
Indonesia's motorcycle sales figures outperform India's which have dropped due to the global pandemic and stricter emissions standards.

Honda Philippines salutes delivery riders as among the country's unsung heroes during the global COVID-19 pandemic.

Honda files a new patent that deploys external airbags with different sizes and pressure depending on the size of the target hazards

Following the successful release of the award-winning designed CBR1000RR-R Fireblade, Honda is rumored to release a middleweight CBR650RR-R

The Honda CB-F Concept is based on the Neo-sports Cafe CB1000R but made to look more 80's Classic Superbike.
---
Latest Video
What's with the 2019 Yamaha NMAX 155? Is it comfortable? Is it fuel efficient? Practical? We'll answer all those questions in our review. One of Yamaha's best-selling bikes in the Philippine...

The 2021 Kawasaki Ninja ZX-25R is officially in the Philippines.

The BMW F 900 R is another entry into the middleweight category of motorcycles. Notable in this model for the Philippines is its premium adornments along with its not-so-premium price tag th...