Nico tells us that you won't need a time machine to get classic styling from a bike in the Philippines. The 2019 Honda CB1000R returns after a 2-year hiatus from the Japanese manufacturer to give us this neo-classic sports bike with 4 cylinders, a thousand CCs, and class hidden in its seamless bodywork.
998 CCs, neo-classic styling, and it's a Honda. The CB1000R, the last bike you would expect to see with a round headlight, and boy does it look good. Just seeing this bike in person is not enough to justify the quality on the body work. It's seamless, no edges, just flowing sheet metal with no roughness that lets you hug the bike tightly and comfortably as you're ripping through the road.
It's engine will bring you from a standstill to – well however fast you want to go. Let's just put it that way, it's a beautiful beast. With a round headlight, it gives you the impression that it's a laid back cruiser. Trust us, looks can be deceiving, it's not a cruiser, but it is a sports bike that still remains pliant on Philippine roads.
Nico finds that the suspension strikes a good balance between sporty handling, and long ride comfort. On that note, the seat can give you the confidence to shift your weight and bank a corner because it isn't just the engine that inspires confidence, but the bike as a whole.
As seen in the video, it'll only cost you P865,000 in order to have this Honda. For the price you really might not find anything better. Premium in both looks and performance, Nico would gladly get one for himself, if he had some extra coin. It was a sad day at the office when he had to hand his test unit over to our friends at Moto Bisyo.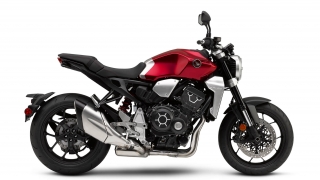 ---
---
Related Videos
The BMW C400X is the scooter that can take you anywhere in the city, and we go on to tell you that it can do a lot more.

We go On the Saddle of an Italian Retro-inspired motorcycle from Ducati Philippines, and while it has retro styling, its tech is far from what it looks make it out to be.

With the new tax on cars, more are considering motorcycles as the new primary means of transport. The number of attendees in the IR Bike Fest proves just that.
---
Related News
Four finalists will win a new motorcycle should they make it.

Typhoon victims received aid and the Philippine Red Cross received life-saving motorcycles as a part of Honda's CSR efforts.

Could the Honda CB500X get more adventurous? What can we expect of the NX 500? We have so many questions.

Patents indicate new footpegs to go along with a new subframe and the same parallel twin engine.

The long-time dealer finally got the nod from Honda Philippines, and now flagship models are on display at its showroom.
---
Latest Video
Aprilia did what we didn't think was possible in the Philippines, they brought in a scooter with the handsome good looks of the RSV4, and with the ease of use of a Vespa. It's no surprise th...

Wait! Before you go for that listing online for a second-hand motorcycle, watch this video. We're going Behind a Desk with Jinno to bring your tips and advice that you will need if you're bu...

The Tiger Sport 660 is Triumph's latest entry into the middleweight Sport Touring segment. Sharing the same motor with the Triumph Trident, it aims to bring the same excitement of their entr...