Nico tells us that you won't need a time machine to get classic styling from a bike in the Philippines. The 2019 Honda CB1000R returns after a 2-year hiatus from the Japanese manufacturer to give us this neo-classic sports bike with 4 cylinders, a thousand CCs, and class hidden in its seamless bodywork.
998 CCs, neo-classic styling, and it's a Honda. The CB1000R, the last bike you would expect to see with a round headlight, and boy does it look good. Just seeing this bike in person is not enough to justify the quality on the body work. It's seamless, no edges, just flowing sheet metal with no roughness that lets you hug the bike tightly and comfortably as you're ripping through the road.
It's engine will bring you from a standstill to – well however fast you want to go. Let's just put it that way, it's a beautiful beast. With a round headlight, it gives you the impression that it's a laid back cruiser. Trust us, looks can be deceiving, it's not a cruiser, but it is a sports bike that still remains pliant on Philippine roads.
Nico finds that the suspension strikes a good balance between sporty handling, and long ride comfort. On that note, the seat can give you the confidence to shift your weight and bank a corner because it isn't just the engine that inspires confidence, but the bike as a whole.
As seen in the video, it'll only cost you P865,000 in order to have this Honda. For the price you really might not find anything better. Premium in both looks and performance, Nico would gladly get one for himself, if he had some extra coin. It was a sad day at the office when he had to hand his test unit over to our friends at Moto Bisyo.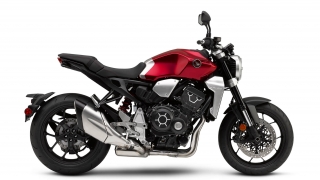 ---
---
Related Videos
The BMW C400X is the scooter that can take you anywhere in the city, and we go on to tell you that it can do a lot more.

We go On the Saddle of an Italian Retro-inspired motorcycle from Ducati Philippines, and while it has retro styling, its tech is far from what it looks make it out to be.

With the new tax on cars, more are considering motorcycles as the new primary means of transport. The number of attendees in the IR Bike Fest proves just that.
---
Related News
Honda has pulled the covers off the 2023 CB1000R and CB1000R Black Edition in Japan.

Honda is reportedly working on a new neo-retro big bike in the form of the GB750, based on the recently launched CB750 Hornet.

Honda has introduced the new CL300 retro-inspired scrambler in the Chinese market.

Only 720 of the CB1300 Super Four and Super Bol d'Or 30th Anniversary Editions will be produced by Honda Japan.

New updates to the Click 125 include a new look, more features, and five colors to choose from.
---
Latest Video
On this episode of Beyond The Ride, we have another e-scooter. This time, it's the Zeeho AE8, a new electric mobility brand that's brought to us by CFMOTO. The new Zeeho's packing a lot unde...

2023's looking like an exciting year for the big bike market, and more specifically, the adventure bike segment. Recent years have seen the growth of the ADV category, and 2023 could very we...

Neo retro isn't all round headlights and cafe racers. The Suzuki Katana, just as its name suggests, is not all about soft and and classical lines. Instead, you have a fire-breathing inline f...