/ News
Limited edition Ténéré 700 Rally Racer announced by Yamaha
The famous Yamaha speed block is back.
---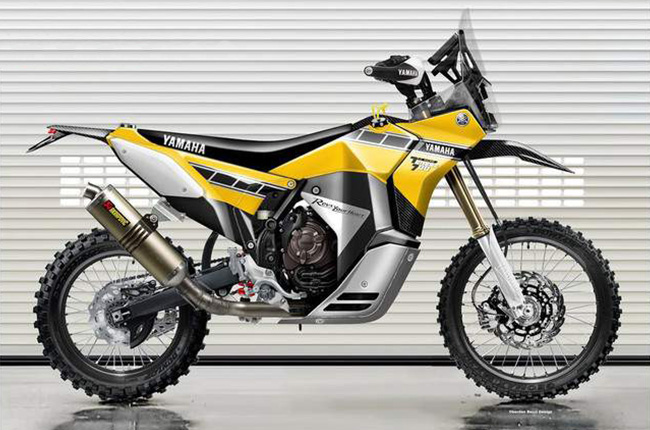 Over a month since Yamaha released information about the Ténéré 700 Rally, a custom motorcycle builder has just announced an even more hardcore version of the motorcycle to be released soon. The new hardcore version of the Red-Dot award-winning motorcycle will be released as a limited-edition vehicle and will have a limited run. This particular edition will be made in collaboration between Oberdan Bezzi and Gessi Motorbike who will be producing the customized versions of the machine.
Oberdan Bezzi and Gessi Motorbike both gave the Ténéré 700 Rally a thorough makeover to achieve the look and performance they're aiming for yet keeping the engine still relatively in its stock form. Its frame and subframe have also been altered coupled with the addition of a higher-spec suspension to allow more levels of travel and adjustability. A new linkage was also added to its swingarm along with more powerful brakes that come with new discs and calipers for a better feel at the lever.
A custom exhaust system is also expected to be used for the new machine with an Akrapovič unit looking to supply its new hardware for an even better sounding exhaust note. The bike will also be gaining more range with the addition of aluminum side-mounted fuel tanks, similar to that being used with the KTM 790 Adventure R. This also effectively lowers the bike's center of gravity improving its handling even with the added wet weight of a full tank.
The new bodywork for the limited edition machine will be made with lightweight materials consisting of carbon fiber or kevlar which can be finished in clear lacquer. It will also come with one of the Yamaha-inspired paint options seen in its renderings. It is also good to see the famous Yamaha yellow 'speedblock' back on a hardcore adventure racer with the Ténéré 700 Rally Racer. When we will get to see the actual build of the bike still remains a question, but if you based it on the renderings alone, fans of the Ténéré 700 Rally are surely in for a treat. As always, we'll be sure to keep our eyes peeled and ears open should any more updates come up.
---
Related Articles
Yoshimura just released its RS-12 slip-on exhaust designed for the 2021 Yamaha Ténéré 700 to give it better performance and louder exhaust note.

In a press gathering with Yamaha's Communications Manager Fabrizio Corsi, he vaguely revealed they were ready to introduce a Yamaha Ténéré 300 should the demand arise.

Yamaha's Ténéré 700 wins Red Dot Design Award, an award they have been getting since 2012.
---
Latest News
All 100 units of the track-only supersport from team orange are all accounted for.

Bajaj has recently announced that it will be launching a subsidiary dedicated to EVs and hybrid vehicles.

Aprilia is expected to revive the Pegaso dual-sport motorcycle in the coming months. The new bike will likely be based on the new 660 platform.