/ News
Öhlins offers a new suspension upgrade for the Ducati Panigale V2
Made to give Panigale V2 owners better lap times.

on May 14, 2020
---
The Ducati Panigale V2 is a race-worthy motorcycle that utilizes technology derived from MotoGP races to give you the best times on the track, and yet, street-legal for quick rides around town. It's a more subdued version of the Panigale V4 S if you consider the 955 cc V-Twin Superquadro engine capable of reaching speeds of up to 272 km/h as "tamed". Still, it's a more than capable track-ready sportbike with a gorgeous Italian design.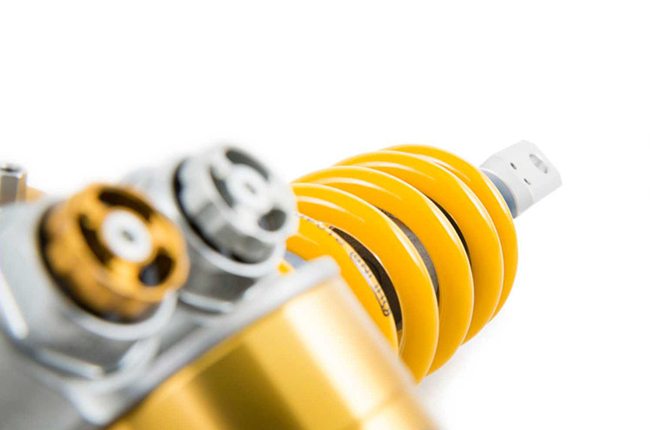 Now, Öhlins, one of the leading brands for suspension systems is offering Panigale V2 owners an option to upgrade their steeds for more performance and even better track times.
The new Öhlins TTX GP offers a precise hand-adjustable compression and rebound settings to give rider-specific preferences for varying track conditions. It features a 36mm solid next-generation piston band which enhances both traction and feedback to the rider. The TTX GP also helps improve weight transfer compared to the V2's stock suspension, giving you a more consistent tire contact patch which enhances control and improves the wear and performance of your tires. It's rare to see technology straight out of a top-tier racing bike made available to the public to make sure your tires are firmly planted on the ground, thereby giving you improved traction and better lap times for more fun on the track. Owners of the Ducati Panigale V2 will surely be more excited to hit the track once they have the new Öhlins TTX GP installed on their motorcycles.
Öhlins is happy to share some tested and engineered products derived from MotoGP racing with over 40 years of experience in producing high-end technological suspension systems.
Upgrading to the TTX GP shock brings the V2 to an entirely new level of agility, performance and rider satisfaction."
---
Find out more info or request a brochure by sending an inquiry below.
---
Related Articles
Ducati introduces two new e-scooters, the "Cross-E" which follows the Scrambler branding, and the "Pro II" that's designed for the city dweller.

Ohlins new STS 36 rear shocks would give the Ninja 400 and 250 improved stability, precision, and safety thanks to its internal temperature compensation system.

Piaggio, Ducati, and other motorcycle brands from Italy are taking measures to restart production and operations as the country braces itself to reopen its economy.

This championship is the highest level of production bike racing in the world.

Get up close and personal with Ducati's latest range of motorcycles and get some serious track time under your belt.
---
Latest News
Yamaha has just announced its collaboration with PUBG Mobile which will allow its players to try out the new Niken leaning three-wheeler on the game.

The 41st Bangkok Motor Show is scheduled to push through this month from July 15 to July 26, 2020, which would also have a virtual show for all the event's highlights.

Honda updates the CBR400R its small-displacement entry-level sportbike made exclusively for Japan.