Motorcycles have always been an extremely attractive transportation option for most Filipinos. Two-wheeled vehicles with displacements ranging from 50cc to 150cc are the norm on our roads, serving the populace with a vehicle that's easy to maintain and even easier to own. That may be a double edged sword for some, but that's for another story. For some businesses, these motorcycles form the backbone to deliver goods and services, especially in tight urban areas. There's no denying the fact that motorcycles are here to stay, and the rate at which these smaller bikes are sold increases with each year, with estimates by the Motorcycle Development Program Participants Association (MDPPA) reaching 2 million by 2020.
There's also growth in much more niche segment, and despite making up less than 10% of motorcycles in the country, the high displacement or big bike category is on a steady rise. In the past few years, we've seen the introduction of manufacturers that we would only dream about in the late 2000s. Brands like Aprilia, Moto Guzzi, Moto Morini, Triumph, Royal Enfield, and Husqvarna, to name a few. We've also seen high end scooters gracing the Philippines, with official backing from Vespa and Lambretta in Italy. Product portfolios of Kawasaki, Suzuki, Honda, and Yamaha have expanded, creating more options for those looking for highway capable motorcycles. It's an industry that has picked up the pace, and the fact that more and more Filipinos are leaning towards these products as not just toys, but alternative modes of transportation to their car, certainly helps make a case that the Philippines has one of the largest motorcycle growth rates in Asia.
And that was definitely what the guys from Germany were saying. Let me go back a few days ago. I was invited, together with a few members of the motorcycle media, by SMC Asia Car Distributors Corp., the guys behind BMW in the Philippines, to a small meeting to talk about the direction and future of BMW Motorrad and its motorcycles and services in the country. The best part was the fact that Dr. Markus Schramm was in attendance, the CEO and president of BMW's Motorrad division, together with Timo Resch, BMW Motorrad head of sales and marketing, and Miguel Llabres-Pohl, regional director for Asia. Gil Balderas, head of BMW Motorrad in the Philippines, and Spencer Yu, president of BMW Philippines, were in tow, no doubt showing and explaining what Metro Manila traffic looked like. In all seriousness, they were here because they knew that the Philippines was ripe for opportunity for a brand like BMW Motorrad, and the short three day visit would be filled with dealer visits and talks about furthering ties with the local distributors and dealer principals. So it was an honor to have an hour to talk and ask a few questions about the future.
The Philippines was one of the countries they were looking forward to visiting the most, with Vietnam next. This was the first time the CEO paid a visit to the Asian region, and Dr. Markus Schramm even said that the future of the BMW Motorrad brand relied heavily on markets like ours. They were also the first to admit that the luxury car segment was dipping slightly, and the opportunity to push for the motorcycle segment that was on a steady rise was also a good side to focus on, combining the same passion and professionalism that the business is known for.
Spencer Yu said that, for a time, the Motorrad side of BMW would usually supplement the cars; it was a side business that generated what money it could. They sold a few hundred motorcycles per year for quite a while when BMW Motorrad finally had a presence in the country in 2003. But the time had come to see it as a separate way to cater to those looking for a way to "make life a ride", as the tagline of BMW Motorrad goes; don't dilute showrooms, let the bikes have their own standalone dealerships and services. If you look at the existing product lineup of BMW Motorrad in the Philippines, they offer six types of two-wheeled vehicles, ranging from sport bikes to scooters, making at least 20 individual types of motorcycles available for purchase. That's the widest portfolio of any premium motorcycle manufacturer in the country, cutting across all types of riders.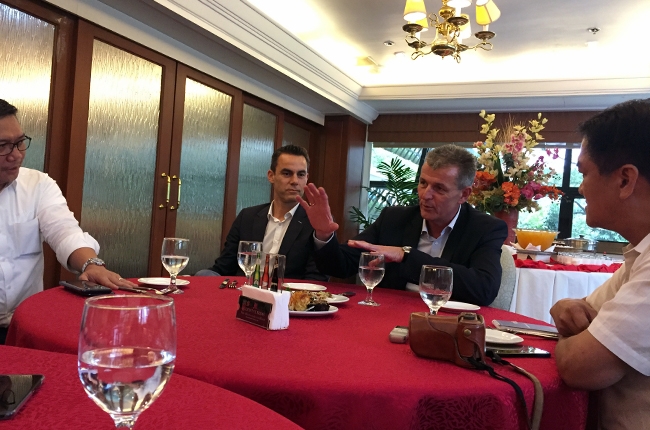 BMW Motorrad in the Philippines has enjoyed up to 70% growth in sales from 2016 to 2017, and the most interesting part is that its top seller, responsible for almost 40% of all BMW motorcycle sales, also happens to be its most expensive model, the R1200 GS. Arguably, those in the market for bikes over a million pesos would rather go big then go home, so the R1200 GS is the epitome of comfort and adventure-touring performance for almost any motorcycle rider. Then you have those looking for that retro-custom feel, and the R nine T from the Heritage lineup serves that purpose. Urban mobility is handled by the C 650 scooters, then you have sport bikes in the form of the S1000RR. Those looking for a naked roadster will find the likes of the F800R and any of the single R models more than up to the task. Then you have full road tourers that will find that the K 1600 GTL is at the top of their lists. The choices are almost endless, making it no wonder why BMW Motorrad is at the top of the premium bike leaderboards.
We also touched on new products coming in by the end of the year from the German manufacturer, and they said that more news will come out in a few weeks time. They've confirmed that the R1250 GS, the updated version of the BMW Motorrad bestseller, will definitely make it to the country by 2nd quarter of 2019. The R1250 GS is one of six world premiers for 2019, with the rest yet to be revealed for our market. A new set of customer care programs will also be launched by next year, taking into account all the learnings from the premium car segment, and injecting them into BMW Motorrad DNA.
While these may be toys to some, and aspirational for most, there's no doubting that motorcycling has grown so much over the past few years that manufacturers have started to take notice. The market for bigger and more expensive motorcycles is on the rise, and BMW Motorrad has shown us that they're aware of the Philippines on a global scale. A BMW Motorrad only dealership will rise in Davao, and will sit on 1,200 square meters of motorcycle-dedicated land. And as we speak, more dealer principals will be making moves to expand the BMW Motorrad brand and lifestyle experience outside of Manila. If that's not an indicator of growth, I don't know what is. So it's an incredibly lucky time for all of us motorcyclists, as we get to ride the wave of a full blown two-wheeled revolution that started just a few years ago. For those still on the fence, now's a better time than any to get on the saddle and ride with us. Maybe pick up a BMW on the way?
---
Related Articles
You don't need to pay an arm and a leg to get a GS that can go anywhere – almost anywhere.

We have the 10 best bikes for the vertically challenged riders from practically every type of motorcycle available in the market.

Why the Bajaj RE could be the modern tricycle replacement.

Moto Guzzi's V85TT aims to be the most versatile middleweight adventure motorcycle you can buy today.

Children are much more vulnerable as passengers on a motorcycle.
---
Latest Features
If you're an avid highway rider in and around Metro Manila, here are some simple guidelines for the optimal RFID tag placement on your motorcycle.

Choosing the right engine oil may not always be as straightforward as many would like.

Towing a motorcycle is no easy feat. Here are a few tips on getting started with motorcycle towing.