There's no denying that Vespas are among the cutest, most instantly recognizable scooters—or even vehicles—out there. This iconic Italian manufacturer makes some of the most stylish vehicles to ever hit the streets. Quite honestly, it isn't surprising as to why Vespa has garnered such global acclaim, with people from all walks of life and all corners of the globe developing a strong affinity for this Italian icon.
Vespa owners are well aware of the many enjoyable quirks that come with their scooters. Here at Motodeal.com.ph, we've had quite a lot of experience with Vespa, with some of our team members being Vespa owners themselves. That being said, let's break down the cultural aspect of Vespa ownership, so we can give those of you who are currently in the market for one of these stylish scooters a glimpse of what you're in store for.
"Ilang cc yan?"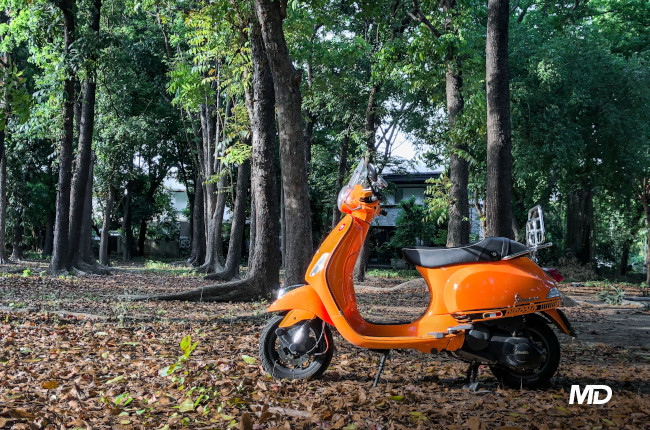 Similar to big bikes, Vespa owners are frequently met with the question, "ma'am/sir, ilang cc yan?" (Ma'am/sir, how many cc does that have?). It's a common occurrence, really. Be it at a stoplight, a gas station, or a commercial establishment, this question is likely to be asked by anyone who takes interest in your Vespa, but isn't exactly well-versed when it comes to the company's model repertoire.
The nice thing about Vespas is that they all mostly look very similar. It's partly what made the brand so iconic—the fact that it has managed to maintain such a signature design language all these years. As such, it doesn't really matter if you're riding the entry-level S 125, or the range-topping GTS 300, a Vespa is a soulful, sophisticated scooter no matter how you skin it.
Going out for a ride for no reason
While Vespas may be stylish and fashionable, this isn't to say that they aren't enjoyable to ride. Out of the box, Vespa's are pleasantly agile and spritely. Their lightweight chassis, responsive engines, and comfortable ergonomics make for quite an engaging ride, and it can be very tempting to just keep riding to your heart's content. The fact that they're so fuel efficient is a strong plus, too.
That said, hopping aboard a Vespa can bring you places far and wide—places you never thought you'd go to just for the sake of it. What's more is that there's a rich aftermarket for these scooters, with industry-leading name brands such as Öhlins, Akrapovič, and Malossi all cranking out performance-oriented accessories for the scooters, making them even more fun and engaging to ride.
Fashion is life
Given how stylish and aesthetic Vespa scooters are, you'd be hard pressed to settle for any old plain-looking riding gear. Vespas are all about freedom of expression and character, all packaged in a charming retro-styled scooter. As such, most Vespa riders choose to look the part by investing in stylish riding gear that doesn't only serve as protection, but a fashion statement, too. Fancy leather gloves, retro-style jackets, and jet helmets are all available in the market in a vast array of colors—all of which can be mixed and matched to suit your style.
Helmets from Bell, jackets from Helstons, boots from Stylmartin, and gloves from REV'IT! are all just examples of the near endless choices you have when it comes to picking out your riding gear. Your Vespa-centric aesthetic needs not end when you park the scooter, either. Vespa-branded paraphernalia is widely available from notebooks, phone cases, t-shirts, watches, and caps, letting you all and truly embrace the Vespa lifestyle.
For the 'Gram
Of course, Vespa's inherent stylish nature and your proclivity to level up your fashion game thanks to your fancy scooter will undoubtedly culminate in your phone's photo gallery being filled to the brim with photos. What better way to share your passion with the world than on social media? Several Vespa-centric Instagram pages are present to give you inspiration for your next OOTD with your scooter.
You may even want to create your own Instagram account featuring the travels of you and your Vespa. This not only allows you to share your adventures, but also opens doors for you to meet and eventually ride with like-minded individuals who share a love for this charming Italian icon.
---
---
Related Articles
Here are three reasons why the Vespa Primavera 150 is the best all-around Vespa, and why it's worth considering for both casual commuters and enthusiasts.

Here are a few tips to decide if you should get a big bike or small bike depending on your lifestyle.

Here are a few reasons why you should consider the Peugeot Django 150 as your next retro-style city commuter.

Here are three reasons why the new Honda ADV 160 is one of the best small-displacement scooters in the market today.

Aprilia's SR GT 200 scooter is quite probably one of the best urban scooters in the market. Here are a few reasons why we think this is the case.
---
Latest Features
Husqvarna has debuted its 2024 model range in the global market, consisting of updates to the TE and FE enduro models.

Both the KTM 790 Duke and Triumph Street Triple RS are extremely popular middleweight naked bikes. Let's take a closer look at the two of these bikes in this comparo.

To waterproof or not to waterproof—that is the question. Read on to see if investing in waterproof riding gear is worth it?