/ Featured Article
3 things that make the Honda ADV 160 the perfect small-displacement all-rounder
With the recently updated ADV 160, Honda makes one of the best commuter scooters even better.

on Nov 06, 2022
---
The words "Adventure" and "Scooter" would never have been used in a sentence a few years ago. Scooters and adventure bikes had extremely distinct needs to satisfy, and as a result, their riders' demographics were also very diverse. These two types of two-wheeled vehicles occupied nearly polar opposite ends of the two-wheeled spectrum. Little did we realize, back in 2017, when Honda unveiled the X-ADV, that everything was about to change. To the dismay of purists, the X-ADV became a huge success and gave rise to the adventure scooter market as we know it today.
That's correct; Honda essentially established the ADV scooter industry. The company has continued to experience amazing success with variations of the X-ADV, including the ADV 350 in international markets and the enormously well-liked ADV 150 in the Asian market. Not long ago, the ADV 150 turned into the ADV 160, and now packs just a little more punch, but with the same style and utility as the ADV 150. All things considered, the new ADV 160 is arguably the best scooter available right now—from a practicality, styling, and performance standpoint. Here are a few justifications.
Class-leading performance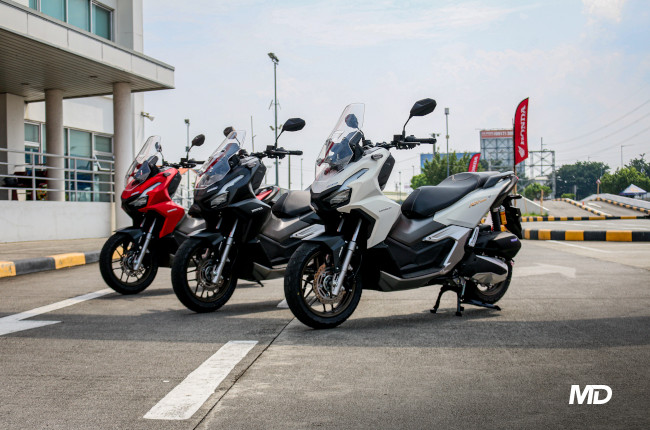 The Honda ADV 160's engine is a performance heir to the well-liked PCX 160 scooter. It comes in the form of a 156cc single-cylinder, four-stroke, liquid-cooled, fuel-injected engine that can produce 15.8 horsepower and 14.7 Nm of torque. This engine is very fuel-efficient due to its Single Overhead Cam (SOHC) layout and has just enough power to provide an exhilarating ride. Providing its efficient and quick power delivery, the ADV 160 sends power to the rear wheel via a standard CVT.
Tried and tested dependability
The ADV 160 is no exception to Honda's reputation for durability and dependability. As previously said, the scooter's 156cc engine is a tried-and-true powerplant that uses technology that is prevalent throughout the whole array of Honda two-wheelers. Additionally, Honda's outstanding dealer service makes sure that you never run out of options for maintaining and repairing your scooter. Last but not least, the ADV 160 has gained enormous aftermarket support due to its immense popularity, allowing you to improve your scooter with the best performance and utility mods now available.
Go pretty much anywhere in comfort and style
The Honda ADV 160 is distinguished by its adventurous nature, as its name implies. This scooter's propensity to travel off the beaten path is evident given its long-travel suspension, dual-sport tires, and adequate ground clearance. Even though it doesn't have the same off-road prowess as motorcycles like the CRF150L, it will put other commuter scooters to shame when the going gets tough. The ADV 160 is one of the best-equipped small-displacement scooters on the market thanks to Honda's addition of reasonable amenities and lots of under-seat storage.
---
---
Related Articles
Here are our top five picks for motorcycles in the middle to heavy-middleweight segment that offers exceptional value.

Here are a couple of reasons why the Honda CB500F should be your first big bike.

Here are a few tips to decide if you should get a big bike or small bike depending on your lifestyle.

Here are a few reasons why you should consider the Peugeot Django 150 as your next retro-style city commuter.

Aprilia's SR GT 200 scooter is quite probably one of the best urban scooters in the market. Here are a few reasons why we think this is the case.
---
Latest Features
With summer well and truly here, it's time to consider what's best to wear when out on summer rides.

Shark's Spartan RS is an entry-level sport-touring motorcycle helmet that's far from entry-level.

Here are a few things you can do to address leaking fork seals. Just make sure never to ignore this potentially dangerous scenario.