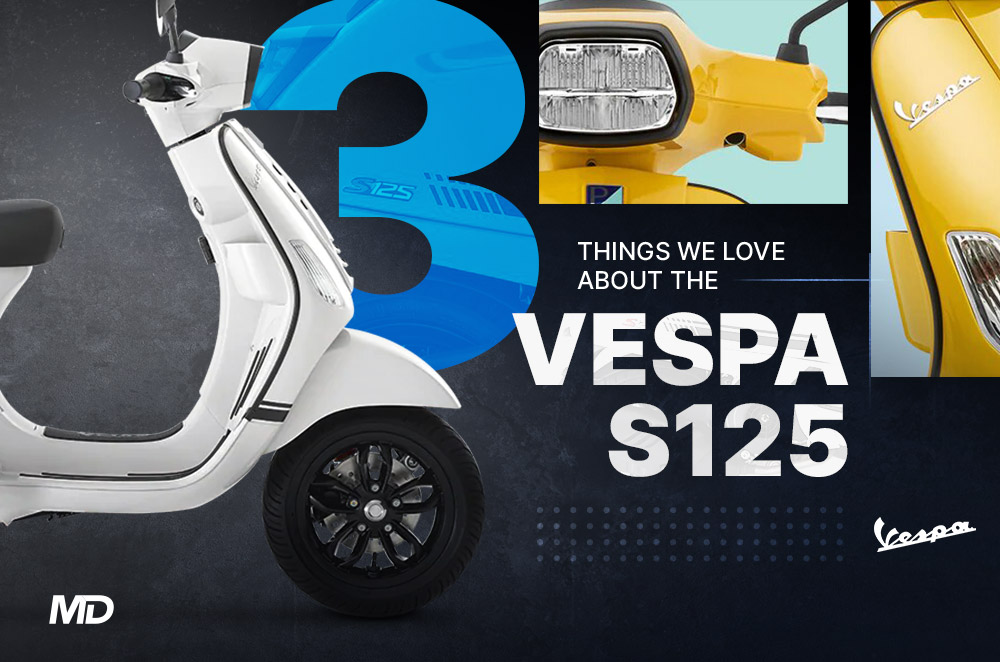 When it comes to scooters, no other manufacturer can hold a candle to Vespa. The most iconic scooter in the entire world surprisingly finds its roots in humble beginnings. Initially designed as simple point A to B scooters, Vespa has transformed into one of the most famed marquees in the motorcycle world.
The Italian icon has captured the hearts and bedazzled enthusiasts all over the world. Today, Vespa has quite an impressive lineup of scooters in its roster. From top of the line, limited edition models, to entry-level scooters, there is definitely a Vespa for you. Today, we talk about what makes Vespa's entry-level offering, the S125, special.
Styling
When you talk about Vespa, there is no denying that style and design are among the things which are on the top of the list. After all, Vespa us are among the most recognizable vehicles in the world. Sporting classic and timeless styling, the designers over at Vespa have done an amazing job in preserving the scooter's overall aesthetic, while creating a modern day evocation of this styling.
Perhaps another thing which makes owning a Vespa even more special, is the sense of brotherhood and camaraderie which exists in the Vespa enthusiast community. Given the bike's iconic styling, a fellow Vespista can be spotted from a mile away. All that being said, owning a Vespa automatically welcomes you into a family of like-minded individuals.
Efficiency
Underneath the Vespa S125's immediately recognizable and iconic styling, lies some pretty impressive tech. It comes equipped with Vespa's I-get 125cc single-cylinder engine. Featuring a three-valve cylinder head and air-cooling, the S125 pumps out a very friendly and approachable 10 horsepower. This lends itself to some pretty impressive fuel efficiency figures. The Vespa S125 registers a stellar 45 to 50 kilometers per liter, making it a very practical and economical scooter, on top of its classic charm and legend status.
Price
As far as pricing is concerned, the Vespa S125 is the most affordable scooter in Vespa's lineup. Priced at just P145,000, the S125 is in the same ballpark as the likes of the Yamaha NMAX, Honda ADV150, and other commuter scooters from Japanese manufacturers. Now, while the Italian Wasp may be down in terms of overall performance, there's no denying that owning a Vespa comes with its own unique charm—something Vespa has always been about.
---
---
Related Articles
Here are three reasons why the Vespa Primavera 150 is the best all-around Vespa, and why it's worth considering for both casual commuters and enthusiasts.

Here are a few tips to decide if you should get a big bike or small bike depending on your lifestyle.

Here are a few reasons why you should consider the Peugeot Django 150 as your next retro-style city commuter.

Here are three reasons why the new Honda ADV 160 is one of the best small-displacement scooters in the market today.

Aprilia's SR GT 200 scooter is quite probably one of the best urban scooters in the market. Here are a few reasons why we think this is the case.
---
Latest Features
To waterproof or not to waterproof—that is the question. Read on to see if investing in waterproof riding gear is worth it?

If you're one of those people who never wash their motorcycle jackets, now may be the time to change that. Here are a few tips on how to wash your motorcycle jacket.

If you're thinking of riding your bike without gloves on, think again. Here are a few reasons why wearing gloves is an absolute must.