/ News
Suzuki Motorcycles hits its 5 million unit production mark in India
Suzuki India is the biggest producer of Suzuki Motorcycles.

on Jul 16, 2020
---
Suzuki Motorcycle India Private Limited (SMIPL), a subsidiary of Suzuki Motor Corporation has achieved an accumulated motorcycle production of 5 million units just last July 13, 2020 a milestone it achieved after operating for 14 years since its establishment. SMIPL has been producing motorcycles since it first opened in February 2006 producing its GT125 model. Soon after, SMIPL eventually expanded its portfolio and started producing more units ranging from the 110 cc to 250 cc powered motorcycles including the Access 125 and the GIXXER. Thus, the 5 million production mark was achieved in 14 years and 5 months.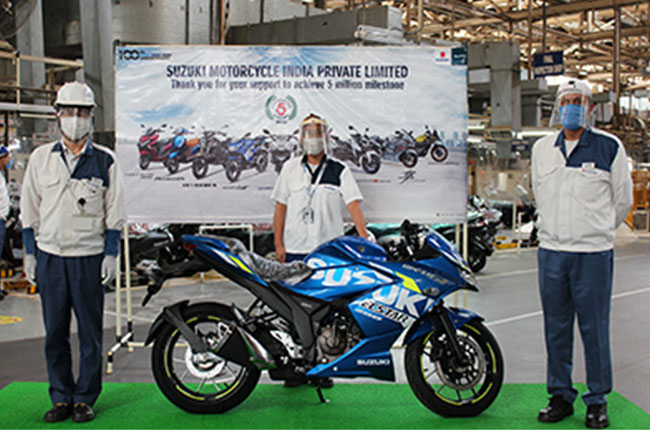 SMIPL's contribution to motorcycle sales in India accounts for a growth of 685,223 units which is up by 2% year-on-year in fiscal year 2019 with a bulk of its sales owing to the Access 125. Suzuki's market share in the Indian market stood at 3.9%. However, SMIPL's motorcycle production is not made exclusively for the Indian market. They also serve their motorcycle production to other markets including Japan, the ASEAN region, the Middle East, and Latin American making them easily the biggest production hub of motorcycles for Suzuki.
At present, the top 5 motorcycle models it produces are the Access 125, the GIXXER 150/GIXXER SF150, Heat, Hayate, and the Burgman Street. SMIPL hit its 1 million production mark in January 2012 after six years of production and with an increase in production of about 1 million units every two years since with 798,437 units produced for the year 2019.
In the Philippines, the GIXXER and the Raider are among the favorites from Suzuki's small-displacement motorcycle offerings that have been seeing quite some success within the Philippines. The Burgman, Suzuki's maxiscooter offering is also available here in its 200 cc or 400 cc form.
---
Find out more info or request a brochure by sending an inquiry below.
---
Related Articles
Suzuki's VP of Marketing and Sales for India revealed to Financial express that we'll see an electric two-wheeler from them when the market is ready.

Suzuki reports a positive sales growth in India, thanks to its exceptional service and support from its dealer partners.

Suzuki reports its sales figures for the start of 2019, and the results are good for the most preferred underbone maker in the Philippines.

MDPPA reports a positive 1st half of 2017 with 13% sales growth.
---
Latest News
Custom builders Oberdan Bezzi and Gessi Motorbike to collaborate with Yamaha to release a limited run of the Ténéré Rally Racer.

BMW's latest patent filing reveals the development of a new lightweight carbon swingarm that's flexible enough to move vertically, yet remains rigid laterally.

CFMoto officially launches the 300SR, its latest entry-level sports bike that's packed with features meant to evoke racing fun.