/ News
Suzuki Motorcycles hits its 5 million unit production mark in India
Suzuki India is the biggest producer of Suzuki Motorcycles.
---
Suzuki Motorcycle India Private Limited (SMIPL), a subsidiary of Suzuki Motor Corporation has achieved an accumulated motorcycle production of 5 million units just last July 13, 2020 a milestone it achieved after operating for 14 years since its establishment. SMIPL has been producing motorcycles since it first opened in February 2006 producing its GT125 model. Soon after, SMIPL eventually expanded its portfolio and started producing more units ranging from the 110 cc to 250 cc powered motorcycles including the Access 125 and the GIXXER. Thus, the 5 million production mark was achieved in 14 years and 5 months.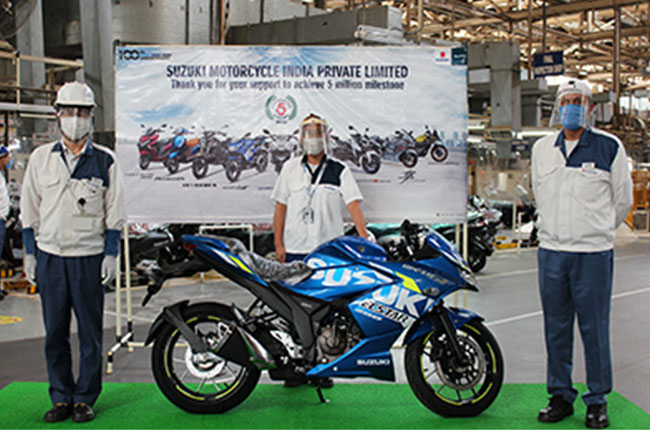 SMIPL's contribution to motorcycle sales in India accounts for a growth of 685,223 units which is up by 2% year-on-year in fiscal year 2019 with a bulk of its sales owing to the Access 125. Suzuki's market share in the Indian market stood at 3.9%. However, SMIPL's motorcycle production is not made exclusively for the Indian market. They also serve their motorcycle production to other markets including Japan, the ASEAN region, the Middle East, and Latin American making them easily the biggest production hub of motorcycles for Suzuki.
At present, the top 5 motorcycle models it produces are the Access 125, the GIXXER 150/GIXXER SF150, Heat, Hayate, and the Burgman Street. SMIPL hit its 1 million production mark in January 2012 after six years of production and with an increase in production of about 1 million units every two years since with 798,437 units produced for the year 2019.
In the Philippines, the GIXXER and the Raider are among the favorites from Suzuki's small-displacement motorcycle offerings that have been seeing quite some success within the Philippines. The Burgman, Suzuki's maxiscooter offering is also available here in its 200 cc or 400 cc form.
---
---
Related Articles
Suzuki has been working on electric motorcycle technology for years, and its efforts could be close to fruition.

The latest 3S Shop from Suzuki Motorcycles Philippines is located in Talibon, Bohol, and it is ready to serve.

Four finalists will win a new motorcycle should they make it.

Suzuki Philippines has bestowed minor technical and cosmetic updates to the Burgman Street maxi-scooter.

Suzuki has released the all-new V-Strom SX in India. It takes the form of a beginner-friendly 250cc-powered adventure bike bearing similar styling as the bigger bikes in the V-Strom range.
---
Latest News
Vespa has released a total of six new colors across the Primavera and Sprint model ranges in the Japanese market.

Yamaha is set to invest heavily in a greener future, particularly when it comes to its manufacturing procedures.

AC Motors brings all of its brands under one roof, and KTM BGC gets a new showroom a block away from the old one.