/ News
Kymco RevoNEX to be manufactured in Italy
Would you like to see this high performance electric street bike on Philippine soil?

on Dec 09, 2020
---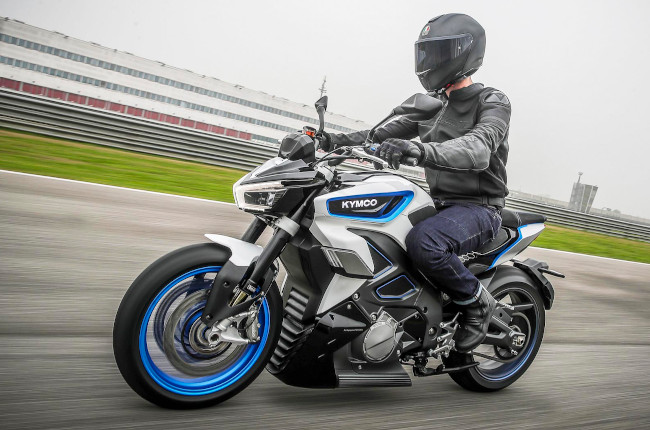 Few motorcycle manufacturers have invested the same levels of R&D into electric motorcycles as Kymco has in the past couple of years. Understandably so, as the internal combustion engine is likely to go the way of the dinosaurs in the span of several decades. With this, companies are beginning to find ways to future-proof their technology. Electric motorcycles aren't a new thing, per se. We are all well acquainted with electric scooters and mopeds. But, apart from a few notable companies, the mainstream adoption of electric technology in high performance motorcycles is something that we've begun to see just recently.
A couple of years ago, Kymco teased the world with a groundbreaking electric superbike concept dubbed the SuperNEX. To this day, a production ready electric superbike has yet to roll out of the Taiwanese manufacturer's assembly line. However, a street-optimized derivative of the SuperNEX has been confirmed to make it into production. Dubbed the RevoNEX, the bike is a more down to earth machine suited to the sensibilities of a practical motorcyclist. First unveiled in EICMA last year, the high performance electric street bike has been confirmed to be produced in Kymco's manufacturing facility, not in Taiwan, but rather in Italy.
While the SuperNEX seemed to be a direct answer to the Energica superbike at the time, perhaps the market just isn't ready for a high performance electric sportbike just yet. That being said, the Kymco RevoNEX seems to be vying for a seat at the table currently dominated by Zero. For reference, the Kymco RevoNEX has the ability to propel itself from 0-100 kph in just 3.9 seconds and features a manual gearbox, in an attempt to retain the unmistakable big bike riding experience.
The Kymco RevoNEX's performance figures suggest that it will perform similarly to that of standard 650-class machines like the Kawasaki Z650 and CFMoto 650NK. However, if and when this bike becomes available, expect to pay quite a hefty price, given the fact that this technology is considerably novel in the industry.
---
Related Articles
BMW Motorrad Philippines has launched the BMW F 900 XR for P975K

Aprilia has launched the 2021 Aprilia RSV4. The new sportbike features a few notable updates.

Honda has unveiled the 2021 Honda CBR150R in Indonesia with notable updates.

The Voge 500R naked sportbike has been launched in the Philippines.

KTM has introduced the 2021 KTM 390 Duke featuring a Euro 5 compliant engine and updated colors.
---
Latest News
BMW Motorrad Philippines has launched the BMW F 900 XR for P975K

Aprilia has launched the 2021 Aprilia RSV4. The new sportbike features a few notable updates.

Moto Guzzi has launched the 2021 Moto Guzzi V85 TT