/ News
Honda shows its CT125 Hunter Cub
Honda releases a new CT125 video and we want it.
---
Ever since the Honda CT125 Hunter Cub has been revealed at the 2019 Tokyo Motorcycle Show, people have been really getting excited about Honda's new off-road iteration of the Super Cub, and many more people have been speculating about which markets the bike would be released to. There's no doubt that the Southeast Asian market will be getting first dibs over the new Hunter Cub and luckily, Thailand will be among the first countries to have the CT125 Hunter Cub available in their showrooms.
This was confirmed by a new promotional video that Honda Thailand released proving that adventure riding needs not a big and heavy adventure bike. It can come in smaller and lighter packages such as the Hunter Cub. The bike's frame and rigidity have been reconfigured for a wide range of situations including traffic weaving around the city, and quick light off-road trekking excursions making it an excellent substitute for the more complex and heavier adventure bikes.
The CT125 Hunter Cub has a scrambler-style high-mounted muffler, a rigid belly pan to guard the powertrain, and a front fork that's capable of 110 mm of travel making it a bike that can take some beating in rough terrain. It is powered by an air-cooled, 4-stroke single-cylinder 124 cc engine capable of 8.7 hp and up to 11 Nm of torque at 7,000 RPM. Its engine is tuned to provide more power in the low and medium speed ranges which makes them ideal for start and stop city driving and cruising down a trek. With a tank that can fill up to 5.4 liters, it can still give you a range claiming to reach about 354 kilometers before filling it up again. It also comes equipped with disc brakes in the front and back with ABS.
The big question is, will we be seeing the Honda CT125 in our showrooms anytime soon? Honda has been known to be quite conservative about their releases of new motorcycles in the country, considering they were a little late in the game about introducing their line of big bikes to the Philippines compared to the other Japanese brands. But the Hunter Cub isn't really a big bike. It's actually an adventure bike in a tiny package. I'm hoping that Honda's president, Susumu Mitsuishi would be reading this piece and heed our call for the CT125 Hunter Cub.
Photo Gallery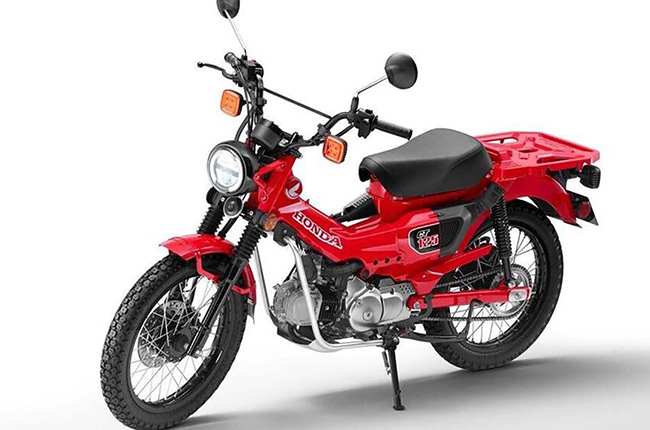 ---
Related Articles
Brixton has unveiled the GK1200 retro naked bike in the 2021 Chinese International Motorcycle Expo.

CFMoto has launched the much anticipated 700 CL-X Heritage in the Philippines.

KTM has announced the availability of the much awaited KTM 390 Adventure.

Honda's latest promotional video shows acclaimed percussionist, Sivamani, blending music with the sound of the CB350's exhaust note and engine rumble.

Chinese motorcycle manufacturer, Lifan, releases its new Hunter 125, bearing the same silhouette as another model.
---
Latest News
CFMOTO Philippines has pulled the covers off the 2024 CFMOTO 450 CL-C, its first cruiser for laid-back riders.

KTM has pulled the covers off the 2024 1390 Super Duke R Evo, marking 30 years of the Duke naked bike range.

Triumph has just unveiled its premiere motocross model, the TF 250-X, in the global market.