/ News
Gulf Oil launches their new premium scooter oil
Gulf Pride Scooter Plus will be available at just P215 per bottle.

on Nov 24, 2020
---
On November 21, 2020, Gulf Oil launched its brand new scooter oil, the Gulf Pride Scooter Plus at a friendly price of just P215 for an 800ml bottle. The official launch on Gulf Oil's Facebook page officially kicked off this product as a go-to engine oil for all types of scooters, whether modern or vintage.
The Gulf Pride Scooter Plus features a pop-up cap with a built-in nozzle for effortless oil changes and boasts a premium oil formula which contains superior anti-wear additives, blended with a premium synthetic base oil, and advanced detergent boosters for cleaning. All of these features provide the scooter rider with improvements to engine wear prevention over time and power delivery for instant power pick-up. Gulf Pride Scooter Plus also boasts improved tolerances to high engine temperatures, making this a perfect oil for high heat environments and stop-and-go traffic.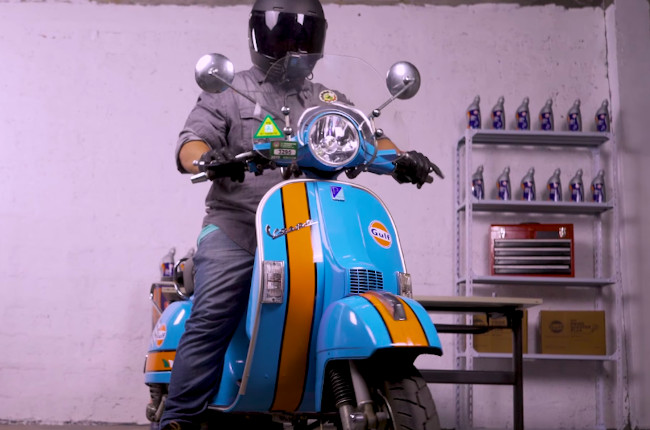 In contrast to motorcycle engines, scooter engines and transmissions do not share the same lubrication system. Because scooters have separate oil systems for the engine and the transmission, scooter oil does not need any high friction additives to aid in manual transmission clutch actuation. Scooter oil can be specially designed to provide optimal lubrication, wear prevention, and power improvements without having to worry about lubricating a clutch. This is why the Gulf Pride Scooter Plus oil presents a strong case for scooter owners and their beloved two-wheeled machines.
Gulf Oil plans to expand its distribution through the setup and operation of 300+ dedicated Gulf Bike Stops, and a distribution network of over 5,000 motorcycle shops nationwide by end of this year. For now, enthusiastic owners can obtain Gulf Oil's new lubricant from the Philippine distributor, Harcore Brothers Technologies Inc., which is also the local distributor of Royal Enfield motorcycles with main branches in Makati City and Cebu City.
---
Related Articles
Italjet has unveiled the Dragster 300 at EICMA 2023, boasting impressive performance and head-turning styling.

Anyone is welcome to experience a premium ownership experience with the Royale Moto Club.

Yamaha has updated the rugged little BW'S scooter in the Taiwanese market. Could there be a place for it here in the Philippines?

Peugeot has debuted the Django 150 Touring Edition in Japan, of which only 20 will ever be produced.

Kymco has introduced the KRV200 commuter scooter in the European market. The sporty commuter scooter is decked out in premium features.
---
Latest News
Triumph has just unveiled its premiere motocross model, the TF 250-X, in the global market.

Triumph has announced that it will continue supplying Moto2 racing engines until 2029, with performance updates in the pipeline.

Indian Motorcycle has unveiled its newest creation, the 2024 Challenger Elite.