/ News
The 2021 Ducati Multistrada will get the new V4 engine
With no official announcement yet, the new Ducati Multistrada was spotted being tested around Italy with a new V4 engine.
---
Ducati unveiled its new V4 engine when they launched their new Panigale V4, they knew this was the next stage for them in the development of the rest of their bikes. Soon after, more motorcycles were produced sporting the same V4 engine, namely the Streetfighter V4, Panigale V2, and most recently, the Superleggera V4. This month, somewhere around Bologna, Italy, a camouflaged Multistrada has been spotted driving around the roads. At first glance, it didn't look much different from the current Multistrada lineup. A keen eye would spot the new V4 engine mounted on the frame. Since no official announcement has been made about it yet by Ducati, a lot of speculations have been going around. Allow us to discuss these speculations, and lift the conjecture from them.
The 2021 Ducati Multistrada's V4 engine will have a bored-up displacement raised to around 1200 cc based on the same 1103 cc Desmosedici Stradale engine seen on the new Streetfighter and Panigale V4. It will likely produce around 220 hp and around 130 Nm of torque. It is also safe to assume that an entry-level V2 version will be released with a 995 cc Superquadro engine based on the Panigale V2.
The new Multistrada V4 is certain to have Ducati's new radar-assisted Advanced Rider Assistance System (ARAS). As the test bike was spotted around Bologna, a new headlamp was noticed together with a redesigned fairing, likely to accommodate Ducati's Advanced Rider Assistance System (ARAS). Ducati has been working hand-in-hand with Audi in developing its new rider-safety technology designed to monitor vehicles in front and behind and alert the rider of a possible collision. The system might allow for intervention with applying the brakes but further tests should be made to ensure its safety. The radar units are positioned in the face just between the headlights and one under the tail light.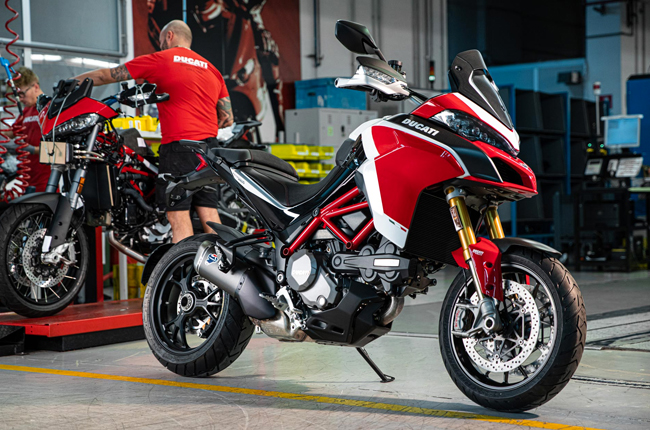 Other noticeable changes spotted on the new Multistrada V4 was the new double-sided swingarm, Marchesini wheels, front mudguard, Ohlins rear shock, LED lights, and an adjustable windscreen. Some of these changes, however, might only be available for the top-spec Grand Tour version of the Multistrada.
With the trajectory that Ducati has been advancing, we can also easily expect that the V4 engine configuration to be later on integrated into the rest of their lineup including the Scrambler, Monster, and Hypermotard. We can expect to see the new Multistrada V4 in our showrooms possibly no later than the third quarter of 2021, that is if no further delays happen especially with manufacturing facilities in Italy shutting down.
---
Related Articles
This achievement marks the very first time the brand has ever hit 59,477 units sold.

Just one model is showcased in the pop-up, and it also highlights the men and women with a passion for riding.

The Multistrada V4 gets Desmosedici GP-inspired livery, an advanced Öhlins suspension, and a 17-inch front wheel.

Ducati has launched the Multistrada V4 in the Philippines at P1.7M

Ducati has introduced the 2021 Ducati Multistrada V4 with a slew of updates, chief of which, an updated 1,158 cc V4 engine.
---
Latest News
Yamaha is set to invest heavily in a greener future, particularly when it comes to its manufacturing procedures.

AC Motors brings all of its brands under one roof, and KTM BGC gets a new showroom a block away from the old one.

Indian automotive manufacturer Bajaj, through its EV subsidiary Chetak Technology, has its eyes set on boosting electric two and three-wheeler production.