/ Featured Article
What motorcycle type is best suited to your lifestyle?
Like tools in your toolbox, certain motorcycles are best suited to certain applications.

on Feb 05, 2023
---
If you're new to motorcycling, and have been wondering what kind of motorcycle to buy, then chances are you're not alone. We've all been through this dilemma at some point in our riding journeys, and the same can be said for folks purchasing their very first motorcycle, as well as those looking to add to their growing collection of two-wheelers.
Here at MotoDeal.com.ph, we try our best to give beginners the best information out there. So if you're feeling overwhelmed by all the different types of motorbikes in the market, you've come to the right place. Today, let's discuss the various types of motorcycles—big and small—and pinpoint which type is best suited to your lifestyle.
The practical city-slicker: scooters, commuters, and underbones
Let's start things off with the most common type of motorcycle we see every time we hit the road. More than ninety percent of motorcycles on Philippine roads are either scooters, commuters, or underbone motorbikes, and it's pretty easy to see why. For starters, they're affordable and extremely economical. They're also very practical thanks to their under-seat storage compartments, luggage accessories, and lightweight and easy-to-ride nature.
Popular models include the Yamaha NMAX, Suzuki Raider, and Yamaha MT-15, as these bikes are also stylish, and equipped with a decent amount of tech. That being said, if you're looking to get in on the two-wheeled lifestyle with practicality within the city in mind, you can't go wrong with these small-displacement machines.
Unconstrained practicality: naked bikes 400cc and up
Now, what if your commute requires you to traverse the traffic-laden roads of EDSA, and ride through the expressway down south of Metro Manila? Surely, a small capacity scooter or underbone model just won't cut it. This is where naked bikes with engines 400cc and up come into play. We've always been firm believers that naked bikes are the best all-rounders, especially when you factor in city riding with expressway access. They can even be outfitted with accessories to turn them into capable long-distance tourers, too.
There are tons of naked bikes of all sorts of styles to choose from. Beginners gravitate to the likes of the CFMOTO 400 NK, owing to its affordability and impressive performance. Meanwhile, those of you looking for a stylish, retro-inspired model could opt for the Yamaha XSR700. Advanced riders looking to get the most out of their street bike experience can pick up a bike like the KTM 790 Adventure.
Go the distance in comfort: touring and sport-tourers
Now, if city riding isn't your thing, and you spend most of your time riding on the highways and on backcountry roads in rural and suburban areas, a sport-tourer or touring bike is probably your best bet. That being said, while sport-tourers and touring bikes shine on the open road and twisty canyons, you may find them cumbersome to ride on city streets thanks to their larger proportions.
Popular beginner-friendly touring models include the CFMOTO 400 GT. As you move up the ladder, bikes like the Yamaha Tracer 9 GT and BMW F 900 XR make for excellent options, too.
Canyon carvers and track weapons: sportbikes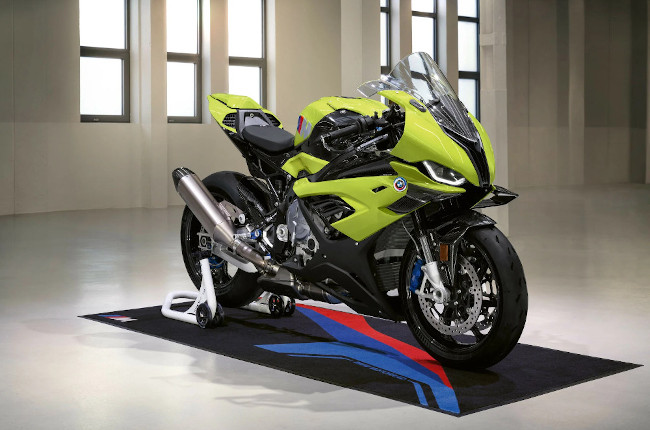 Sportbikes are among the most popular two-wheelers, especially among Pinoy riders who like performance-oriented machines. However, a sportbike truly shines brightest on the track owing to its aggressive ergonomics, sharp handling, and usually powerful engines. It's not usually recommended for first-time riders to hit the road on a powerful sportbike, as they can sometimes be hard to tame for untrained riders.
Nevertheless, there are beginner-friendly sportbikes in the market like the Kawasaki Ninja 400 and Yamaha YZF-R3. Conversely, some of the most cutting-edge motorcycles in the world are sportbikes. Machines like the Ducati Panigale V4S and BMW M 1000 RR are idolized by veteran and newbie riders alike.
Go beyond the confines of the pavement: adventure and dual-sport
Adventure bikes are extremely popular thanks to their comfort, performance, and go-anywhere capability. They're also a lifestyle icon, and you'll often see folks on huge adventure bikes hanging out in your local Starbucks. Jokes aside, adventure bikes are perfect for those with a penchant for going off the beaten path. Dual-sport motorcycles offer the same experience, albeit in a smaller, more lightweight configuration.
Some of the most popular adventure bikes in the market include the iconic BMW R 1250 GS, as well as the Ducati Multistrada. Meanwhile, dual-sports are offered in varying displacements with small models like the Yamaha WR155, and bigger, expressway-legal machines like the KTM 690 Enduro R.
Hit the highway in style: cruisers
The last category on our list is for the laidback rider who frequents the highway. Cruisers aren't everyone's cup of tea, but they shine particularly brightly when it comes to style, wow-factor, and highway stability. These heavyweight machines are usually powered by big, V-twin engines, however, there are also a few beginner friendly models on the market, as well.
Some beginner-friendly cruisers include the Honda Rebel 500 and Bristol Bobber 650—favorites among first-time big bike riders thanks to their low saddle height. More premium models include nearly all of Harley-Davidson's model range, as well as bikes like the Yamaha Bolt 950 R and Ducati Diavel.
---
Related Articles
With summer well and truly here, it's time to consider what's best to wear when out on summer rides.

Here are a few things you can do to address leaking fork seals. Just make sure never to ignore this potentially dangerous scenario.

Here are 5 things to consider when time comes for you to replace the tires on your motorcycle.

Here are 5 things to consider when it comes to keeping your motorcycle safe and secure from prying eyes.

Here are 4 things to keep in mind when shopping for a new motorcycle helmet.
---
Latest Features
With summer well and truly here, it's time to consider what's best to wear when out on summer rides.

Shark's Spartan RS is an entry-level sport-touring motorcycle helmet that's far from entry-level.

Here are a few things you can do to address leaking fork seals. Just make sure never to ignore this potentially dangerous scenario.