/ Featured Article
Top 10 most popular motorcycles on MotoDeal in 2020
Here are the most popular or most inquired-for motorcycles in the Philippines.

on Jan 15, 2021
---
Saying 2020 was a weird year is an understatement. There were a lot of highs and a lot of lows, but there were also a lot of brands that made their way to the forefront of popularity. While some bikes were expected, others were admittedly unexpected.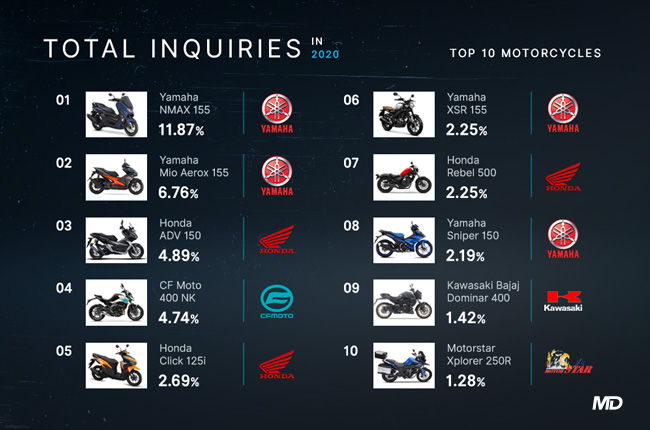 So we've gathered our most popular bikes on the MotoDeal platform for 2020. Based on inquiries made on the website, these are the best bikes to come out of 2020.
Yamaha NMAX 155 11.87%
It comes as no surprise that the NMAX 155 is our number one ranked motorcycle on the MotoDeal platform. The Yamaha brand attached to a reliable and comfortable scooter is a killer combo. With a 155ccs worth of displacement and Variable Valve Actuation (VVA), it's not much in terms of power, only churning out about 14 hp, but it has substantial amounts of practicality with its automatic CVT and loads of storage space as well as cubby holes for the rider. It also helps that it is one of the best-known models in the Philippine market today, and it serves as one of the most desirable models in Yamaha's wide range of bikes.
Even if it is priced a bit on the high side at P119,000 for a base unit to P134,500 for a model with ABS, it still managed to be the apple of a lot of rider's eyes for the year 2020. Reputation aside, it's a great city slicker with a lot of practicality and ample space for pillion passengers. We're not at all shocked that the NMAX got top honors as it continually did so for the past year since MotoDeal was launched.
Yamaha Mio Aerox 155 6.76%
The sportier-looking twin of the NMAX, the Yamaha Mio Aerox is yet another scooter from team blue but it has more aggressive styling and is a more conventional scooter as opposed to the NMAX which is a maxiscooter. Still equipped with the same 155cc engine with VVA, it skirts the bulkier looking fairings of the NMAX in favor of more chiseled and cut bodywork. Though it still boasts the same performance at about 14 hp, it's a bit lighter, has less storage space, and has slightly bigger wheels.
Again, it's another Yamaha, which no doubt help propel its popularity over other rivals in the segment, and it helped it get closer to its stablemate, NMAX. For P102,900 to P124,900, it's a bit on the more expensive side, however, Yamaha reliability and resale make it a great deal.
Honda ADV 150 4.89%
Following hot on the heels of the number one motorcycle brand in the country is another member of the big four, Honda. The smash-hit Honda ADV 150 is a stunner of a scooter that blends styling cues from the Honda X-ADV 745 with a more manageable and easy-to-ride model. With 14.7hp from its single-cylinder engine, it makes decent amounts given its 150cc displacement, and it also has a CVT automatic. The ADV 150 is indeed a looker, and it managed to get 3rd place in the whole of MotoDeal.
We remember when the ADV was a bit of a mythic creature. Getting one in 2020 was pretty difficult at the start of the year, but as things cleared up later in the year, seeing an ADV 150 became more commonplace. Though, at P149,000 the price is quite steep compared to its other rivals like the NMAX 155. However, given the more adventurous amenities such as an adjustable windscreen, and Showa suspension front and rear, you can't fault the price tag being so high, if the quality of parts slapped on is equally as high, making it a pretty astounding option for your average motorcyclist.
CFMoto 400 NK 4.74%
The most popular highway-legal big bike in the Philippines is still the most popular highway-legal big bike in the Philippines. From start to finish, CFMoto's 400 NK just continued to keep its footing in our top lists. It's one of the best values for money in the market today, costing only P219,800, brand new. That price gets you a 180-degree parallel-twin engine with 400.4ccs of displacement. Simply put, it's one of the most affordable and well-built was to enter Metro Manila's highways with the displacement ruling in effect. Being a naked bike, it is also friendly for many out there who wish to get their first big motorcycle. With upright ergonomics and a very Asian-friendly seat height, it's a proper motorcycle that's not too intimidating not counting the weight.
A facelift in the third quarter of the year helped reinvigorate interest in the model once again, and its announcement sparked a lot of clamor from a lot of buyers thanks to the new design and features that the 400 NK comes with. As an entry-level bike, it's not a bad choice, and the price just makes it a bit of a no-brainer.
Honda Click 125i 2.69%
Yet another scooter makes the list, and for good reason. With city congestion getting worse and worse, a motorcycle just makes sense. One of the other more sense-filled motorcycles on the list today is the Honda Click. Price-wise it goes for P76,900, which is pretty affordable for an automatic motorcycle with 11 hp, which is not bad for 125ccs worth of displacement.
As for popularity, it's a nice medium between the power that you need and fuel economy for a city bike. Because it is light, maneuverability is also easy. It also has a very approachable and unassuming design which could be why a lot of people put it top of mind when considering a new motorcycle.
Yamaha XSR155 2.25%
Undoubtedly one of the best looking models on the list today, the Yamaha XSR 155 is powered by the same engine as the NMAX 155, but it is tuned up to produce 19 hp thanks to the magic of VVA. At P162,000 it does come a bit pricey, but the workmanship and the quality that you get out of this motorcycle is pretty hard to beat.
You cannot deny that it has the looks that will turn heads and catch attention, especially in that Garage Metal colorway with that brown seat. The neo-retro bike is one of the best-looking releases of 2020, and it has a loyal following. The XSR 700 and the XSR 900 have their legion of fans, but the 155 is the most approachable in the XSR series of models.
Honda Rebel 500 2.25%
The second most popular big bike in the Philippines on the MotoDeal platform is the Honda Rebel 500. A cruiser with a low seat height and a 471cc parallel-twin that produces 46.85 hp. Cruisers are notorious for their low seat height and their easy-handling powerband. That means that it is quite friendly for your average beginner and a piece of cake for a seasoned rider. If you take a well-known brand like Honda and put it in a nice highway-legal and friendly package, then you have a recipe for success.
Yamaha Sniper 150 2.19%
The only manual transmission underbone on the list is the Yamaha Sniper. Made famous by the various racing events in the country and Yamaha's premier reputation in the country. Equipped with a 149cc fuel-injected single-cylinder engine that pushes out 15 hp, the Yamaha Sniper promises good performance in a lightweight package. Coming in at P102,900 and topping out at P104,900, the Sniper presents a good overall package that promises good daily performance in an attractive package to boot.
Kawasaki Bajaj Dominar 400 1.42%
Here's another affordable option when looking to get into the highway. The Kawasaki Bajaj Dominar costs P175,000 and has a single-cylinder 373cc SOHC engine that produces a healthy 35 hp, which should be enough for highway speeds. As an entry-level big bike, it does well to give the buyer value for money, and it is also laden with a good amount of features and respectable looks, and with that great price, it makes it a very enticing entry in the top 10 list.
Motorstar Xplorer 250R 1.28%
Now here is a more unconventional choice. The MotorStrar Xplorer 250R is a very peculiar entry into the top 10. As to the reason why people are choosing this model is a bit of a wonder. Perhaps it has to do with the rise of the adventure segment and aesthetic with prime examples being the "adventure-ization" of the Honda PCX, which resulted in the Honda ADV 150. There is a market for that genre of motorcycle, but a lot of these bikes come at a premium. Taking advantage of that trend is Motorstar, with its Xplorer 250R, it comes at a very accessible price tag of just P69,000, which is astoundingly affordable since you're not paying more than the price of a mid-range scooter from any one of the big 4 brands. Interesting to see how well this model will fare in terms of popularity if it will wane or continue to gain traction.
---
Related Articles
Let's take a look at five things we absolutely love about the all-new CFMOTO 450 NK.

Honda has just released the CL500, and right away, it's clear to see why it's an ideal big bike for first-time riders.

Honda recently unveiled the Transalp XL750 in the Philippines. It dazzles with its impressive tech, performance, and surprisingly low price tag.

Heavy middleweights that are not so heavy, here are a bunch of bikes that are light for their category.

Deciding between a Yamaha MT-07 or XSR700? Read on to figure out which bike you should get.
---
Latest Features
Multi-compound tires are pretty much ubiquitous in the world of big bikes. What exactly is a multi-compound tire, and what are the benefits associated with them? Read on to find out

Want a bike that's super fast and looks really dapper doing so? Look no further than the Speed Triple RR from Triumph.

Follow these tips and tricks when getting ready for a long-distance ride on your motorcycle.