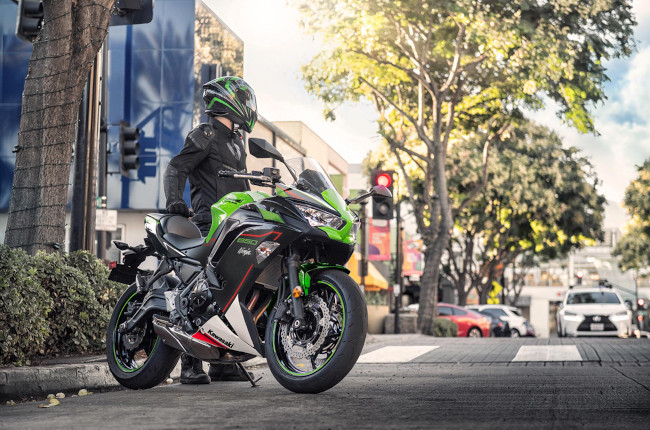 The Kawasaki Ninja 650 is a sportbike that's loved by many motorcycle enthusiasts all over the world. Not only does it look just like it's big, bad brother, the ZX-6R, it's a lot more tractable and easier to ride on a daily basis. Now, there's no denying that the Ninja 650 is indeed one of the most popular middleweight sportbikes in the world. But, exactly just how good is this bike, and what makes it so special? Read on to see if the Kawasaki Ninja 650 is worth your hard-earned money.
The styling
At a glance, the Kawasaki Ninja 650 looks like it means business. Its full-fairing, aggressively chiseled bodywork, and of course, eye-catching colorways all make for a beautiful sportbike. However, Kawasaki has done a great job in concealing the fact that, beneath the bike's aggressive exterior, lies a comfortable practical motorcycle that could very well be your daily ride.
Upon closer inspection, it's clear to see that the Kawasaki Ninja 650 provides more upright riding ergonomics thanks to its slightly raised clip-on handlebars, and slightly less-aggressive rear-set foot pegs. On top of that, the Ninja 650 also gets a rather plush seat, as well as a considerably accommodating pillion seat. That said, the Ninja 650 is equally at home gobbling up miles on the highway as it is attacking the twisties or hitting the track.
The performace
The goodies aren't all just skin deep either, Kawasaki has fitted their bulletproof 649cc parallel-twin engine into the Kawasaki Ninja 650. Having been around for nearly two decades now, this engine has proven its reliability and overall performance across multiple platforms. It is, in fact, the same engine which powers the Z650 naked bike, Versys 650 adventure bike, and the Vulcan S cruiser.
Going into more detail, this parallel twin features a conventional 180-degree crankshaft. Although criticized for its lackluster exhaust note and rather bland driving character, there's no denying that 67 horsepower and 64 Nm of torque is quite a lot of power, especially considering the bike's 423-pound wet weight. To top it all off, a massive aftermarket full of accessories and performance-oriented upgrades has grown to cater specifically to this bike. As such, you're never going to run out of options when it comes to mods and upgrades.
The price
The Kawasaki Ninja 650 is priced at a reasonable P426,000. Smack at the middle of the 650-class in terms of pricing, the Ninja 650 makes a strong case for itself when compared to the competition. The Suzuki SV650, priced at P399,000, does get a punchy 90-degree V-twin, however it misses out on all the tech features of the Ninja 650. The Yamaha MT-07, on the other hand is priced at P439,000, but has a clear performance advantage over the Ninja 650. That said, the Ninja 650 gets a fancy full-color TFT display and smartphone Bluetooth connectivity—features which no other bike in the 650 class currently has on offer.
---
---
Related Articles
Here are some of our experiences with Japanese and European motorcycle ownership that are worth sharing.

Want to ride a big bike but don't want to break the bank? These 5 affordable models may be worth considering.

Floating discs or solid discs—which one is better and is it worth upgrading to aftermarket rotors?

Here are 5 Chinese-made motorcycles we're looking forward to seeing in the local market in 2023.

Here's our list of the top 10 lightweight big bikes worth considering in 2023.
---
Latest Features
Let's take a moment to discuss the dangers of overloading your motorcycle, and the safety and mechanical issues that may arise due to this.

Here are some of our experiences with Japanese and European motorcycle ownership that are worth sharing.

KTM has teamed up with RIDE ACADEMi to offer advanced street-riding skills to everyday riders.