/ Featured Article
5 reasons why you should never ride your motorcycle without gloves on
Keeping your hands safe while on the road is of utmost importance.

on May 25, 2023
---
Riding a motorcycle is undeniably thrilling and exhilarating, but it's crucial to acknowledge the inherent risks involved. Despite the dangers, it remains one of the most enjoyable activities one can experience. To ensure a safe riding experience, it is essential to prioritize safety measures, with gearing up being of utmost importance.
Among the essential gear, gloves play a vital role. They not only provide crucial protection but also contribute to better bike control. By wearing gloves, riders can minimize the risk of injuries and maintain a firm grip on the handlebars, thereby reducing stress and fatigue in their hands. So, while embracing the excitement of motorcycle riding, it is crucial to prioritize safety by equipping oneself with the necessary gear, particularly gloves, for a safer and more enjoyable journey.
Your hands are kinda important
It is crucial to protect your hands while riding a motorcycle for several reasons. First and foremost, your hands are highly exposed and vulnerable to injury in the event of an accident or a fall. Wearing proper protective gear such as gloves can significantly reduce the risk of abrasions, cuts, and severe injuries to your hands, including fractures and dislocations. Indeed, those of you who've injured your hands—not necessarily from a motorcycle accident—would know the hassles of not being able to use your hands for a couple of days or weeks. Being that our hands are our most frequently used body parts, it's important to invest in safety and protection when out on the road.
Gloves can go a long way in preventing hand injuries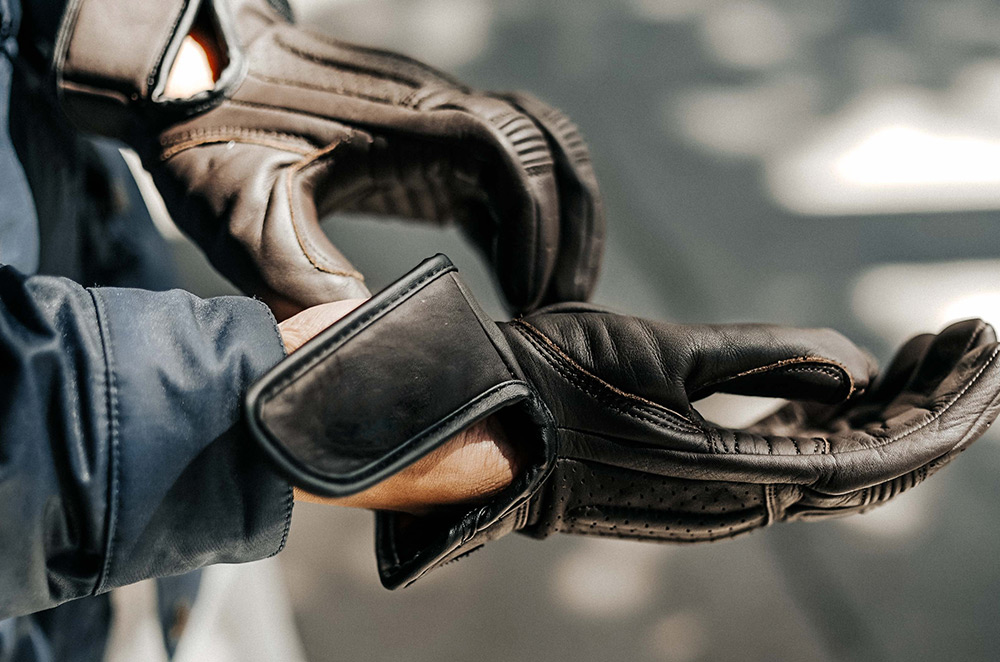 Gloves play a crucial role in preventing hand injuries by providing a protective barrier between your skin and potential hazards. Whether it's abrasions, cuts, or impacts, gloves act as a first line of defense, absorbing and dispersing the force of impacts to reduce the risk of fractures, dislocations, and severe injuries. Additionally, gloves offer improved grip and control, minimizing the chances of losing control of the motorcycle and increasing overall safety.
Not just for safety, but for comfort, too
Gloves are not just essential for safety but also contribute significantly to rider comfort. When riding a motorcycle, hands are subjected to various discomforts, such as vibrations from the handlebars, wind chill, and exposure to harsh weather conditions. Gloves act as a cushioning layer, reducing the impact of vibrations and minimizing hand fatigue, enhancing overall comfort during long rides. On top of all that, most modern motorcycle gloves come with tactile inserts on the palms and fingers, providing you with better control on the handlebars. This means that you can ease your grip on the bars, preventing fatigue on longer rides.
Keep your hands clean from the grime and dirt from the road
Gloves serve as a protective barrier that keeps your hands clean from the grime and dirt encountered on the road. When riding a motorcycle, your hands are constantly exposed to various environmental elements such as dust, dirt, and debris. By wearing gloves, you create a shield that prevents these contaminants from coming into direct contact with your skin. The gloves act as a barrier, effectively trapping and repelling dirt particles, ensuring that your hands remain cleaner and free from the accumulated grime that can be difficult to remove.
Keep your hands warm in cool weather, and cool in hot weather
Gloves play a vital role in regulating hand temperature, providing comfort in both cool and hot weather conditions. In cooler weather, gloves act as insulating layers, trapping body heat and preventing it from escaping, thus keeping your hands warm. They shield your hands from cold winds, maintaining a comfortable temperature and preventing numbness or discomfort. On the other hand, in hot weather, gloves made from breathable materials allow air circulation, facilitating heat dissipation and keeping your hands cool. They wick away sweat and moisture, preventing a clammy feeling and enhancing grip.
---
Related Articles
Here are a few reasons why cruisers are fun, laid-back machines, and why they may just be the right type of bike for you.

Here are three things you must do before pulling the trigger on a new big bike.

Here's a list of 6 must-check maintenance items on a used motorcycle, especially if it's a bit higher in terms of mileage.

Read on to learn more about two of the most popular engine configurations for big bikes, and which one you should choose.

Adventure bikes are commonly associated with big engines and a hefty stance. Does it really have to be this way?
---
Latest Features
Struggling to think of gift ideas for your motorcyclist friends and family? Read on to get some inspiration this gift-giving season.

Motorcycle riders are often faced with the decision of whether to get a leather or textile jacket. Read on to learn more about these jackets.

Here are a few reasons why cruisers are fun, laid-back machines, and why they may just be the right type of bike for you.