Many of us have gotten into motorcycling with racing as the biggest inspiration to our decision. The thought of blasting through the racetrack, the freedom of the open road, and the thrill of taking corners at speed are undoubtedly enticing and alluring aspects of the sport. However, as the old saying goes, "when the going gets tough, the tough get going," and boy, can riding a sportbike be tough at times. If you're in the market for a brand new supersport, read on to see if you'll be making the right choice.
Before we dive right into the nitty-gritty, this article only covers full-on race replica sportbikes. Commuter friendly bikes like the Kawasaki Ninja 650 and Ninja 400, as well as sport-touring models like the Ducati SuperSport S are far more comfortable and tractable than your full-blown sportbike. That said, let's get right into it.
Ergonomics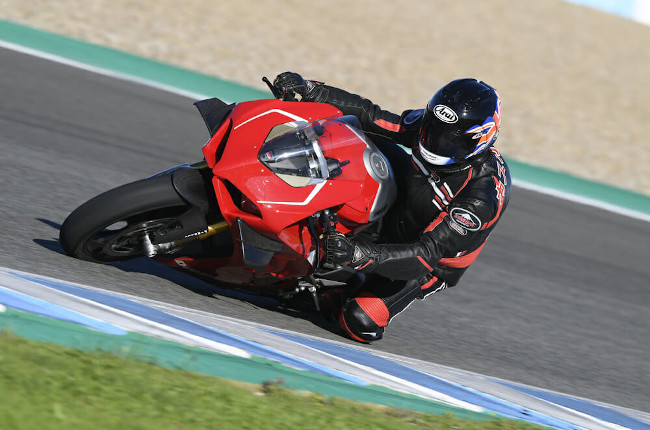 Take a look at the adverts of any supersport and you're bound to see the rider hunched over in an aggressive tuck with his chest nearly resting on the tank, and knees bent with feet positioned rearwards. That's because, as the name implies, sportbikes were built for speed—quick stints around the circuit with shedding lap times as their main goal. That said, sportbikes make for some of the most uncomfortable rides when it comes to commuting on a daily basis, or going on long haul trips.
If you do fancy a bit of a challenge however, and you find yourself leaning towards the sportier side of riding, then maybe a sportbike could be for you. Additionally, if your commute isn't too far, or doesn't require you to traverse extremely dense traffic such as EDSA or C5, then perhaps you could get away with hopping aboard a bike like the Aprilia RSV4 1100 as your daily rider.
Power
Moving on to performance, most liter-class sportbikes churn out an immense amount of top-end power. Bikes like the Yamaha YZF-R1 come out of the factory with nearly 200 hp on tap. For reference, your family hatchback pumps out around 100 hp and weighs more than 4 times as much as a motorcycle. That said, piloting a near 200 hp machine can get pretty tempting—especially when the road clears up.
Things are a bit easier with bikes like the Kawasaki ZX-6R and the Yamaha YZF-R6. Although not pumping out as much power as their liter-class siblings, these bikes have quite a lot of pep thanks to horsepower figures that surpass the 100 horsepower mark.
Price
Lastly, let's move on to price and cost of ownership. As opposed to their naked counterparts, sportbikes tend to occupy the upper echelons of the price spectrum. For reference, the Ducati Panigale V4 S will set you back a sweet P1,995,000. Its naked sibling, the Streetfighter V4, on the other hand, is more affordable at P1,350,000. To add to this, accessing the bike's vital engine components takes a lot more work on a sportbike thanks to their large and sometimes complicated fairings. This adds up to more work, which results in a larger maintenance bill at the end of the day.
Now, we're not trying to dissuade you from buying a sportbike if that's what your heart truly desires. There are quite a number of really great bikes to choose from. It's just a matter of dialing in exactly what it is you're looking for, so you can enjoy your hard-earned purchase to the fullest.
---
Related Articles
When it comes to four-cylinder motorcycles, it's really a toss up between inline-four and V4 engines. Read on to learn the difference and to see which one's better.

CFMOTO has recently revealed the technical specifications of the new 450SR supersport. Here's why this bike will be a game changer in the entry-level sportbike market.

What differentiates a road-going sportbike from a full-on race bike? Well, quite a lot, actually. Read on to find out.

There's a lot to love about the new Yamaha YZF-R15M. Here's five of them.

Are you looking to get a be-all-end-all superbike? Well then, chances are you're considering either the BMW S 1000 RR or the Yamaha YZF-R1. Read on to learn more about these two bikes.
---
Latest Features
Why do all modern motorcycle engines have a rev limiter? What is it for and why does it sound the way it does? Read on to learn more.

Multi-compound tires are pretty much ubiquitous in the world of big bikes. What exactly is a multi-compound tire, and what are the benefits associated with them? Read on to find out

There are three popular types of oil filters, each with their corresponding claimed benefits. Read on to learn the different types and which one is the best.