/ Featured Article
Here's why the Royal Enfield Continental GT 650 is an amazing café racer
One of the best bang for your buck café racers out there.

on Jul 13, 2021
---
When Royal Enfield debuted its 650 twins in the global market in 2018, the entire retro motorcycle community was taken by storm. A major improvement, and quite possibly the best platform to have ever rolled out of Enfield's assembly line, both the Interecptor 650 and Continental GT 650 captivated audiences thanks to their killer looks, brutish engine, and affordable price tag.
Today, let's take a closer look at the sportier of the twins, the Continental GT 650, and decipher what exactly makes this sporty café racer such a bit both among purists and custom aficionados alike.
Head-turning styling
At a glance, the Royal Enfield Continental GT can easily be mistaken as a larger, more premium machine, like say, the Triumph Bonneville. However, upon closer inspection, it's clear to see that the Continental GT 650 is just a bit smaller and more compact. Needless to say, the bike's fit and finish is extraordinary, given its price point.
The Continental GT 650 employs a timeless café racer aesthetic which consists of classic lines accentuated by a flat boneline, low slung clip-ons, and slightly rearset controls. Once the rider mounts this bike and completes the café racer silhouette, the Continental GT 650 looks like it was taken straight out of a 1960s classic motorcycle catalogue.
Soulful engine
Powering the Royal Enfield Continental GT 650 is a modern-day powerplant engineered to look and feel like a classic machine. Its character does an impressive job of hiding modern amenities such as electronic fuel injection and overhead cams. It even gets a throttle body cover that resembles the carburetors of old.
The Continental GT's 650cc parallel-twin features a 270-degree crankshaft which gives this punchy motor the sound and characteristic of a 90-degree V-twin. It pumps out a healthy 47 horsepower which gives this café racer enough grunt to keep up with some modern-day machines.
A blank canvas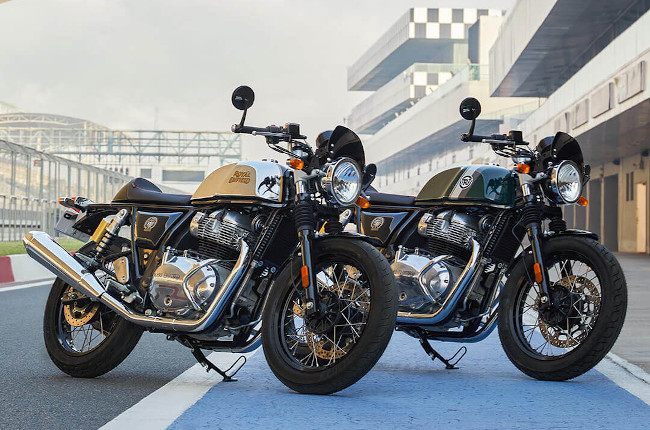 One of the most charming things about the Royal Enfield Continental GT 650 is the fact that it doesn't really matter how you set it up, it's a beautiful motorcycle both in stock and custom form. This means that it's the perfect choice for someone who just wants a good-looking café bike, as well as a custom enthusiast looking to unleash their artistic potential on a new custom creation.
The Royal Enfield Continental GT 650 is truly a perfect blank canvas for the discerning enthusiast. Do you want an all-stock machine, a slightly modified bike to suit your preferences, or a ground-up custom machine? The Royal Enfield Continental GT 650 ticks all those boxes, and then some.
Attractive price tag
The Royal Enfield Continental GT 650 is available in three different variants, each of which with their own unique color options. The most affordable option, the Standard, can be purchased in either Ventura Blue or Black Magic, and retails for P379,000. The more premium Custom variant is available in either Dr. Mayhem or Ice Queen color options for P385,000. Lastly, the top of the line variant, the Special, is available in a striking chrome paint scheme dubbed Mr. Clean, for P391,000.
---
---
Related Articles
Here are a few reasons why Japanese motorcycles are so popular, and are worth your hard-earned money.

Here are our picks of the top 5 fastest motorcycles you can buy in the Philippines.

Yamaha MT-10 or Honda CB1000R? Which of these bikes is the better choice? Read on to find out.

The Royal Enfield Himalayan is one of the best value for money ADV bikes in the market. However, it isn't perfect. Here are 5 things that could make it even better.

The BMW S 1000 RR is one of the most performance-oriented sportbikes in the market. Let's take a look at 5 of its most defining features.
---
Latest Features
Here are a few reasons why Japanese motorcycles are so popular, and are worth your hard-earned money.

The best deterrents are the ones that are used.

Here are a few things that make the CFMOTO ST Papio 125 an attractive mini-bike that's worthy of a second glance.