/ Featured Article
Why the Royal Enfield Himalayan is the beginner adventure bike to get
Searching for an adventure bike to start with? The Royal Enfield Himalayan should be on your list.

on Jun 25, 2021
---
The Royal Enfield Himalayan has been around the local market for a few years and has gained a great reputation for being one of the top choices for entry-level adventure bikes. There are many different things about the Himalayan which makes it a great motorcycle to own, being extremely capable for a variety of riding styles and riding conditions and coming in at a price that isn't too harsh on the wallet. It's safe to say that the Royal Enfield Himalayan is definitely the bike to get if you're looking to get started with adventure riding—here's why.
Off-road performance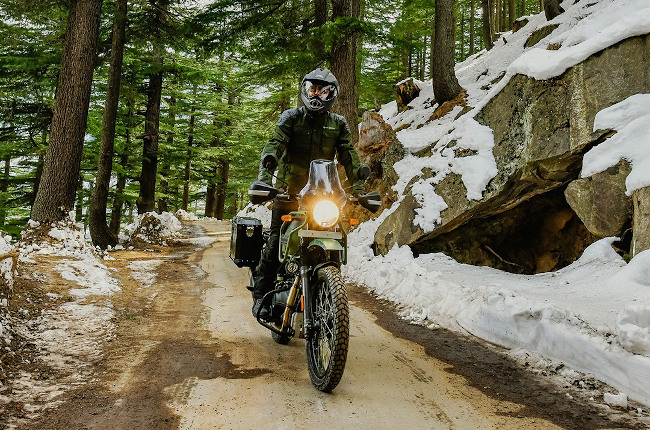 The Royal Enfield Himalayan comes with an off-road-oriented 21-inch front wheel and an adequately wide 17-inch rear wheel. Combined with the 200mm suspension travel up front, 7-inch suspension travel on the rear, and 218mm ground clearance, the Himalayan is evidently built to handle the trail. The large front wheel and adequate ground clearance will help take you over most trail obstacles. On a variety of off-road surfaces, the Himalayan is happy to ride along through relatively steep climbs, river crossings, loose or hard-packed terrain, and so much more. As such, the Himalayan makes for one of the best off-road-oriented adventure bikes you can get locally in the 400cc class of motorcycles.
On-road capability
While the Himalayan shines off-road, the on-road capability of the Himalayan is not sacrificed. The beating heart of the Himalayan is a 411cc single-cylinder engine churning sending 24.5 horsepower and a healthy 32 nm of torque to the rear wheel through a 5-speed manual transmission. While power figures are not dramatically high, the Himalayan churns out enough power to take you through any ascent, cruise, or commute with ease. It can easily get up to 100kph with no trouble and is happy to crawl through dense urban traffic given the relatively compact dimensions for a full-sized adventure bike. As a bonus, the engine displacement of the Himalayan also makes it a fully highway-legal motorcycle for those riding around Metro Manila and nearby areas.
Usability
The Royal Enfield Himalayan is generally a very friendly motorcycle to ride thanks to the friendly curb weight of 199kg and the very approachable 800mm seat height. The Himalayan is built to be ridden by all sorts of riders given the dimensions, and can easily be ridden through city traffic, provincial roads, and highways. If you're looking to ride with a pillion, the rear shock can be adjusted for suspension preload. If you're hoping to go on long tours with the Himalayan, the bike can be purchased brand new with panniers for long-haul rides. The newest version of the Himalayan also comes equipped with an electronic fuel injection (EFI) system which provides better fuel economy for everyday riding.
Price
Given everything that the Himalayan can do, it's safe to say that one of the reasons a Himalayan is worth owning is the price tag. Starting at just P304,000, the Royal Enfield Himalayan establishes itself as having superb value for money as a great off-road adventurer, a highway-legal tourer, a city commuter, and so much more. While there are a few other adventure bikes worth considering in this price bracket, the Himalayan is able to get you closest to a bonafide adventure experience on two wheels. If hoping to start on an adventure, it would be worth considering to start on the Royal Enfield Himalayan.
---
---
Related Articles
Here's our breakdown of what we think are the top 5 best adventure bikes with displacements of 1,000cc or higher.

Here are some of the most comfortable motorcycles available in the local market. These bikes promise hours of comfort for the longest of journeys.

Here are a few things we really like about the Moto Guzzi V85 TT and why it's worth your hard-earned money.

If you're in the market for a classic-style motorcycle, this is the one to get.

Let's take a look at Harley-Davidson's newest adventure bike, the Pan America, and pit it against the legendary BMW R 1250 GS.
---
Latest Features
If you've ever considered changing your brake lights to a different color, you may want to read this first.

Find out which Triumph motorcycle might suit your riding style and mechanical taste.

Here's our breakdown of what we think are the top 5 best adventure bikes with displacements of 1,000cc or higher.