/ Review
Mitas Touring Force sport-touring tires - Review
Are these versatile touring tires worth your hard-earned money?

on Jan 24, 2023
You could argue that the subject of motorcycle tires is something that boils down to personal preference. Indeed, with the dizzying number of options available in the market today, it can be hard to draw the line between marketing jargon and real-world benefits. Of course, the likes of Pirelli, Bridgestone, and Metzeler are well-established in the world of two wheels. However, in Europe, Mitas has been a force to be reckoned with for nearly a century now.
Mitas tires have been available in the Philippine market for quite a few years now. More recently however, distributorship of the tires has been handled by the folks over at BikerBox. We were able to get ourselves a set of Mitas Touring Force tires for us to run through their paces. Being an avid motorcyclist myself, I'm all about sport-touring rubber, and getting the perfect balance between mileage, performance, and cost. To say I ride quite a lot would definitely be an understatement, as I rode close to 70,000 kilometers in 2022 alone—all of which covered on expressway-legal machines.
Mitas Tires - A brief history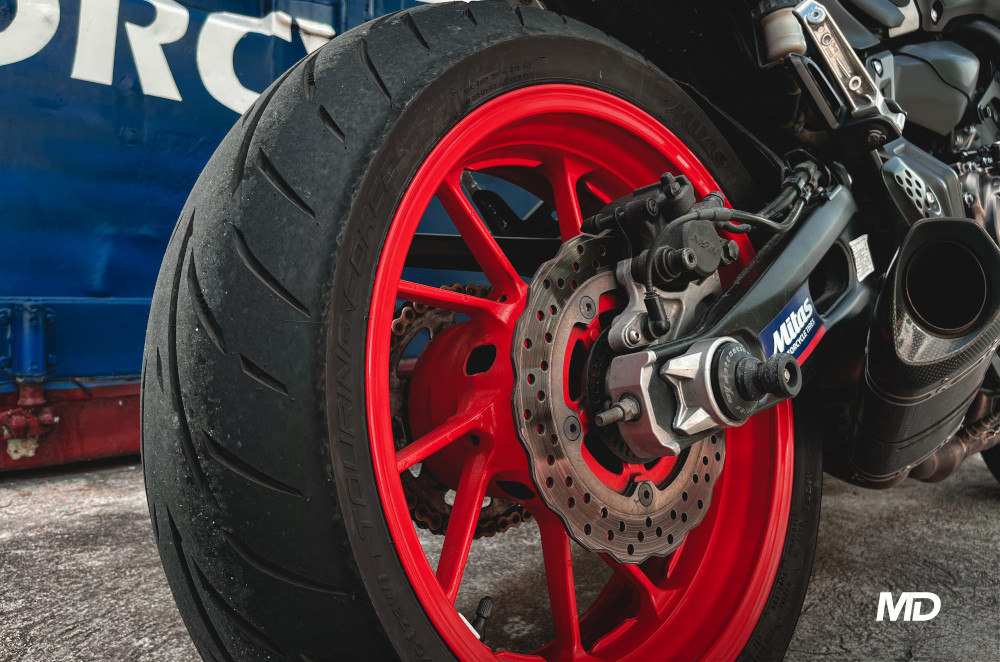 Diving right into it, Mitas is a brand that needs no introduction. However, first-timers may not be acquainted with the brand just yet, so here goes. The brand finds its roots in Slovenia in the 1930s where it focused operations mainly in Europe, producing tires for agricultural equipment such as tractors and trucks. Fast-forward a few decades later, the brand is present in 50 countries across the globe, and provides performance tires for a range of vehicles, most of which of the two-wheeled variety.
First impressions
Now, onto the tires in question: the Mitas Touring Force. I had these tires installed on my 2020 Yamaha MT-07, the bike I ride most frequently, so as to have a good idea of how these tires perform in all road conditions. For reference, the specs of my tires are 180/55 R17 at the rear, and 120/70 R17 up front. Right off the bat, these tires provided me with a confidence-inspiring ride—after the first few kilometers of break-in, that is. I noticed that they had a slightly sharper profile than my previous set of tires, the Bridgestone Battlax T32. Additionally, it has a much sportier tread pattern than most other touring tires, with the tread resembling supersport tires, save for just a few more grooves here and there.
Going the distance
As of this writing, I've clocked in a total of 800 kilometers on my Mitas Touring Force tires. Here are my observations. On the open road, they're incredibly smooth and quiet. During my ride to La Union, they trundled along flawlessly through the straightaways of NLEX, SCTEX, and TPLEX. I noticed that they provided a very smooth ride (my tire pressures were 36 PSI at the rear, and 34 PSI up front), and did a good job of smoothing out road imperfections.
It's worth noting that the Touring Force tires make use of a dual compound construction for the rear tire, which means that the center of the tire is made out of a harder rubber than that of the sides. This translates to more even wear as you rack up the distance, as naturally, you spend most time (and go the fastest) on the middle of the tire.
Speaking about cornering, the Mitas Touring Force tires immediately inspired confidence. Riding spiritedly up and down my favorite twisty road, I was able to make use of almost the entirety of the tires' contact patch. Cornering traction on dry pavement is superb—dare I say even better than that of the Battlax T32. In the wet, the tires are able to maintain their composure, however, it goes without saying that you need to adjust your riding style just a bit.
The verdict
To be perfectly honest, I have nothing bad to say about the Mitas Touring Force tires. Having tested them in all weather conditions, and on all road surfaces, it seems as though they're more than up to the task of going the distance, and providing you the traction you need on spirited rides. In terms of pricing, they're pretty much at par with that of Bridgestone, but are definitely much more affordable than offerings from Pirelli and Metzeler. Judging from their current condition, it seems that they still have thousands of kilometers to give. Needless to say, I'll be checking back once I've gone through the entire service life of these tires.
---
Related Articles
HJC's newest entry-level helmet, the C10, is indeed a capable all-rounder helmet. Read on to find out why.

As an entry-level Bell helmet, it gets a lot of things right. Here's our in-depth and honest review of the Bell Qualifier helmet in the Ascent colorway.

We try out Ducati's latest naked sportbike and see if the legend lives on.

4.7

/

5

Ducati has just upped the ante with its most powerful Scrambler yet.

4.8

/

5

Suzuki's V-twin fun for everyone has returned, and we hope it's for good.

4.1

/

5
---
Latest Review
We got the chance to run the 2023 Triumph Speed Triple 1200 RR through its paces, and needless to say, it was a thrilling, adrenaline-fueled ride.

We recently got our hands on the shiny new Shark Spartan RS helmet, and we were thoroughly impressed.

Understanding this bike will require a little mechanical sympathy, loving this bike is reserved for only a select few.

4.0

/

5