/ Review
2017 Suzuki SV650 Review
Suzuki's V-twin fun for everyone has returned, and we hope it's for good.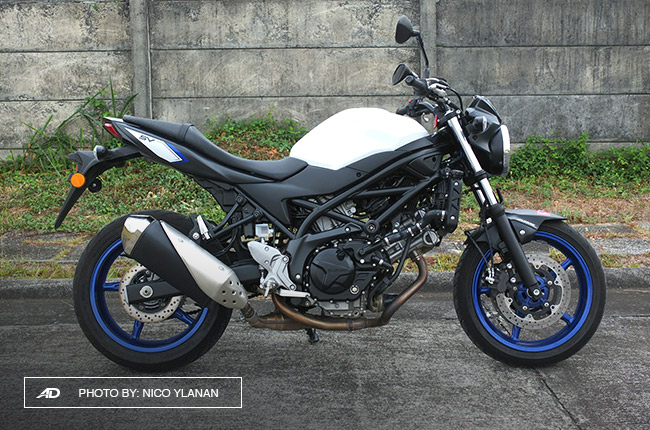 When I was in the market for my first ever higher displacement motorcycle, I remember fondly the amount of research I made on the different brands and models of motorcycles online. I had to work within a budget, of course, and the performance and ease of use was a huge factor, especially since I was always the type to use it as a daily transport, rain or shine.
The Suzuki SV650 always came up as a top choice. Ultimately, I never got the SV650, but opted for a beginner adventure motorcycle from another Japanese brand with the same displacement. Nevertheless, when Suzuki Philippines decided to bring in the fun loving V-twin in 2017, I knew I had to get my hands on one and take it for a spin, knowing full well about this motorcycle's following.
What is it?
Okay, so maybe 'following' is a bit of an understatement. The SV650 has always had cult status since its introduction in 1999, and the versatile and affordable platform has been produced in a variety of faired and naked versions that have appealed to entry-level and experienced riders alike. Unfortunately, in 2009, Suzuki introduced the Gladius (SFV650), which, at the time, featured polarizing styling. Throw in the fact that motorcycle manufacturers were having a rough time during the economic crisis, and you'll get the picture. It wasn't selling.
Riders all over the world were calling for its return, and after eight years, Suzuki has decided to go back to its roots. Suzuki has packaged the new SV650 as a return to greatness, and it just happens to be lighter, performs better, rides faster, and is cheaper than the Gladius it replaces. So, It looks like Suzuki fans can all breathe a sigh of relief.
True to Form
The Suzuki SV650 is a naked middleweight that happens to also feature a unique engine layout in its class and touches of modern technology. If you compare earlier versions of the SV650 with this one, you'll see the that the timeless design has aged well, needing only minor nips and tucks in the form of a tweaked seat, sharper tank, and sleeker exhaust. The trellis frame remains as does the classic round headlight. It's a clean, svelte look, especially once that rear fender gets an aftermarket removal treatment. The overall look is slim, and the short wheelbase and good full lock when turning make the SV650 an agile motorcycle in any condition. Unfortunately, being a naked bike, much of the hoses for the radiator and wires are visible, and the SV650 can look cluttered and messy when eyed at from the right side.
The SV650 also has a few modern tricks up its sleeve to keep it an interesting choice among its competitors. First, there's Suzuki's easy start system, which means that once the key is turned, just tap the starter once and the bike springs to life. No more holding the button down until the engine turns over. Second, and my favorite, is Suzuki's low RPM assist. What it does is that as you release the clutch lever slowly to pull away, a sensor sends a signal to the engine to keep the RPM rising, this, in turn, makes sure you don't stall and you don't necessarily have to use the throttle when setting off. It makes for effortless low speed riding in traffic. Lastly, you have ABS (anti-lock braking system) on both wheels to prevent locking under hard braking. It's a technological package that's well suited to this motorcycle, appealing to all kinds of riders and skill levels, while providing convenience features not found in other brands.
The bonus is a comprehensive instrument cluster that's easily readable and offers all the information you need for daily riding. From fuel range, two trip meters, average fuel consumption, gear indicator, and digital speedometer and rev counter, there's a lot to like here in terms of usability and functionality.
How does it ride?
Straddle the SV650 and you'll notice that the seat height is easily manageable at 785mm. The riding position is also fairly upright and leaning more towards the relaxed side, as the pegs and handlebars create a slightly leaned over stance. Even for my height of six feet, my legs easily tuck into the sides of the tank, and the overall feeling is stable yet poised for any changes in direction. Weighing in at just 195 kg with fluids, the SV650's mass is easy to manage, and just lifting it off the sidestand highlights this; it's not an intimidating weight at all, and supporting the motorcycle with one foot won't be a problem.
Once you thumb the starter, the 90-degree V-twin engine comes to life, offering up a claimed 75 hp with 64 Nm of torque. It's a nice, deep sound coming from the exhaust, and almost reminds me of a certain Italian brand of motorcycles that share a similar twin layout. Below 5,000 rpm, the engine can feel docile, excellent for new riders or those moving up from smaller displacement motorcycles. Get on the throttle, however, and the engine rips along, pulling strong from 5,000 rpm all the way to the 10,000 rpm redline with enough power and torque for all types of riders to enjoy. It's satisfying to ride a light motorcycle with good torque as it's almost effortless in handling most riding situations. It's punchy, sounds good, and the throttle response is crisp and light.
Handling is very good as the light weight and neutral riding position make for a very willing dance partner in corners. The SV650 falls naturally and predictably into corners, without much muscle involved. The fact that the engine can hold the lower three gears throughout a long set of canyon twisties means that you can get on the gas and engine brake with little effort, letting the revs rise and the chassis settle itself for each corner. There's no body language required, and the bike really feels like it's working with the rider. In traffic, the SV650's slim frame and agility shine, as gaps and opportunities to get ahead of slower moving traffic are aplenty. Rush hour won't be an issue as the light clutch and low RPM assist are welcome features in stop and go traffic. The liquid cooled engine does a good job of keeping cool, especially when the road opens up.
The brakes are a Tokico two piston setup with a 290mm disc that, while decent, can leave many riders wanting. They do feel wooden at times, and initial bite is lacking. A quick swap to braided lines and high performance brake pads will likely fix this issue. After all, ABS is there to keep you in good hands during panic stops. The suspension is also standard, offering the same equipment since the original SV650 in 1999. They feel compliant and supportive but there are times when it gets harsh over rough bumps. A quick swap to a front suspension from the Suzuki GSXR would open up a realm of performance for the SV650, and was something many riders around the world would recommend to increase handling capability. But, out of the factory, the suspension and brake combo feel behind, especially when compared to the Yamaha MT07, which is its main competitor.
Conclusion
For casual riders and commuters, the Suzuki SV650, priced at P399,000 might just very well be one of the most attractive and affordable of the middleweight motorcycles on the market today. It's not as aggressive as the Yamaha MT07; it has a more mature and sedate vibe and it gets the job done. It also just happens to be the only small V-twin for sale, offering up torque that will appeal to a wide variety of riders.
For new riders, it's an affordable package that works great straight out of the box, while advanced riders will have enough money left over to make a few choice modifications. For us, this makes the Suzuki SV650 the jack of all trades, and it can master some with a little visit to the aftermarket shop. Could it be enough to live up to the original SV650 legacy? We definitely think it can.
SRP: P399,000
Performance: 4/5
Design: 3.5/5
Comfort: 4/5
Usability: 5/5
Technology: 4/5
Rating: 4/5
---
---
Related Articles
We got the chance to run the Mitas Touring Force sport-touring tires through their paces. Read on to see if they're worth your hard-earned money.

The Pan America is not without its flaws, but it's a great first attempt at a proper adventure-tourer from the brand.

4.2

/

5

The entry point into Furygan's motorcycle jacket lineup has some premium features and a design for almost any bike.

It can compare with a Vespa, full stop, but does it beat it?

4.1

/

5

The new ADV scooter has a 157cc engine, traction control, and a host of other improvements over its predecessor.
---
Latest Review
We were one of the first to get our hands on the KTM 890 Duke R in the Philippines. Read on to see what makes this bike so special.

CFMOTO's electric subsidiary, ZEEHO, proves that the future is indeed electric with the AE8. Read all about this next-gen electric scooter in our full review.

4.6

/

5

We got the chance to run the Mitas Touring Force sport-touring tires through their paces. Read on to see if they're worth your hard-earned money.