/ Review
Ducati Multistrada 950 Review
Fast and practical fun to meet any need.
There was a time not too long ago that the Italian manufacturer, Ducati, was having trouble appealing to a wider group of motorcycle users. While the Bologna, Italy based brand had thrilling and beautiful superbikes and the classic unmistakable looking Monsters, the idea of an any road motorcycle would be further down the road. 2003 was the year in which Ducati would launch the first ever Multistrada, the name literally meaning "many roads" and was designed by Pierre Terblanche.
Fast forward to today, and we have different Multistrada nameplates that vary in size, capability, and performance. The recently launched Multistrada 1260 aims to improve upon the currently available Multistrada 1200 line, by packing the latest tech and performance aspects that have been worked on by Ducati's engineers. If you wanted to get into the whole touring motorcycle experience from the red brand, you'd have to fork out a considerable amount of dough and be willing to straddle quite a powerful and intimidating motorcycle.
I'm willing to bet that many are usually put off by power, price of entry, and seat height more than anything else. That's where the Multistrada 950 comes along, aimed at hitting the market looking for something more accessible, while retaining the identity that the brand is known for.
Ducati Multistrada 950 Review
What is it?
Simply put, the Ducati Multistrada 950 is the little brother in the Multistrada family. While the 1200 and 1260 Multistradas have variants such as the Pikes Peak, Enduro, and S, the 950 only comes in one trim, but the amount of technology and performance is nothing to scoff at. Powered by Ducati's latest 937cc Testastretta twin-cylinder engine, and features a suite of safety and creature comforts that are shared and taken from its bigger brothers, the Multistrada 950 looks and feels like any Multistrada out there.
A fairly large tank, comfortable seating position, a commanding view of the road, and the same looks and design that make it unmistakably a Multistrada, the 950 also happens to be one of the lowest priced Ducati's in the market today. Of course, the price will go up as more options and accessories from Ducati are added on, but the base model on showroom floors is already handsomely equipped.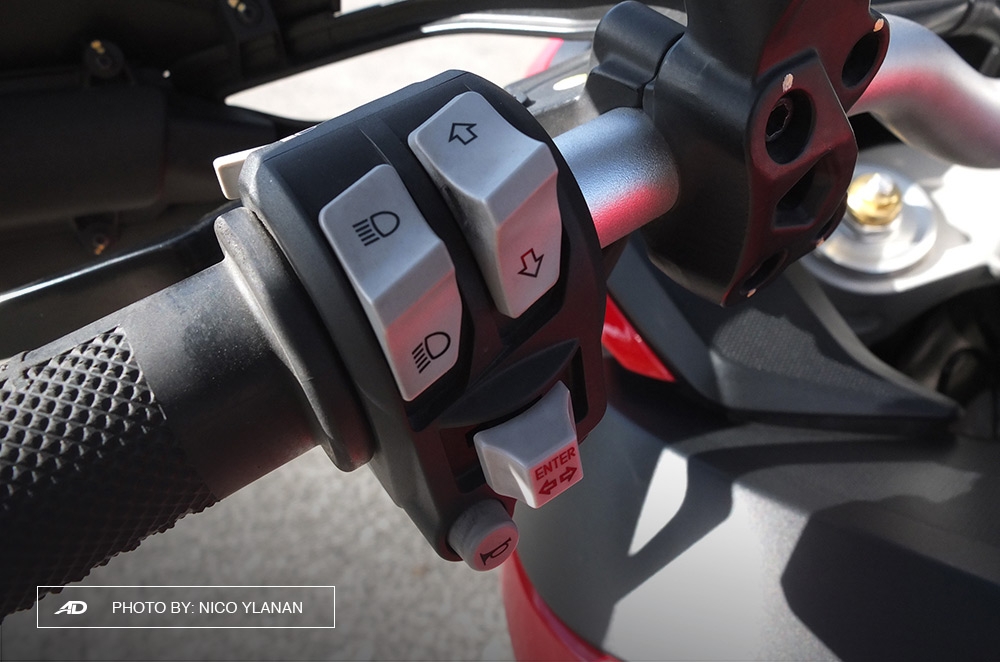 Not leaving out the good stuff
While the engine of the 950 is smaller, Ducati made sure to specc the smallest Multistrada with all the goodies to make every ride safe and comfortable. Standard is what Ducati calls their "Safety Pack", which is a combination of ABS and traction control levels that can be adjusted. Riding modes are also available, making the motorcycle adapt to varying road conditions and expected levels of performance. These riding modes also adjust the levels of the ABS and traction control accordingly, and on the fly.
An informative LCD screen is also standard, featuring everything you'll ever need to maximize your ride. Trip meters, fuel consumption averages and real time, range, riding modes, adjustable menus, and even adjustable brightness levels - information is literally at your fingertips. If you choose the heated grips and fog lights options, switches for these are already built in and ready for hook up.
While the Multistrada 950 is a commanding motorcycle, and the confidence it inspires when riding is great, it's still a good idea to keep your head in check since no amount of safety equipment will save you from all types of accidents of mishaps. Nevertheless, the Multistrada 950 is one of the most comprehensively equipped Ducati's for under a million pesos.
What's it like to ride?
As imposing as the Multistrada 950 is, its weight and size become imperceivable once you get going. There's noticeable weight when taking it off the kickstand because it tips the scales at 205kg dry, but the 840mm seat height can still be adjusted by choosing a low seat option. For anyone above 5ft 8in, you shouldn't have a problem at all. The seat of the Multistrada 950 is narrow at the thighs so getting leverage is easy, and the seat retains its comfort where it is needed most, making hours of any journey a pleasant experience.
The 937cc engine is pokey and good fun with usable torque for most driving conditions; this isn't a motorcycle you'd go flat out on anyway, because a fast yet steady pace is where this bike shines. It's good fun if kept within 3,000-7,500rpm, making quick work of corners and gaps in traffic. It's easy to get up to speed and the real world performance is splitting hairs with its bigger siblings. In an all out drag race, the 950 would still lose to the 1260 or 1200 Multistradas, but not by much. What you get is still a lighter and more manageable motorcycle for everyday duties. 110hp and 96Nm of torque is still up there when it comes to motorcycles, and those numbers prove more than enough to keep up with other bigger bikes on the road.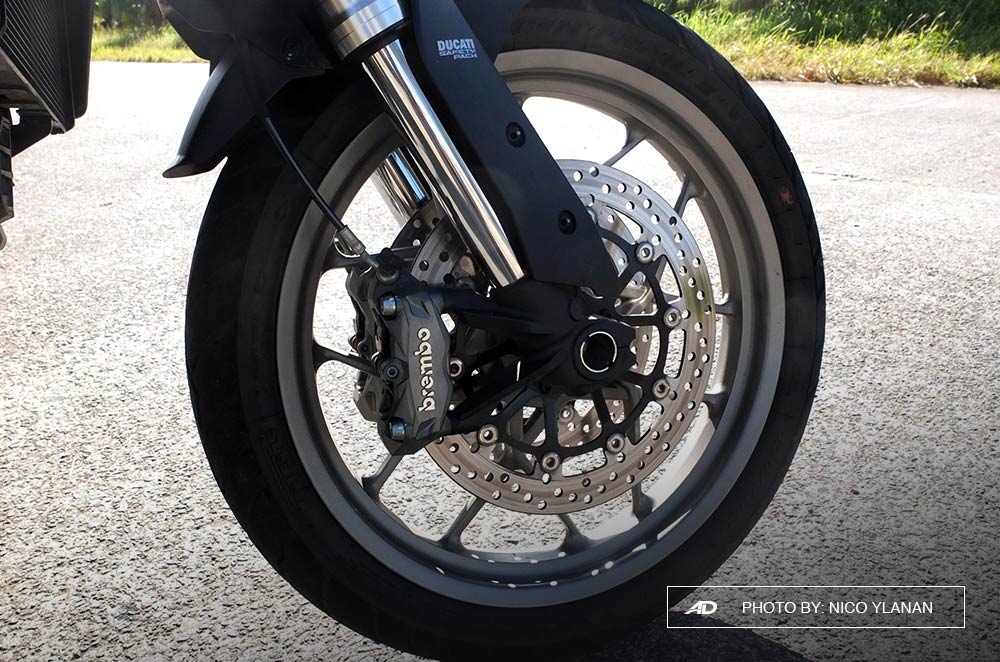 The tall stance and wide bars make for some great leverage in corners, allowing the rider to push a bit faster and lean over at angles that would impress even sportbike riders. At full blast, the throttle is fantastic and the engines loves to rev. Corners are taken at a good clip without a complaint and the safety tech doesn't intrude at all; it's there when a worse case scenario happens, but don't ride like an idiot and you shouldn't feel any slips or have any feeling of uncertainty. The suspension is good, but needs dialing in to get the most out of it. Adjustable on both ends and the inclusion of a remote preload adjuster in the rear unit is very welcome. Brakes are on point and initial bite is strong, courtesy of Brembo calipers all around.In traffic, the engine can get cumbersome, as the throttle starts to show its quirkiness at low speeds, almost chugging along waiting for more of the twist of the throttle. It's manageable with the clutch, but takes some getting used to. Even then, the sheer size and capability to see above cars give the Multistrada 950 and edge, making easy work of filtering and passing between vehicles. Just be wary of side mirrors as the handlebars have handguards than can clip mirrors of vehicles if not careful.
Nevertheless, it's a good everyday motorcycle that will handle almost any riding situation with ease. Riding 500km? No problem. Riding the same distance with a passenger? Easy peasy. The fuel capacity is good and the fuel consumption is impressive when compared to it's bigger brothers, at 20 liters and an impressive 18-19km per liter when ridden in a civil manner.
Heat management has something Ducati has improved on over the years, and the Multistrada 950 is liquid cooled. In stop and go traffic, any bike would complain, but the Ducati Multistrada 950 can get extra hot, especially when triple digits celsius is reached. The heat soak is bearable, but it can get very toasty in the thigh areas very quickly, almost to the point of it being uncomfortable. Keep moving and avoid long delays and stops to cool down. Don't worry, though, as current Ducatis have impressive maintenance intervals and have less horror stories than before.
Final Words
I'm happy that Ducati has released mid-level motorcycles looking for a perfect balance of accessibility and performance. Those looking for an entry into the red planet, and those looking for a motorcycle that can almost do it all, will be hard pressed to find anything better in Ducati's stable. In terms of versatility, performance, and technology, the Multistrada 950 hits the mark without much compromise. The only downside would be the heat from the engine, but if you're a true motorcyclist, you know the drill and wouldn't mind at all as long as you're in the saddle. Plus points if you're atop a Ducati, of course.
SRP: P995,000
Performance: 4/5
Design: 5/5
Comfort: 5/5
Usability: 5/5
Technology: 5/5
Rating: 4.8/5
---
---
Related Articles
HJC's newest entry-level helmet, the C10, is indeed a capable all-rounder helmet. Read on to find out why.

As an entry-level Bell helmet, it gets a lot of things right. Here's our in-depth and honest review of the Bell Qualifier helmet in the Ascent colorway.

We got the chance to run the Mitas Touring Force sport-touring tires through their paces. Read on to see if they're worth your hard-earned money.

We try out Ducati's latest naked sportbike and see if the legend lives on.

4.7

/

5

Ducati has just upped the ante with its most powerful Scrambler yet.

4.8

/

5
---
Latest Review
Read on to learn more about the capable Aprilia Tuono 660, a disruptive force in the middleweight sportbike segment.

4.4

/

5

We got the chance to run the 2023 Triumph Speed Triple 1200 RR through its paces, and needless to say, it was a thrilling, adrenaline-fueled ride.

We recently got our hands on the shiny new Shark Spartan RS helmet, and we were thoroughly impressed.