/ Review
2022 Peugeot Django 150 Review
It's hard not to compare it to a Vespa, but that just means that it can compete with a Vespa.

on Nov 04, 2022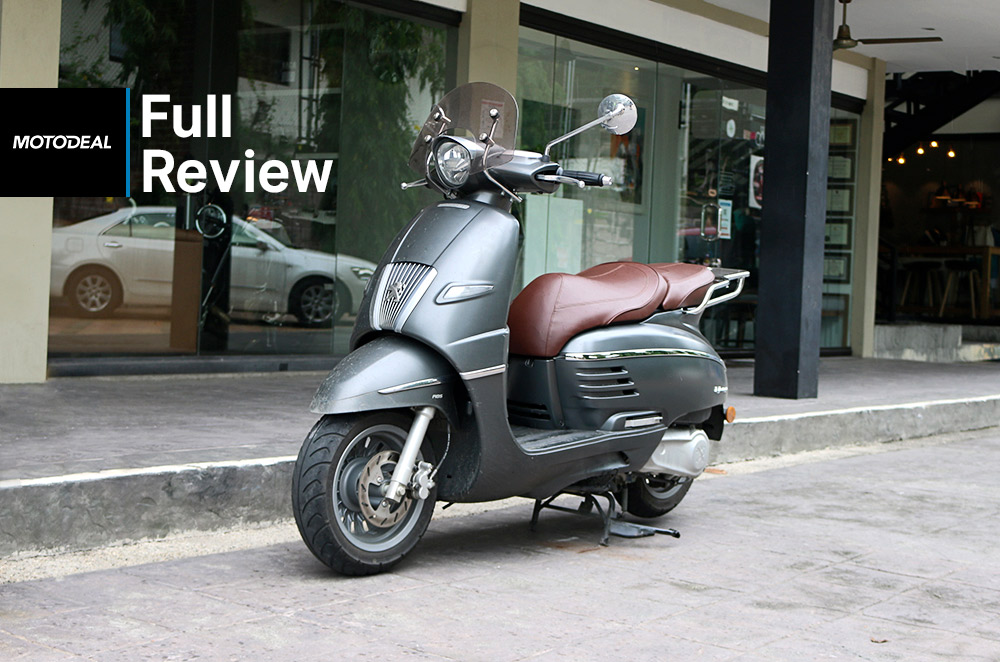 If you're looking for a stylish scooter, the name Vespa always springs to mind, followed by (now) Yamaha, Kymco, and maybe a few others who would be inclined to consider Royal Alloy. However, has Peugeot ever crossed your mind? No, not the car, the scooter.
Even Jinno wasn't fully aware that the French Marque made scooters that actually had style and substance. Actually, Peugeot has been around for quite some time now, but the brand hasn't been too forward with its marketing for the whole world to notice. Now that we got to test their scooters, however, you might need to add Peugeot to your wish list of stylish scoots.
2022 Peugeot Django 150 Review
What You Will Like
Head-turning and conversation-starting looks
Comfortable seat and Asian-friendly seat height
Friendly power delivery
Very accommodating pillion seat
What You Won't Like
Slightly under damped suspension
Gauge cluster is hard to read
Foot board may be cramped for tall riders
Design
When we first laid eyes on the bike, we thought that it wasn't totally a Vespa. Other competitors tend to inch a little too close to Vespa's iconic design but who can blame them? The Italian brand essentially laid the groundwork for what a posh scooter should look like. Peugeot, however, has its own way of doing things, and that's evidenced by their interpretation, the Django 150. Instead of being "inspired by a wasp," the Django is inspired by the streets of Paris in the 1950s. While we didn't live during that time, it seems like several parts of the Django was inspired by automobiles of that era, especially with the two-tone colorways.
Even with its retro inspiration, however, the bike is definitely a modern motorcycle. It's got LEDs all over, plastics instead of metal, and also an engine with fuel injection, but more on that later. The fit and finish are pretty great, especially with the leather seat. The design is unique, and it is a nice break from seeing Vespas all the time at cafes and other biker hangout spots, and you're sure to get a few people asking about just what the heck it is.
Whenever soneone would ask me, and I'd answer, they'd go "Django? What is that?" In a way the design speaks louder than the name, which is I think will pose as a challenge to Peugeot. They have the eye-catching design, but not the brand equity just yet. Over time people will come to know what it is.
Other than "What is it?" I also get the question "How much does it cost?" and "Where can I get one?" It's definitely a very interesting scooter, and it piques the interests of other riders with a penchant for style. That is, of course, while looking at it. The build quality looks premium, but the bike has some very slight creaks here and there. It's not deal-breaking but if your standards for scooters are ultra-high then there are a few buttons and panels that you can pick at. The passenger foot pegs don't feel super secure on the unit that we got, and the seat didn't pop open in one of the units, but perhaps these are manufacturing defects or brought on by abuse from our friends in the media, but everything else felt solid, of quality, and durable enough for daily use.
Performance
The engine in the Peugeot Django is a 150cc air-cooled twin-valve four-stroke single-cylinder engine that makes 11.3 hp and 11.2 Nm of torque. Power and torque are nearly one-to-one, so the scoot has a decent amount of pep when you twist the throttle, though not as much as I'd like compared to some of its other rivals. I will say that it is a more relaxed throttle in comparison to other scooters, but if you're liberal about twisting the grip, then you'll find that the scooter has ample giddy up.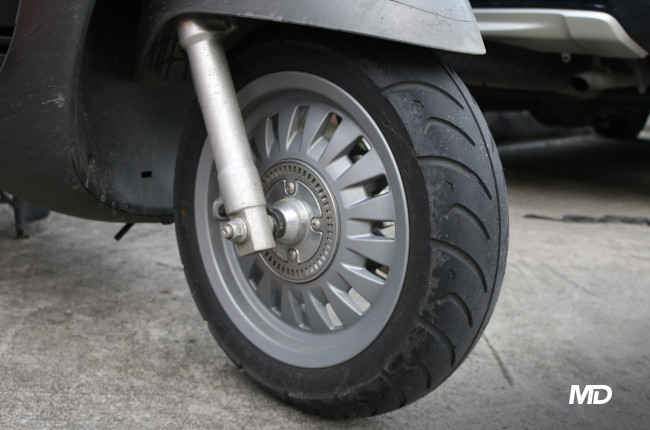 As for its transmission, it's also on the more relaxed side of things, opting for smooth takeoffs rather than responsive and sporty starts off the line. Once the bike gets up and going, it has some decent top-end power. I was able to test it next to an equivalent Vespa 150cc model, and the Vespa did have the advantage off the line but the Peugeot pulled away towards the end. The braking performance is good and the rear disc at the back is really nice to use and easy to modulate. I found myself enjoying how controllable the brakes are on the Django.
Comfort
With its standard scooter suspension, I'd rate the comfort of the Django to be on par if not a little better than the rest of its competition. It's reasonably comfortable over bumps, but certain sections of EDSA will rock you back and forth so the suspension travel is a little lacking. However, I will note that the seat really made up for the bump. It's nicely contoured and ergonomic enough for you to move around on. On top of that, your passenger is sure to enjoy the pillion seat as it's really wide and has a lot of room front to back.
The leg space is a bit cramped, however. Granted, this isn't a maxi scooter, but you will have no choice but to put your feet in front of you, and stretching your legs will be a bit difficult. Thankfully, the handlebars are high enough for me and it doesn't make contact with my knees. Though, it'll be best to actually sit on the Django and see if you fit should you be a taller-than-average rider.
Tech and Safety
The Django has standard safety features found in most scooters. You get ABS for your front brake and that's about it. Not that it needs a ton of tech actually because it's so well-behaved. On that note, the gauge cluster is serviceable though it is not without its cons.
You get an analog speedometer and a digital readout for your fuel gauge and trip meter. You don't get a fuel economy meter here so you have to calculate things the old-fashioned way. The LCD section of the dashboard is a little too big and the fonts are too spaced out, but the font is very readable which cannot be said for the speedometer which features a tiny needle. The bubble lens that the cluster has is also a glare magnet and it prevents you from reading the information on the display at some viewing angles.
Other than that, there is a nifty feature that Peugeot installed on this scooter. If you leave your turn signals or your hazard lights on, the bike will beep until you turn it off. It's like a bit of an annoying reminder to turn your indicators off, but it's rather annoying when you hear it and not so audible if you're already going at speed. Its effectiveness will depend on the rider, but it's something that'll keep you from forgetting if you notice it.
Usability and practicality
I rode this scooter daily, and it was always a treat to ride. It's extremely light at just 137 kilograms, and its low seat height makes it extremely easy to take around in the city. On top of that, you also get a sizeable amount of storage space which is enough to fit a half-face helmet in, but not a full-face, unfortunately. The model that we got had a few additions like a luggage rack and we were able to use it to mount our cameras when we shot this bike for Beyond the Ride. Of course, the accessory can also hold luggage so you can strap down a bag or package at the back of this bike and it'll take it. Following that there was also a windshield fitted on this bike. It's no performance machine, but for long stints on the road, it does the job to keep the wind off your chest and help reduce your fatigue.
During my time with this bike, I was able to achieve 34.5 kilometers per liter running its 8.5-liter fuel tank down. It wasn't the most fuel-efficient scooter for me, however, since I did keep its revs up while I was on it so your mileage may vary. With a tamer rider on the saddle, it's likely that this bike can hit about 40 km/L or more if you want to hyper-mile it or if you don't go through tons of traffic as I did.
Verdict and Price
The Django 150 starts at P199,000. It's a bit of a shocking price if I am being honest. The model certainly has the looks and much of the quality needed to be considered a premium scooter. However, Vespa is already in control of this price range in the realm of premium scooters, so for Peugeot to go straight at the Italian brand with its models is a statement. MotoStrada firmly believes that the Django can compete, and we think that it can as well. It's stylish, different, and offers riders something that isn't just another posh Italian scooter. Peugeot is French, by the way, so it's a posh French scooter.
So is it a scooter worth buying? Think of it this way: Let's say you buy a Vespa to be different. Let's also say that plenty of people want to stand out while they commute with their scoot. Let's also say that you're someone that likes the style. Plenty of people want a scooter that looks good, is practical, stylish, and is easy to ride so does that make wanting to be different a common trope among motorcyclists shopping for a stylish scoot? To be truly different means that you have to think outside of the box, and the Django is currently on the outside looking in. It's even easier to ride than a Vespa, it's still from a European brand, and it stands out even in a sea of "I-want-to-be-different" because it is truly different.
Photo Gallery
---
---
Related Articles
The Pan America is not without its flaws, but it's a great first attempt at a proper adventure-tourer from the brand.

4.2

/

5

The entry point into Furygan's motorcycle jacket lineup has some premium features and a design for almost any bike.

The new ADV scooter has a 157cc engine, traction control, and a host of other improvements over its predecessor.

We got the chance to test the new 2022 Honda Click 160, torquier than before, and with updated styling, is it your next city scoot?

We stretched the RC 200's legs on track and were thoroughly impressed.
---
Latest Review
Let's take a closer look at HJC's newest mid-tier touring helmet, the HJC i71.

HJC's newest entry-level helmet, the C10, is indeed a capable all-rounder helmet. Read on to find out why.

As an entry-level Bell helmet, it gets a lot of things right. Here's our in-depth and honest review of the Bell Qualifier helmet in the Ascent colorway.