/ Review
2023 Honda Transalp XL750—First Ride Impressions
Honda's sticking it to the other middleweight rivals in the adventure-touring category. Is it the next value king in the segment?

on Jun 02, 2023
If you've waited this long to get an adventure bike, that is a Honda, that's around the 700ccs, and that's for a price that's hard to resist, then this is it. This is the one, but there are a few catches. I won't get into too many details for this intro. You're probably begging to get on with the program so let's go. I was extremely excited to finally try out the Transalp XL750 and find out if all the hype was worth it. So let's go.
Design
Probably one of my least favorite aspects about the Transalp is its design. Come on, Honda, the Africa Twin is right there, the CB500X has a bigger and more pronounced front, why did the Transalp suffer in this department? As far as looks go, there's nothing truly bad about it, but the size of the front end is a little underwhelming compared to the actual displacement and size of the bike, it just looks a bit off. Everything is just good, not too great. I don't consider it to be cool, but it has a safe design overall which should please a lot of people.
The looks are okay. Again, inoffensive but not too noteworthy. The Transalp could end up blending in with the rest of the lineup, and the CB500X is the closest to it in terms of design. However, this could be alleviated with a colorway that's similar to the Honda Africa Twin. A white colorway could give the Transalp a bit more visual bulk which could help the front-end from looking rather tiny. Other than that, however, the rest of the bike looks great. The side profile minus the front end is good-looking, and the rear is thin but relatively memorable with its unique taillight design.
As far as build quality is concerned, it's up there and a good bet if you want a long-lasting and durable motorcycle. All of the touch points are stable, the bike feels ergonomically sound, and the model also has Honda's higher-end switchgear as found on the Africa Twin. As the adventure-tourer for Honda into the middle-weight class, it's definitely also a step up in terms of features and quality over the CB500X. I appreciate the TFT gauge cluster and the myriad of buttons present and done with quality plastics and rubber. As far as expectations go, the Honda Transalp surpasses my initial thought about its build quality given my feelings about the front-end, but at least the windscreen seems functional enough, though it's not adjustable so you may have to resort to an aftermarket system if you want to be fancy, or a shorter or taller one that's fixed if you're on a budget. As it stands, however, it's definitely something that you might miss if you get the black and red colorway. Personally, I'd go with the red-white-and-blue model for added visibility and style.
Features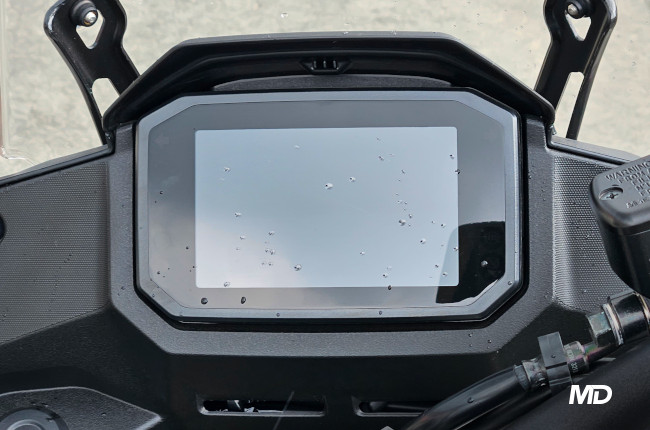 Without touching upon the specifications of the model, the Transalp is pretty loaded when it comes to tech and what I'd like to call a feature freak of nature in the realm of Japanese adventure bikes. Honda is shaping up to be a force in offering just the right amount of features for the price that you pay and then some. I've already mentioned the TFT display, which is bright, not extremely big, but more than enough to give you a good readout of your speed, distance traveled, engine speed, and more. Traction control is available and tunable depending on the amount of slip that you want, and there are also riding modes that alter the throttle, engine brake, and the engine's ability to deliver power—a trick that the bike learned from the more expensive Honda sport and sport-naked bikes.
There's more as well, which include the windscreen which comes stock, the all-LED affair for the headlights and taillights, the included ride modes with a rider-customizable option, plus road-biased dual-sport tires as stock. There are also luggage attachment options if you prefer tying down your equipment or clothes on an adventure, but a beefier option will be needed if you want to go out on a long and drawn-out adventure.
In its stock form, it's well-specced, and there really is no galavanting about it, the adventure-tourer is definitely equipped well enough with modern luxuries and rider aids to keep you riding on and on. The bar for value has been set, but more on that later.
The First Ride
So in typical Honda Philippines fashion, the first ride was around the brand's test track in the Honda Safety Driving Center (HSDC). No dirt anywhere to be found, but a few twists and turns of the slow and fast variety. Kind of odd to have a test rider around HSDC with an adventure bike, but it was more than enough to expose a few things.
First off, this bike is rather quick. It's definitely no Africa Twin nor is it a BMW R 1250 GS, but it's definitely close in terms of punch compared to its main rival, the Yamaha Ténéré 700 if not a little better. It's getting there in terms of its engine compared to the KTM 790 Adventure S and R, however, and that's good since it has 90.5 hp and 75 Nm of torque. This means that it will be no slouch on the highway, and it can definitely keep up with other adventure bikes in terms of straight-line speed. We didn't get to go fast enough to see whether the 21-inch front wheel would wobble, however, but we suspect that it won't be too bad on the highway. While we're at it, it's worth mentioning that the rear wheel is 18 inches in diameter, so that's another thing to consider when buying this bike, you'll be shopping in the adventure section of your tire section for sure.
One thing that this bike does excel at is low-speed maneuvers. Typically, I have no problem leaning an adventure bike on its side while doing tight turns and u-turns mainly due to the generous amounts of steering angle that Honda was able to build into the headstock. Whether standing or sitting, the bike was maneuverable enough through cones or tight right or left u-turns. Ergonomically speaking, it's comfortable for my lanky build. I stand at a height of five feet and eight inches, and the Transalp fits me well. Larger riders can also feel at home here, but I will say that the footpeg placement is a little on the sporty side of things, folding my legs back. Seat height, however, comes in at 850mm, which will be a little daunting for short riders. However, it is a narrow seat, so your mileage will vary depending on your inseam.
Handling and comfort-wise, the suspension was well-damped and good for quick changes in direction. It held firm while cornering at a decent pace on Honda's test track, but more speed will be needed to deliver a full verdict here. At least for the low-speed stuff, the Transalp was light while rolling, and an easy ride all throughout our brief test run. Whether or not it will perform well on the dirt remains to be seen, but I'm a little concerned about that 21-inch wheel, then Honda opted to go with a road-biased tire. I expected Big Red to go with at least a 60:40 trail tire on the Transalp given the wheel setup, but I'd reckon that Honda's choice for rubber is definitely a good choice for touring on the road and some light trails.
Apart from that, the brakes feel good. Honda typically knows their equipment well when it comes to braking, with the rear brake being suited for modulation, and the front having a quick bite but not too quick. The ABS system is a little sensitive but it's a good thing that it is switchable via the ride modes baked in.
Price and verdict
I see that Honda knows its market well and it's shoving a lot of the "it" features found in adventure bikes now into the Transalp XL750. I feel that Honda could have done a better job in terms of styling by making the headlight a little more pronounced or just making it a straight-up baby Africa Twin, but that's just me. There will definitely be Transalp fans in the Philippines, and currently, the model has been selling out every time dealers get new stocks in. According to sources, the line is long, so book your slot now before it's too late.
However, I will note that all my nitpicks go away when I look at two things, the specs, and then the price. For all that you're getting in the Transalp, all you pay is just P598,000, which is an absolute bargain for a Honda, for an adventure bike, and for something that can get you out on the road and is almost dirt ready—just get a set of dirt tires and you're good for the trail!
Overall, I really think that the Transalp will sell well, regardless of how I feel about its looks. Finally, it seems that Ténéré 700 will get a run for its money, and the whole MotoDeal team feels that these two models will be the two biggest rivals in the adventure-touring segment for Japanese middleweights.
---
---
Related Articles
Understanding this bike will require a little mechanical sympathy, loving this bike is reserved for only a select few.

4.0

/

5

The Honda Rebel's scrambler of a brother, the CL500, is a more standard-looking beginner big bike. Is it any good? Here's a first impression.

Poweroad's lithium batteries offer lightness and longevity for your motorcycle, but is it worth upgrading to and can you upgrade to it?

Rebellious this is not. The biggest and easiest rebel to ride is also quite affordable for what it is.

Here's a very premium way to get into retro motorcycles and motorcycles in general, the Royal Enfield Hunter 350.

3.6

/

5
---
Latest Review
Read on to learn more about the capable Aprilia Tuono 660, a disruptive force in the middleweight sportbike segment.

4.4

/

5

We got the chance to run the 2023 Triumph Speed Triple 1200 RR through its paces, and needless to say, it was a thrilling, adrenaline-fueled ride.

We recently got our hands on the shiny new Shark Spartan RS helmet, and we were thoroughly impressed.