/ Review
2022 CFMOTO 700 CL-X Sport Review
This bike is unbeatable when it comes to tech and performance in its price point.

on Apr 18, 2022
Just a few years ago, you'd be hard pressed to find a motorcycle that packs a 700cc engine, premium suspension, and fancy Brembo brakes for around P400,000. Back then, P400,000 could barely get you through the proverbial big bike door, let alone into the big leagues of performance. Sure, machines like the Honda CBR500R and Kawasaki Z400 pack quite a punch, but they've got nothing in comparison to the spec sheet of CFMOTO's most premium model in the CL-X range, the 700 CL-X Sport.
We got the chance to spend quite a lot of time with the new CFMOTO 700 CL-X Sport, and needless to say, we were blown away by its styling, performance, and tech. Today, we'll go on a deep dive and explain in great detail exactly what this motorcycle has to offer, and why it just might be the best bang-for-buck middleweight naked bike in the market today. Yes, it's a hefty claim, but this bike certainly has the goods to back it up. All that being said, strap on your helmets, and get ready for a thrill ride with this punchy neo-retro machine.
2022 CFMOTO 700 CL-X Sport Review
What You Will Like
Striking design
Surprising performance
Impressive build quality
Design
Just one glance at the CFMOTO 700 CL-X Sport makes it clear as day that this bike is a cut above the rest of the manufacturer's lineup. Don't get me wrong, bikes like the 400 NK and GT 400 are excellent beginner-friendly machines. As such, they're built to a budget, and it's easy to forgive CFMOTO for releasing these bikes just a little rough around the edges. When you look at the 700 CL-X Sport, however, it's evident that CFMOTO left no stone unturned, and no expense spared in making this bike the most drop-dead-gorgeous bike in its roster.
Starting off at the front of the motorcycle, the Sport gets a striking LED headlight pod with a modern-day interpretation of a classic cafe racer trait: the iconic taped "X" on the headlight. This was commonly done by cafe racers in the 60s and 70s as a safety feature simply to prevent broken glass from scattering on the floor. These days, however, the "X" on the headlight has become a hallmark aesthetic trait of neo-retro machines, and the CFMOTO 700 CL-X Sport does a remarkable job of breathing new life to this concept.
As you move to the middle of the bike, a muscular fuel tank sits in front of a short seat assembly with a built-in cowl. This gives the bike a very short and stubby rear end, further amplifying its custom look and feel. Just ahead of the fuel tank are low-slung clip-on handlebars that put you in a relatively aggressive, hunched over position. This is essential in completing the cafe racer aesthetic, as the rider always has and always will be part of the silhouette of the machine. At the rear, the tail light is integrated very seamlessly into the bodywork, and is almost invisible when looked at from the bike's side profile.
Beneath the minimalist bodywork, CFMOTO has given the engine some fancy cosmetic touches including faux cooling fins to further emphasize the retro look. While this engine is thoroughly modern—equipped with electronic fuel-injection and liquid-cooling, touches of polished aluminum and contrasting elements on the engine cases give off a classic, vintage air.
Performance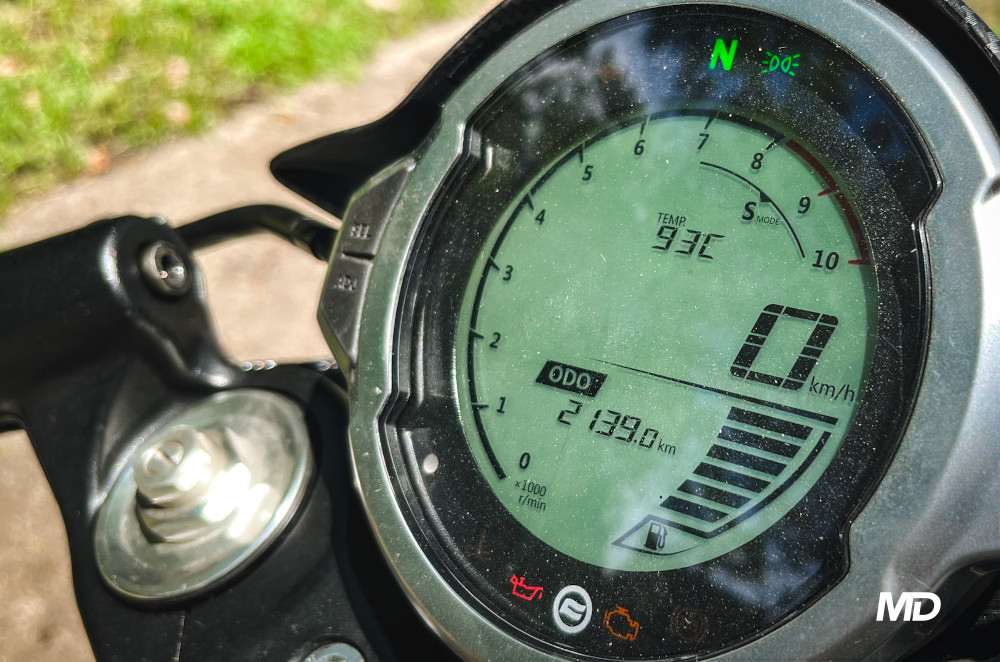 Yes, we can unanimously agree that the CFMOTO 700 CL-X Sport is a gorgeous machine, no matter what angle you look at it from. However, its plus points extend to more than just its looks. The bike gets CFMOTO's tried and tested 693cc parallel-twin engine found in the incredibly popular 700 CL-X Heritage. In the Sport, however, it's tuned to provide just a tad more performance which translates to a thoroughly exhilarating ride once you twist open the throttle.
More specifically, the CFMOTO 700 CL-X's engine produces a maximum output of 70 horsepower and 61 Nm of torque. When compared to the Heritage, it's clear that CFMOTO has tweaked the Sport's tuning, as it was a lot faster and quicker to accelerate. What's even better is the fact that the bike comes with two riding modes which can very easily be switched while on the go. The difference is very noticeable, too, with power and throttle response very much muted when in Eco mode, and the engine all of a sudden coming to life in Sport mode.
While the engine could very well be one of the best parallel-twins from CFMOTO (excluding the 800MT, which is just on a different level), it isn't without its faults. For starters, the 180-degree crankshaft, similar to what we find in Kawasaki and Honda parallel-twins, leaves a lot to be desired in terms of sound. Additionally, the transmission could use just a bit more smoothness, especially when it comes to finding neutral when at a stop. A quickshifter, even just an up-quickshifter, could certainly add to the bike's exhilaration factor.
Comfort
When it comes to cafe racers like the CFMOTO 700 CL-X Sport, it's understood that comfort is meant to take a back seat. This is the case with the 700 CL-X Sport. It's clear to see that the bike offers a rather aggressive rider triangle, with its low-slung clip-on bars. Its low seat and fairly neutral rear sets, though, make it a bike that's surprisingly compliant despite its rather aggressive stance.
When you're on the go, however, you forget just how aggressive this bike is, as it's exciting and exhilarating to ride. It behaves similar to a sportbike in the sense that it handles very sharply, and is eager to carve corners at speed. The hunched-over riding position gives you ample leverage on the handlebars, making it confidence inspiring to take this bike to the track, or attack a flowy twisted road.
Tech and Safety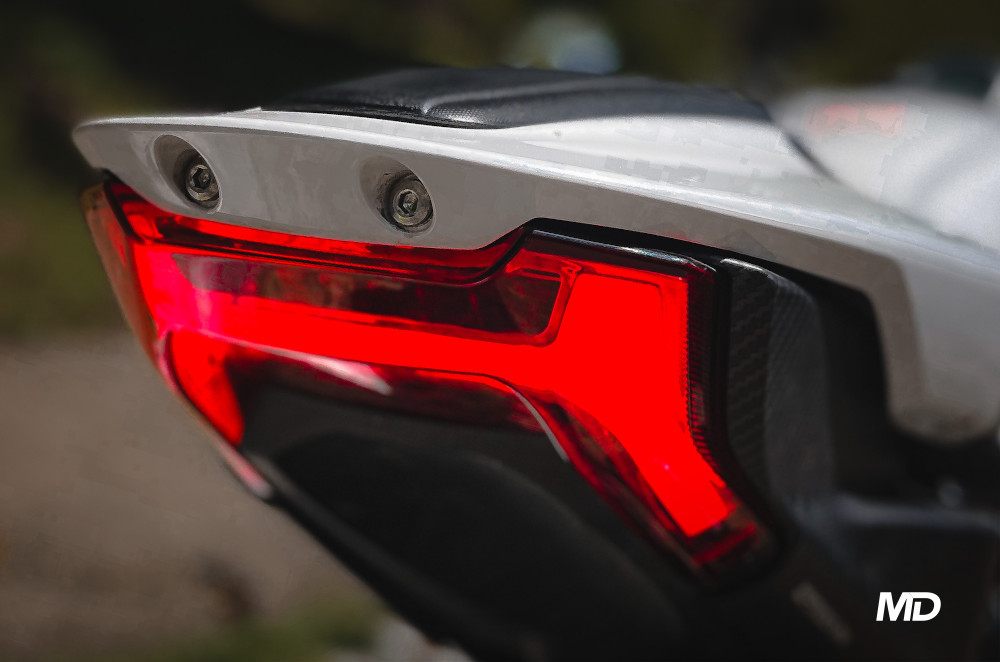 When it comes to technology and safety features, the 700 CL-X Sport is one the best to ever come out of CFMOTO's model range. It puts premium Japanese middleweights to shame with its extensive list of electronic features. For starters, it gets the standard ABS brakes, but this time, takes things up a notch with Brembo monoblock calipers. The brakes are extremely sharp, and inspire tons of confidence, even with just a one-finger pull on the lever.
The extensive list of electronic features includes touring-specific amenities like cruise control—something that's surely appreciated by anyone who frequently rides on the expressway. CFMOTO flexes other features, too, like self-canceling turn signals, on-the-fly riding modes, and a slipper-assist clutch that makes it very easy to shift gears quickly. As mentioned, we really wish the bike came with a quickshifter, to further enhance its already exciting performance.
Price and verdict
When we first found out about the pricing of this model, we had to do a double-take and ask again. For just P399,800, the CFMOTO 700 CL-X offers the performance and features of bikes that cost upwards of P500,000. Incredible value for money, indeed. If you look at this bike's closest rivals from Europe or Japan, it's clear that the 700 CL-X Sport is way ahead of the competition. Its fancy brakes and adjustable suspension beat anything the 650-700cc class of Japanese motorcycles has to offer, and sits more closely to the realm of the 900cc class occupied by the likes of the Yamaha MT-09 and Kawasaki Z900.
All that being said, the CFMOTO 700 CL-X Sport is perfect for intermediate big bike riders looking to upgrade either from the 400cc class, or make a marginal upgrade from the 650cc class into something more refined, powerful, and loaded with features. Apart from the impressive performance this bike brings to the table, it also offers killer styling that's all the rage these days among the neo-retro enthusiast crowd. Needless to say, CFMOTO is on the right track with this bike, and if it continues disrupting the market with bikes that boast such remarkable value for money, it could certainly give European and Japanese bikes a run for their money.
Photo Gallery
---
---
Related Articles
We were one of the first to get our hands on the KTM 890 Duke R in the Philippines. Read on to see what makes this bike so special.

CFMOTO's electric subsidiary, ZEEHO, proves that the future is indeed electric with the AE8. Read all about this next-gen electric scooter in our full review.

4.6

/

5

We recently had the opportunity to spend some time with the BMW F 850 GS. Here's what we think about it.

4.4

/

5

Why pay big money for a bigger bike?

4.0

/

5

In some cases, it's better than its bigger brother.

3.9

/

5
---
Latest Review
Let's take a closer look at HJC's newest mid-tier touring helmet, the HJC i71.

HJC's newest entry-level helmet, the C10, is indeed a capable all-rounder helmet. Read on to find out why.

As an entry-level Bell helmet, it gets a lot of things right. Here's our in-depth and honest review of the Bell Qualifier helmet in the Ascent colorway.