CFMOTO, a brand that is known for the 400 NK. While that's a great highway-legal motorcycle in its own right, it lacks a bit of that excitement factor. Still, for an entry-level big bike, it's a great place to start or trade up to.
Yet, we can't help but wholly recommend its bigger brother, the CFMOTO 650 NK instead. All around, it's a better bike, and a more worthwhile purchase especially if you love riding. Let's run through several of the reasons why it makes such a great choice in the market while comparing it slightly to the 400 NK.
2022 CFMOTO 650 NK Review
Design
From afar, you won't be able to tell that this bike is the bigger 650cc sibling save for a different set of decals on the fairings. While the 400 NK has a stylized "NK" decal, the 650 NK receives a CFMOTO logo on its side. The blue, silver, and black colorway that the bike came in is pretty snazzy and features matte surfaces as well as glossy surfaces that make it looks visually interesting. It's not like we haven't seen this model before, but it still holds up to this day.
The side mirrors stick up a little too high for our liking and got in the way of filtering efficiently, but it was more than enough to see with.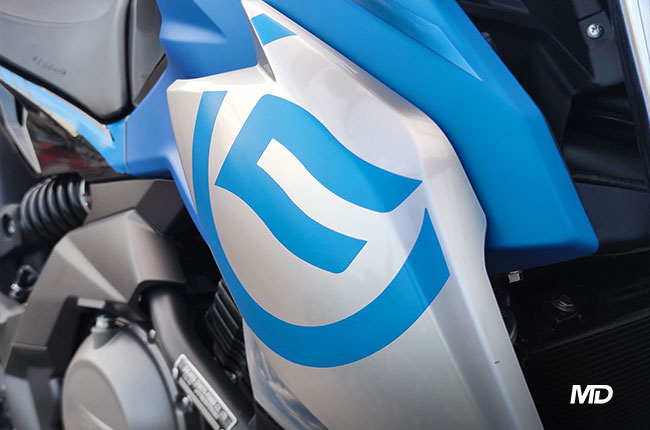 Overall, it's a very presentable sport-naked, and you will definitely have no trouble taking it to bike meets or other rides with friends. On the other hand, it blends in well with the rest of the big bike crowd. While it looks like a 400 NK, it's definitely tons more exciting.
Performance
On that note, you get a bigger-displacement 180-degree parallel-twin engine that has 649ccs of displacement, two camshafts, and makes a decent 60 hp and 56 Nm of torque. That's 20 horses more than the 400 NK with around 40 hp. Among the middleweight motorcycles that it competes with, it's one of the lower-powered ones out there, which can be a good thing for people who don't want a fire-breathing monster. The powerband is also more approachable for most, with a bulk of its power and torque being made at the upper limit of its rev range.
The suspension is a set of KYB front forks and a rear mono-shock. The front is non-adjustable while the rear can be dialed in for pre-load. It's a fairly standard system and is quite bumpy out of the box. The rear suspension uses a cantilever system, which angles the shock quite sharply, making for a ride that is more sporty than comfy. Despite its rather standard setup, the NK returns decent amounts of agility through the corners. Going straight over a bumpy road is a little troubling, but turning is quite confidence-inspiring.
Now onto the not-so-nice. Most buyers who use the CFMOTO naked lineup often take it on long rides or use it as a daily commuter. For that purpose, it does fine, but low-speed maneuvers were a little hard at first on this motorcycle. It's not as nimble in the corners due to its weight either, but because it's heavy-set, you get a lot of stability whether at speed while staying upright and going slow. On top of that, it's not the flickiest thing on the planet, but as we mentioned, it's super stable. That's also helped by the fact that it comes stock with Pirelli Angel GT tires, which are more for sport-touring, but they do well in a myriad of other conditions, better than most standard sportbike sets. Take it as you will, but it's quite heavy to lean into the corners. Once it's there, however, it stays very true and planted. The ergonomics are also quite tucked down and rather aggressive, so it puts you in a very ready position to tackle some twisties.
Overall, it's a very good performer. The engine is very predictable and friendly enough for most people to swing a leg on and take full advantage of. It may be heavy, but you just have to ride it with more intentional inputs. The engine carries the weight pretty well, but it's somewhat lacking for a 650-class bike, but hey, it's a very affordable middleweight, and it exceeds our expectations for the price that you pay for it.
Comfort
As stated, it's not that comfortable. The suspension leans more towards the sportier side of things when talking about its ride quality. Going over rough roads is a little taxing on your arms and your lower back, mainly because the rear shock is angled diagonally instead of vertically.
Literally on top of that, the seat is not the thickest. We know that CFMOTO was aiming for a low and approachable seat height, but we'd prefer a taller seat height for some extra cushion on the posterior side of things. After a long ride, we found the seat to be a little too hard and stiff, but not in the supportive kind of way. To add, it's also a curved seat, so you can't really shift your riding posture back and forth. Whether you're accelerating or braking, the seat slides you into the tank which may lead to some rather uncomfortable instances, especially with male riders.
Tech and Safety
On the dashboard, you will see a new TFT display that shows you a speedometer, tachometer, trip meter, odometer, and gear position indicator among other things. However, the pre-facelift of the 650 NK had the digital gauge cluster of the 400 NK, which had a trip meter and fuel economy meter. Despite the size and vibrance of the display, we would have liked to see more information. On the flip side, you also get a button on the left handlebar that can switch the ride mode. Once you flip the switch, the bike goes into eco mode and the engine becomes tamer, and the screen switches to a different display. It's weird to see ride modes on a motorcycle of this price point, but we left it in sport mode for the majority of this review.
Lighting is good, and you get the best that CFMOTO can provide on the NK. The powerful LED array makes a return, and it is the same system as found in the old 650cc NKs. For your low beam, you get an LED projector, and your high beam is a reflector. It gets plenty bright at night and you will be able to clearly see what's on the road ahead of you. The rear lights and all the indicators are also LED, and you see a nice smoked tail light lens at the back for a somewhat stealthier look.
Usability
So for usability, the bike is on the heavier side of things, with a curb weight of about 206 kg. That makes it a very beefy bike to take around. Though, take comfort in knowing that it only has a seat height of 780 mm, which is very low for a motorcycle of this displacement. Other models will have you on your tippy-toes if you're not that tall, but the 650 NK is pretty manageable for shorter individuals.
Though, the fuel economy is nothing to really write home about. It's still a big bike, but we were able to take it up to 24 km/L with mixed highway and city driving, with a majority of the ride being on the highway with no traffic. Expect that number to go down in the 19s if you are going to daily ride this motorcycle in traffic. Though, even if it is a bit of a drinker, it's got a huge 17-liter fuel tank that is more than enough to get you through about a week of riding.
The only storage space that you can get on this bike will be in the rear seat, and even then it's not that big. It's enough for your documents and probably a very compact set of rain gear, that's about it. No tool kit in this press unit that we received, so we're unsure if we should take some points away for that.
Verdict and Price
So that's the tale of power. More power is better, yes? However, it does come at a price. For about P100,000 more, you can get yourself a middleweight big bike, and that's saying something. The 400 NK is all well and good, but the 650 is just better in almost every way. It's also a bike that shares a lot of the 400's parts and Motostrada will be quick to provide replacement and repair parts should you need it. Not that CFMOTO motorcycles aren't tried and tested, mind you.
For P295,000, you can get yourself into the realm of bigger bikes. Overall, the 650 NK is a bit entry-level for its segment, but it comes at a price point for a 400cc motorcycle from other brands. In short, why settle for just a 400 with another manufacturer when you can get a 650 for the same price if not just a wee bit more. Heck, even the Kawasaki Z400 costs around the same as this CFMOTO, so it's at least an option to consider should you be hunting for the best deal.
As it goes, however, it's not the most prestigious brand, but anyone who is looking for an affordable highway-legal naked motorcycle that performs well and is worth every centavo will be a fool not to consider the 650 NK as an option. Either that or someone with the money for a 400 NK should consider saving a wee bit more in order to get the big daddy 650 NK instead. It's just a more worthwhile motorcycle in our eyes.
---
---
Related Articles
CFMOTO's electric subsidiary, ZEEHO, proves that the future is indeed electric with the AE8. Read all about this next-gen electric scooter in our full review.

4.6

/

5

Here's our full review on CFMOTO's most premium street bike, the 2022 CFMOTO 700 CL-X Sport.

4.5

/

5

In some cases, it's better than its bigger brother.

3.9

/

5

If you're in the market for an affordable sport tourer, the CFMOTO 650 GT might just be the perfect option for you.

4.0

/

5

Find out what all the talk is about with the CFMOTO 300SR.

4.0

/

5
---
Latest Review
If you're in the market for a new pair of touring boots, Falco's Land 3 could fit the bill perfectly. Read more about it here.

Furygan, a French gear manufacturer, has a new street jacket in the form of the Speed Mesh Evo. Let's take a look at its features and why I think it's one of the best street jackets out ther...

Here is our first ride impressions of the brand-new 2023 Honda Transalp XL750 after a short test ride.