/ Review
2020 Suzuki Burgman Street – First ride impressions
Is the affordable maxiscooter a good ride?

on Dec 29, 2020
With the Yamaha NMAX 155 being so popular, and with the Honda ADV 150 being a close second in the minds of many, it is only natural that Suzuki Philippines would come up with their own competitor in the segment, and with the 2020 Suzuki Burgman Street, it stands a great chance to rival two of the most popular scooters in the country.
Design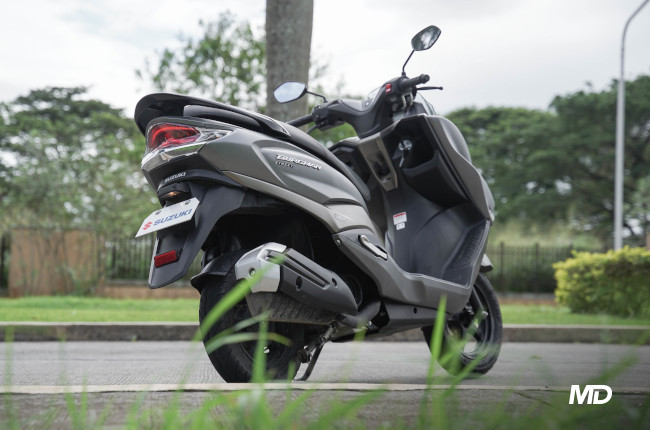 It is rather striking. The Burgman is your typical maxi-scooter, with its matte paint job and its very accommodating ergonomics. It's no surprise how it feels since we've spent some time with its competitor, the Yamaha NMAX 155. It feels the same, even down to the height and the accommodating seat, however, it is a slight bit lighter and a bit more compact than the NMAX.
However, you still get those LED headlights that are a premium touch and even some LED lamps for the rear. There are indicators that still use halogen bulbs, but that's beside the point, Your main beam is in LED, and for the price that this bike goes for, it's impressive.
Performance
Suzuki's 125cc engine paired with its CVT returns expected results with figures of 8.58 hp and 10.2 Nm of torque It is air-cooled and fuel-injected so you won't have to worry too much about oil lines or coolant lines. Acceleration is just adequate given the rider weight and the weight of the bike itself, but agility is one of its high points. If you're used to scooters, it's very easy to maneuver around, do U-turns and turn the corner. Though, we're not sure about its tires since it is a rather small size at just 12 inches in rim diameter.
The brakes up front are a rather small disc, while the rear is home to a drum. This setup is alright, though we would have liked a disc in the rear. It's a good thing, however, that Suzuki gave this bike a combi brake system, which definitely helps you come to a stop much safer and faster than if you were to use the front only. Sadly, there is no ABS, but that's somewhat acceptable given the price point, but it could still help.
Practicality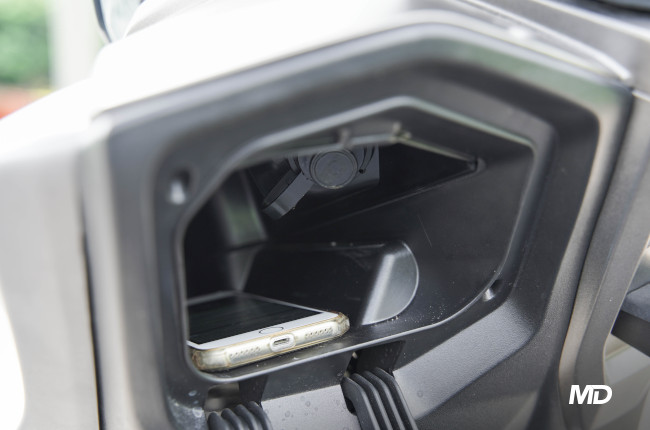 Right off the bat, you get a great amount of space with this scooter. 21.5 liters of space is available, and you can fit a full face with relative ease. You do get a large seat for your pillion and a nice set of pegs for them too. The seat is also quite accommodating, as it is wide. For the rider, you also get a nice and wide seat that you can lean back and relax on. It's also quite comfortable with the floorboards. We can imagine that even in traffic, with the friendly seat height and the friendly weight, the bike handles low-speed maneuvering pretty well. Also, you get a 12-volt socket which lets you plug in your accessories.
Verdict
Overall, it's a pretty good maxiscooter for not that high of a price. Certainly, the Yamaha NMAX or Honda PCX has more power and a bit more of everything, but those bikes come at nearly double the price of the Burgman Street, and for that, it's a scooter that's worth looking at for just P76,900.
---
---
Related Articles
Suzuki's V-twin fun for everyone has returned, and we hope it's for good.

4.1

/

5
---
Latest Review
If you're in the market for an affordable sport tourer, the CFMOTO 650 GT might just be the perfect option for you.

4.0

/

5

The Swedish manufacturer is here with a brand new naked bike that comes in a familiar package.

4.0

/

5

Trust us, it doesn't take a lot of convincing to want this bike.

4.5

/

5