/ Review
2022 Honda Airblade 160—First Ride Impressions
A bump in displacement plus some classy colorways make this 'blade a sharp-looking scoot.

on Sep 02, 2022
Honda Philippines called us out to test three of its soon-to-be top-sellers in the lineup, the Honda Click 160, Honda Airblade 160, and the Honda Wave RSX. This time, we'll be covering our initial impressions of the Airblade 160 and going over some of the specs and features that come with the model.
Exterior impressions
Right off the bat, the Airblade 160 is a stunner of a scoot. It gets new colorways, and the most eye-catching of the bunch is the grey with the two-tone seat. The special colorway also comes standard with rose gold-colored emblems and accents that add to the classy look of this model. During the test ride, we were able to see it right next to the new Click 160, and it's safe to say that the Airblade has its own appeal compared to the Click because it looks more substantial.
It's not the same platform because there is a pronounced underbone hump that sits between your feet. The Click has a flat floor that allows you a bit of practicality, but you can still fit something like a bag between your legs with the Airblade, albeit with a lot less room. It looks much sharper in person, but it's not much different from the Airblade 150 in terms of size. Honda didn't do too much to increase its road presence, but that's also good for riders who want a slimmer profile to fit into tight city streets.
All-in-all, the Airblade remains as sharp as ever but with updated looks and a modern aesthetic. The two-tone colorway is the best in our book, and it's sure to catch your attention if you see it in person.
Features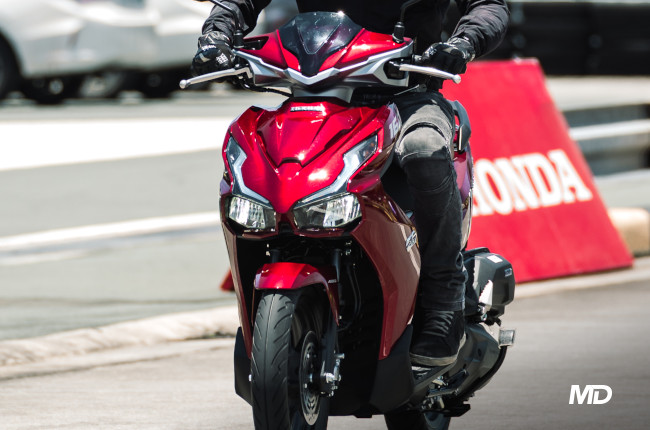 As far as features go, the Airblade 160 has most of the bells and whistles that the industry currently offers in this segment. First of all, you have the all-digital gauge cluster that is fully featured and has your speedometer, tachometer, and fuel level, among a myriad of other useful metrics. Honda doesn't have an app that connects to the AirBlade's engine control unit just yet, but we're excited to see if Big H has something up its sleeve in the near future. However, we don't believe that having an application that connects to your phone is a make-or-break feature since the cluster has just about everything that you need.
The other features of this scooter mimic the Click, in that it has a keyless ignition system along with ABS, a USB charging port under the seat, and an idling start-stop function that is found on other Honda models. As far as features go, the Airblade 160 is par for the course in its segment, and it has enough kit to compete with other top sellers in the segment.
The first ride
Getting on the Airblade is a breeze. The seat height is rather low and the bike is very light side to side. There is now more torque off the line compared to the 150cc models, and Honda's reported specifications stated that it's one of the torquiest in its class. The 160cc engine pulls noticeably harder than before. Previous iterations needed a moment to spool up before delivering a noticeable punch. With Honda's new 160cc scooters, however, torque is served earlier in the rev range and you will find that this is an ideal setup for scooting around town or through traffic-filled streets.
As expected of a scooter, the Airblade is easy to ride, easy to turn, and easy to maneuver in tight spaces. Front and rear brakes are easy to modulate and made better thanks to Honda's combi system. The bike tracks smoothly through a turn and its suspension feels fine in terms of damping, we'd reckon you won't have to worry too much about comfort on this scooter, though that remains to be seen in a full review.
Verdict
So far so good. The most surprising thing about the Airblade is its torque delivery. We expected a bump in power but didn't expect extra torque on tap. Honda emphasized the added displacement in the RPM ranges you use most often and that helps a lot while crawling through traffic or while getting the jump on other motorcycles while waiting at the stoplight. The throttle is not snatchy either so riding the Airblade can be quite fun and friendly.
For the price of P119,900, however, you are paying a premium for this model. It is important to note that you get ABS as standard, a feature that some competitors do not have given the same price. Rideability is not an issue with the Airblade either but only time will tell whether it will be just another worthy option, or the option to get in the segment.
We're looking forward to testing out the Airblade's purported fuel economy figures and its real-world performance soon.
---
---
Related Articles
The Honda Rebel's scrambler of a brother, the CL500, is a more standard-looking beginner big bike. Is it any good? Here's a first impression.

Rebellious this is not. The biggest and easiest rebel to ride is also quite affordable for what it is.

Here is our first ride impressions of the brand-new 2023 Honda Transalp XL750 after a short test ride.

The new ADV scooter has a 157cc engine, traction control, and a host of other improvements over its predecessor.

We got the chance to test the new 2022 Honda Click 160, torquier than before, and with updated styling, is it your next city scoot?
---
Latest Review
Read on to learn more about the capable Aprilia Tuono 660, a disruptive force in the middleweight sportbike segment.

4.4

/

5

We got the chance to run the 2023 Triumph Speed Triple 1200 RR through its paces, and needless to say, it was a thrilling, adrenaline-fueled ride.

We recently got our hands on the shiny new Shark Spartan RS helmet, and we were thoroughly impressed.