/ News
MMDA traffic chief Bong Nebrija has just bought himself a new Vespa
Will we see him cruising along EDSA aboard his fancy set of wheels?

on Jan 21, 2021
---
Are you a true blue Vespista? Or do you identify yourself as a Vespatito? Or maybe you're even a Vespatita reading this. Regardless of what you call yourself, as long as you ride a Vespa, then your clan has just gotten bigger, as the MMDA traffic chief, Edison 'Bong' Nebrija has just bought himself a brand new Vespa.
Bong Nebrija definitely has pretty good taste when it comes to his two-wheelers, as his scooter of choice is a rather fancy Vespa Sprint 150 in top spec Racing Sixties Edition trim. Now, as you may have noticed, this Vespa bears quite an iconic color scheme as opposed to the other Italian scooters in its fleet. Inspired by the Lotus Formula 1 racing team's colorway, the Vespa Sprint 150 Racing Sixties Edition boasts a British Racing Green finish adorned with yellow stripes.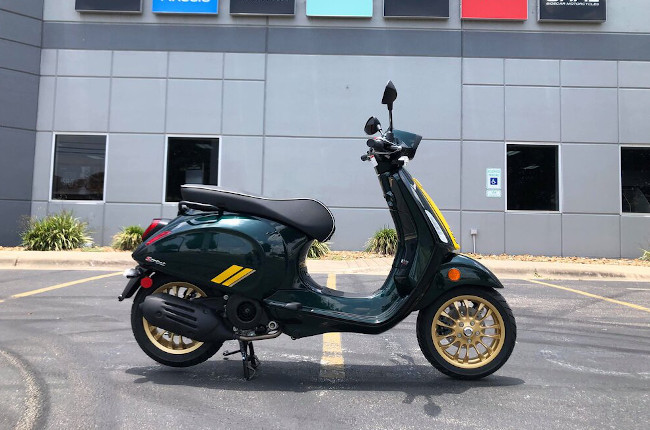 The Vespa Sprint 150 Racing Sixties Edition also gets its roots from racing events of the day which were not sanctioned by any motorsports authority. These gentleman races were officiated by the racers themselves, or by a group of their close friends. As the name would suggest, the aim was to keep things as honest and gentlemanly as possible—emphasizing the true meaning of the sport.
Now, as far as performance goes, Bong Nebrija's new scooter is equipped with a 155.2cc single cylinder engine. This air-cooled motor is equipped with Vespa's iconic 3Valvole 3-valve cylinder head, and churns out a peppy 13 hp and 13 Nm of torque. Now if you fancy Mr. Nebrija's new fancy scooter, you can go ahead and pick one up for yourself. In fact, the Vespa Sprint 150 is available in a variety of colorways ranging from subtle monotone finishes to fancy color schemes like the Racing Sixties Edition. This iconic Italian scooter starts at P205,000, with the special Racing Sixties Edition taking the top spot at P253,000.
---
---
Related Articles
Vespa has launched the special edition Primavera Picnic, for those looking for a leisurely day outdoors

Vespa has launched limited editions of two of its most popular scooters, the Primavera and GTS, for its 75th anniversary.

Vespa and Kickz will auction off the Primavera Mamba Edition to pay homage to Kobe Bryant's career and help girls achieve their basketball goals.

Vespa showcases its rich history and racing heritage with the GTS 300 and Vespa Sprint Racing Sixties edition with new color options and liveries.

The Italian term "Notte" which directly translates to "Night" truly complements its blacked out details.
---
Latest News
Chinese motorcycle manufacturer Loncin has launched the Voge 300 DS adventure bike in Europe. Would you like to see this bike in the local market?

Brembo has launched a fancy light-up brake caliper in the form of the G Sessanta to celebrate the Italian company's 60th anniversary.

CFMOTO launches four motorcycles in the European market.