/ News
Indian's patent of a new liquid-cooled cruiser emerges online.
Indian has a new heavyweight mile-munching tourer
---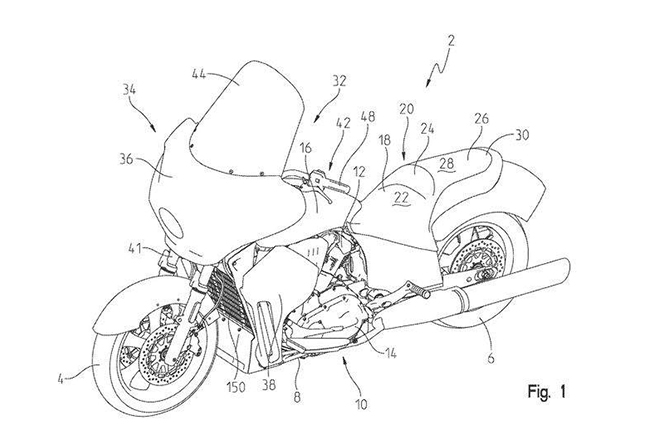 Indian is working on a new heavyweight cruiser with some nice old-school charm, but loaded with tech underneath. This was made evident by a few patent sketches that started to circulate online revealing a new liquid-cooled cruiser based on the newly-released Challenger but with more classic styling cues.
Indian's new heavyweight cruiser will forego the nose-heavy front fairing seen in the Challenger. Instead, an old school 'batwing' fairing windshield for its front end, giving it more of an old-school bagger charm. The patent sketches also reveal a full-height screen big enough to deflect flying debris, insects, and high-speed winds that long-distance tourers typically encounter. We're pretty sure it would be housing an infotainment system on its dash as well. The patent also reveals leg-shields mounted on both sides of the bike, which would probably house the speakers of its infotainment system to make your ride even more pleasurable.
However, there's also a lot of innovation going on underneath its old-school exterior. The bike's frame is made of a tricked-out monocoque design with air intakes integrated into its design. The way it works is, air enters into the three holes mounted underneath the frame, and from there, they pass through a panel filter before being scooped up and redirected into its fuel injection system. Others are of the opinion that such new design can be challenging to perform maintenance on. However, it's air filter assembly still looks fairly easy to replace. After removing the bike's tank assembly, its inspection panel can easily be removed to allow access to its filters.
With today's emissions standards just getting more stringent year after year, Indian's large capacity air-cooled range is likely to be replaced with its liquid-cooled lineups, such as this one, which could easily pass on both emissions and noise levels. The estimated timeline as to when this new liquid-cooled long-distance tourer would be finally introduced by Indian is still too early to tell, but it seems that this new platform is now starting to break cover and will be a welcome addition to Indian's lineup.
---
Related Articles
Indian Motorcycles has launched a special edition Chieftain Elite to commemorate its 120th anniversary

Indian Motorcycles files two new trademark registrations for the names Guardian and Pursuit for new motorcycles likely to be used for law enforcement.
---
Latest News
Ducati and Bulgari are considered two of Italy's most well-known brands, and they've collaborated to release a special edition watch called the Bulgari Aluminum Ducati Special Edition chrono...

Benelli has launched the 2022 TRK 502X adventure bike in China. The update features a slew of refinements making the already capable ADV even better.

Will the Triumph Trident get the RR treatment? Digital artist, Oberdan Bezzi makes a render to tickle our imagination.