/ News
Ducati, MV Agusta, and Piaggio Group reopen factories with a skeletal workforce
Motorcycle factories in Italy are slowly waking up from hibernation.
---
Parts of Europe have already started seeing a drop in the number of new COVID-19 cases. Because of this, the motorcycle industry has been slowly returning from its hibernation. The three biggest motorcycle brands from Italy have already been preparing to restart production earlier this week as many parts of the globe have begun to slowly ease restrictions on movement. For Motorcycle factories, all they can think about first and foremost is getting back to work without wasting any more time than they have already lost.
Italy's motorcycle and scooter industry is now starting to slowly crawl back to a sense of normalcy and are heading towards resuming operations together with other mainstream brands. However, government restrictions on social distancing and other measures would still have them operate with limited staff.
For Ducati, the Italian motorcycle was looking to resume their Borgo Panigale plant operations last Monday, April 27. Their factory outlined a staggered return to work for their staff with support functions continuing to work remotely. Their workshop staff would return to work, followed by the engine assembly staff, and finally, the assembly workers would resume their roles at their facility in Bologna. Other roles such as marketing, IT, and commercial activities will continue to function remotely.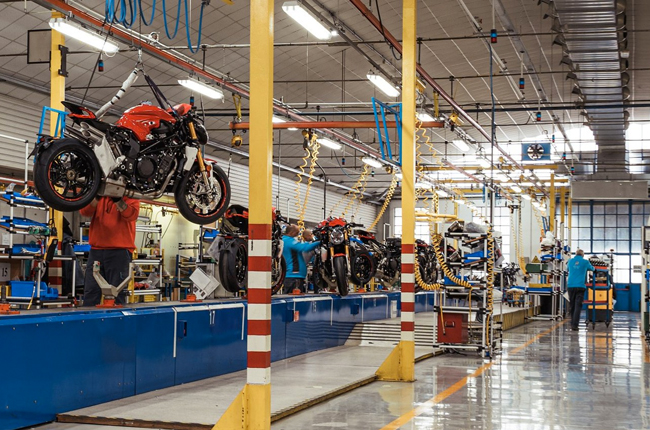 Meanwhile, MV Agusta, known to produce exotic Italian motorcycles, have also geared up to get back on the shop floor. Their sights are set to increase production from 5,000 bikes per year to 25,000 in years to come. Earlier this month, MV Agusta donated a PCR machine, a life-saving piece of equipment to the Varese Hospital in Italy, to speed up the testing of COVID-19 patients within the community.
For the Piaggio Group, the company that owns Moto Guzzi, Aprilia and Vespa have worked with their trade union to define a new working protocol to ensure the health and safety of their staff which stressed the importance of sanitation and cleaning activities to be organized in all workplaces which would be performed both before work resumes, and once operations are underway. Special solutions were introduced to ensure social distancing during work hours at the factory entrances and exits, the canteen, and the other common areas.
With the initiatives being implemented by the three biggest Motorcycle companies in Italy, it would only be a matter of time until other brands resume operations after a suspended production as we slowly move to at least, a newer kind of normalcy.
---
Latest News
We only have to wait four years before seeing the first electric Royal Enfields.

Honda is suspending orders for the Rebel 1100, 500, 250, CRF250, Forza, ADV150, Grom, Monkey 125, CT125, Hunter Cub.

Kawasaki updates the 2023 Ninja ZX-10R with a new KRT livery. The performance and mechanical features of the bike remain the same.