/ News
CFMOTO gives us a teaser of the new 450SR—The brand's next expressway-legal sportbike
Expect an expressway-legal sportbike from CFMOTO later in the year, and it will go up against other parallel-twin rivals from Honda and Kawasaki.

on Mar 28, 2022
---
Over the weekend, CFMOTO teased what looks like its very first expressway-legal sportbike, at least in the Philippine context. The SR series from the brand top out at 300ccs—292ccs to be exact, with the 300SR. Currently CFMOTO's largest-displacement sportbike, many have been clamoring and begging the brand to deliver a model in the Philippines that can go on the highway with top-end grunt and the same aggressive styling that many have come to love with the SR series.
The dream of a (likely) affordable 400cc sportbike from CFMOTO is inching closer and closer to reality as the brand teased a render of the 450SR on social media. Only the front fascia was shown in the image, but there are other photos flying around that reveal the entirety of the bike.
Backtrack to 2021, and you'll discover that CFMOTO's been testing the waters a bit unveiling the SR-C21 concept last year. Now that bike was a beauty of a concept sporting rear-set footpegs, SC Project dual exhausts, dual-front disc brakes, and Öhlins suspension, just like some of the more expensive sportbikes out in the market.
The 450's render is definitely going to be closer to the production model as it has more realistic parts bolted on. For the 400cc to 500cc class of motorcycles, you don't see dual disc brakes that often, nor do you see single-sided swingarms if at all. What you do see here, however, is CFMOTO matching a bunch of other sportbikes in the category such as the KTM RC 390, Kawasaki Ninja 400, and Honda CBR500R.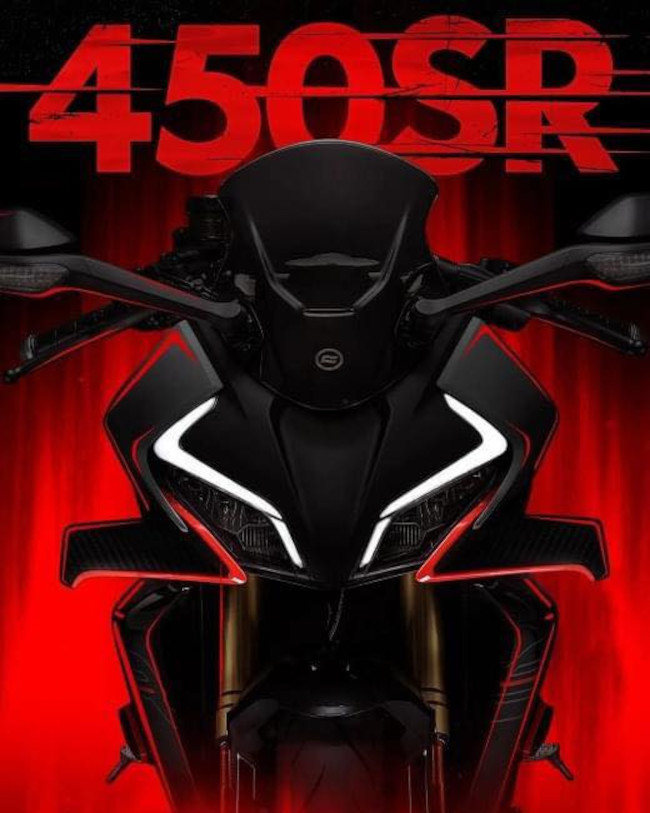 Going back to the social media teaser, the post also came with a caption stating that "[the 450SR has] power is as strong as 500CC. Weight is as light as 250CC." It's likely that the bike will come in at light curb weight, perhaps closer to the weight of the 300SR. Other rivals can get quite heavy in comparison but we don't expect it to weigh as light as a KTM RC 390 since it gets one more cylinder over its Austrian rival. Power figures were also detailed and the 450SR will come with 37 kW or 49.6 hp, and 39 Nm of torque out of the 180-degree parallel-twin engine. For its class, that figure is quite competitive, and CFMOTO was also able to match, or if not overpower, the other rivals like Kawasaki and Honda with their Ninja 400 and CBR500R, respectively. For now, that figure is all that we're getting, there is no certainty yet whether CFMOTO will tune it down a little bit, especially for countries in Europe where there is a horsepower cap for new riders. It's likely that the CFMOTO will have to create a different Euro-version of the 450SR, but the Philippines has no such laws so it's likely that we'll get to experience all of the power when it finally comes to the country. Finally, the NK series will have a sportier cousin that can join it on the highway, eventually.
As for its availability, the CFMOTO 450SR will get a launch in China first. The rest of the world will follow. We asked CFMOTO Philippines whether the brand will bring it in, and even they don't know when the sportbike will make its debut, at least not yet.
---
Related Articles
BMW Motorrad Philippines held its Grand Tambike last Saturday, June 25, 2022.

QJ Motor, a Chinese motorcycle manufacturer, appears to be getting closer to production with its planned 650 Road Trail adventure bike.

BMW Motorrad is reportedly developing a boxer-style electric motor, according to recent patent filings by the German manufacturer.

Ducati has launched the Streetfighter V2 in a striking new Storm Green colorway, to better set itself apart from its bigger, V4-powered sibling.

Triumph is expected to release the Scrambler 900 and Speed Twin 900, the successors to the highly successful Street Scrambler and Street Twin, later on in 2022.
---
Latest News
Vespa has released a total of six new colors across the Primavera and Sprint model ranges in the Japanese market.

Yamaha is set to invest heavily in a greener future, particularly when it comes to its manufacturing procedures.

AC Motors brings all of its brands under one roof, and KTM BGC gets a new showroom a block away from the old one.