/ News
Is the Buell Hammerhead 1190RX the first true American sportbike?
Could this American superbike stand up against the European giants?

on Aug 29, 2021
---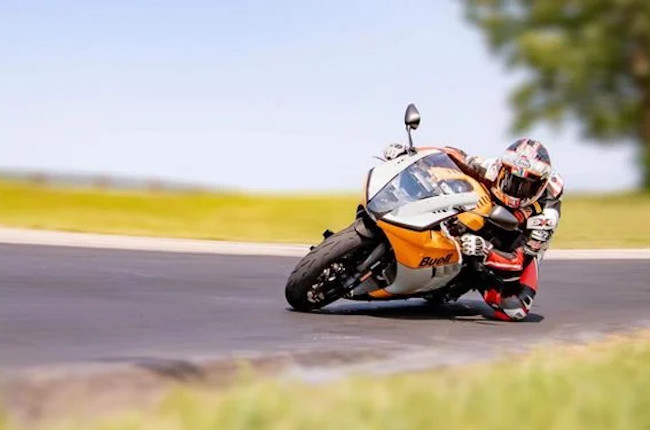 In the US, Buell is known for its muscular cruisers and naked bikes which feature radical styling. Buell's bike's are easily recognizable due to their boxy bodywork, and a unique brake setup which has the disc rotor installed on the spokes of the wheel. This eye-catching design feature is just one of many which gives this boutique American motorcycle manufacturer even more character.
In recent years, Buell has been under the radar not producing any new models. In February of this year, however, Buell announced that it had plans of reviving the brand with an all-new model range. Bill Melvin, the CEO of Buell Motorcycles, revealed the company's plans of rolling out up to ten brand new models come 2024. In even more recent news, Buell could soon be making a name for itself in the sportbike market with the new Hammerhead 1190RX. This bike is based on the existing 1190RX built by Erik Buell, the company's original founder, which was updated back in 2017.
The Buell Hammerhead 1190RX is powered by a 72-degree, V-twin motor, derived from the Rotax Helicon found in Buell's older models. The Rotax Helicon engine has quite a rich heritage in the motorcycle world, and has also been used in other popular motorbikes from the likes of BMW, Aprilia, KTM, and Can-Am. In the Hammerhead 1190RX, the Rotax Helicon pumps out a healthy 185 horsepower—putting it right within the territory of other superbikes.
As far as underpinnings are concerned, the new Hammerhead is built around a twin-beam aluminum chassis. Suspension duties are handled by a Showa inverted fork and a centrally mounted rear monoshock. It continues to feature the signature Buell perimeter disc brake setup, which provides massive stopping power via a 386mm rotor clamped on by an eight-piston caliper.
---
Related Articles
BMW Motorrad Philippines held its Grand Tambike last Saturday, June 25, 2022.

Italian motorcycle company Malaguti introduces the Madison 150 in Thailand. This marks the brand's first foray into the Asian market.

QJ Motor, a Chinese motorcycle manufacturer, appears to be getting closer to production with its planned 650 Road Trail adventure bike.

BMW Motorrad is reportedly developing a boxer-style electric motor, according to recent patent filings by the German manufacturer.

Ducati has launched the Streetfighter V2 in a striking new Storm Green colorway, to better set itself apart from its bigger, V4-powered sibling.
---
Latest News
Yamaha is set to invest heavily in a greener future, particularly when it comes to its manufacturing procedures.

AC Motors brings all of its brands under one roof, and KTM BGC gets a new showroom a block away from the old one.

Indian automotive manufacturer Bajaj, through its EV subsidiary Chetak Technology, has its eyes set on boosting electric two and three-wheeler production.