Because of the neo-retro design aesthetic, Yamaha's XSR brand of motorcycles has drawn a lot of attention from aficionados. The Yamaha XSR155 is Yamaha's answer to neo-retro enthusiasts who don't need or want a bike that big and is priced more affordably.
The XSR155 has maintained its dominance in the entry-level premium neo-retro market for a number of years. We at MotoDeal really enjoy this bike, and we know you will too. Here are a few reasons why the XSR155 is among the best-value modern-day retro roadsters available.
Respectable performance
Yamaha's Variable Valve Actuation (VVA) technology enables the XSR155's 155cc single-cylinder engine to come alive at higher RPMs. Thanks to the performance-oriented technology initially seen in the YZF-R15, the engine sings past 7,000 RPM. The engine has a respectable amount of power for its size, 19.3 horsepower, and 14.7 Nm of torque. Due to its rich fueling and incredible slipper clutch, the XSR can be towed at lower speeds, allowing you to either wring it out or putter around town and conserve gasoline.
Speaking of clutches, Yamaha's slipper clutch is one of the performance highlights. Even in the hands of inexperienced users, downshifting is fluid and only requires a slight squeeze of the lever. Moving through the gears and locating neutral is a cinch when paired with a 6-speed gearbox that is incredibly simple to operate.
Head-turning styling
Due to its rounded headlight, muscular fuel tank, and overall throwback appearance, the Yamaha XSR155 has undeniably retro flair. The huge tank and the circular LED headlamp give the XSR155 an overall luxury appearance. The bike also has beautiful inverted front forks, alloy wheels, and a cut tail that emphasize its athletic appearance. Aside from that, you also get Yamaha's Deltabox Frame, which allows the engine to dangle as low from the frame as possible rather than being cradled like it would on most backbone chassis. In addition, you receive top-notch switchgear with premium fit and finish throughout.
Versatility
Given the motorcycle's riding position, the XSR155 makes commuting quite simple. Thanks to its upside-down telescopic forks and mono-shock at the rear, the XSR is adequately damped on long rides even with a backpack and a complete set of gear. The riding posture is not significantly hampered by the comfortable padding of the seat. Additionally, the controls are light, so becoming tired is not a big problem.
The XSR155 is one of the more practical bikes in its class due to its comfortable position, intuitive controls, and lightweight design. With a weight of just over 130 kg wet, fitting through traffic is not a problem, but filtering can be a little difficult due to the increased width caused by the handlebars and the somewhat large mirrors.
Attractive price tag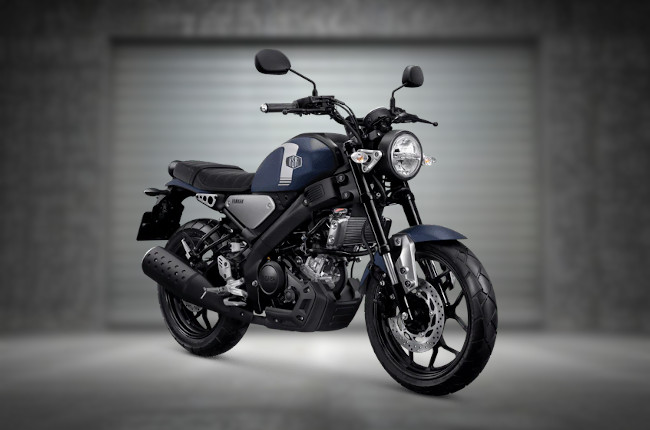 The XSR155 costs quite a bit of money at P162,000 even though it only has a 155 cc engine. With the XSR155, you mostly pay for the refinement, usability, and associated brand name. Because it appears to be a larger bike than it is and has the quality to match, the XSR has a refined, confident feel throughout. This alone might be worth the price of admission.
---
---
Related Articles
Kawasaki's new Z650RS offers the versatility of a modern naked bike with dapper, retro looks. Here are a few things to love about it.

Yamaha XSR700 or Kawasaki Z650RS? Let's take a closer look at these two bikes in this spec sheet showdown.

German engineering versus bulletproof Japanese reliability, technology versus rugged simplicity, it's the BMW F 850 GS versus the Yamaha Ténéré 700.

Here are a few reasons why the new Yamaha XSR900 is better than ever before, and why it's worth your hard-earned cash.

CFMOTO has always been known for unbeatable value for money. Here's why the 700 CL-X, in both Sport and Heritage variants.
---
Latest Features
Have you been waiting for that sign to pull the trigger on a new retro-style scooter? Well here are three awesome things about the Peugeot Django 150i.

Here are the most common injuries associated with riding a motorcycle, and what you can do to avoid them.

Here are a few reasons why Kawasaki's Ninja 650 is one of the best value for money middleweight sportbikes in the market.