/ Featured Article
Yamaha NMAX versus Suzuki Burgman Street — Head to head
It's the king of the local maxi-scooters against a newcomer in the game.
---
The Yamaha NMAX has been one of the best-selling scooters in the Philippines since its debut in 2015. Before its release, not many people thought that this maxi-scooter would sell like hotcakes in our market.
Fast forward to today, and a handful of manufacturers have come out with their own versions of the premium scooter. Enter the Suzuki Burgman Street—a more affordable rival to the NMAX and one that's eager to dethrone Yamaha in the hearts of Filipinos.
Is the Burgman Street a worthy opponent, and more importantly, does it stack up against the best of the best? We'll find out in this comparison between two of the hottest maxi-scooters available today.
Performance
The Yamaha NMAX has never been known for having a powerful engine, but it's always been good enough to get through daily commutes and the occasional joyride around town.
Powering this maxi-scooter is a 155cc, single-cylinder, fuel-injected Blue Core mill that churns out 15.1 horsepower and 13.9 Nm of torque. Of course, the engine pairs with a V-belt automatic gearbox. The 2021 NMAX has an 11.6:1 compression ratio, which is a significant improvement over the previous generation. It also has a 7.1-liter fuel tank capacity, large enough for more than a day's worth of city riding.
Moving on the Suzuki Burgman Street, it's apparent that its performance isn't exactly up to par with the NMAX, but can you blame it given its displacement and its price tag? More on that later.
Suzuki equipped this maxi-scooter with a 124cc, single-cylinder, fuel-injected engine that can put out a measly 8.58 horsepower and 10.2 Nm of torque. Its fuel capacity is also lower at only 5.6 liters. While the Burgman Street may perform worse than the NMAX, it's still capable of being a reliable workhorse for urban riding—if you don't go anywhere near its limits.
That said, with its larger and more refined engine, it's no question that the Yamaha NMAX takes the point for performance. Yamaha has simply had the advantage of time in crafting the NMAX into the pinnacle of the local maxi-scooter segment.
Winner: Yamaha NMAX
Features
As one might expect, the Yamaha NMAX is packed to the brim with advanced tech and safety features.
The NMAX features Yamaha's Stop-Start system that automatically turns off the engine when pausing at traffic light stops. There's also the proximity-based Smart Key system that allows riders to start the motorcycle without having to insert the key.
Yamaha also equipped the NMAX with a fully digital LCD instrument panel that displays speed, fuel economy, and more. The display can pair with a smartphone through the Y-Connect app, helping riders read notifications and other information while on the go.
More than that, there's also an electric power socket for charging gadgets and a large under-seat carriage with a capacity of 23.3 liters. That's enough to store a full-face helmet and other valuables.
Looking at the Suzuki Burgman Street, it's a different story. As an entry-level maxi-scooter, it's expected that this model doesn't feature all the bells and whistles. That's not to say that there aren't any, because the Burgman Street does have some nice features.
Suzuki equipped its maxi-scooter with its Easy Start System with an integrated engine start and kill switch. There's also a fully digital multifunctional LCD instrument panel that displays basic information. Other thoughtful features include a 2-liter glove box and storage rack, a 21.5-liter under-seat storage space, a DC electric socket, and a body-mounted windscreen.
The Yamaha NMAX has a dizzying array of features. It's part of the reason why the maxi-scooter has rounded up a loyal following in the Philippines.
Meanwhile, the Suzuki Burgman Street gets by with its basic features that get the job done without fuss. Still, we have to award the point here to the NMAX, largely due to its premium features and advanced smartphone connectivity.
Winner: Yamaha NMAX
Price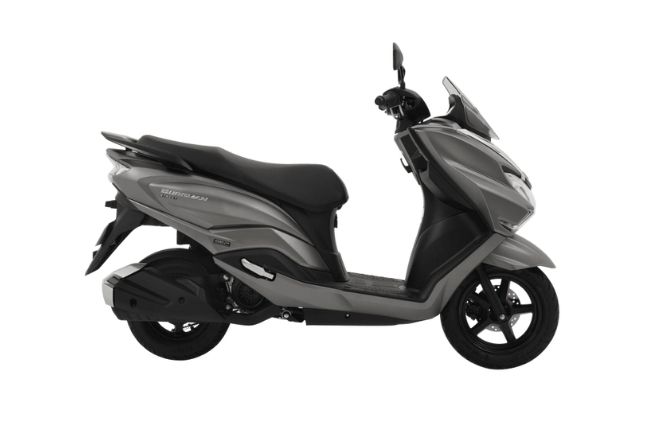 The NMAX has two variants: Standard and ABS. The Standard variant is priced at P119,900, while the ABS version costs P134,500.
On the other side of the equation, we have the Burgman Street that's priced at P76,900 for its lone variant.
Clearly, the price difference between the two is night and day. You could almost buy two of the Suzuki Burgman Street for the price of one Yamaha NMAX ABS. That's simply astounding and quite an achievement for Suzuki to be able to price a maxi-scooter as it has. For this reason, we award the point to the Burgman Street for sheer affordability.
Winner: Suzuki Burgman Street
Verdict
The Yamaha NMAX continues to be what it is: a compelling maxi-scooter with an abundance of features. While it's not the most affordable model around, its price is justified due to its great design, proven reliability, and of course, the Yamaha name.
The Suzuki brand is just as prestigious. The Japanese company produces some of the best motorcycles in the world. With the Burgman Street, Suzuki aimed at Yamaha and looked to take down the NMAX's local supremacy. Did it succeed? Partly. The Burgman Street is a great option for those looking for an affordable, entry-level maxi-scooter that looks good and does its job well. In fact, if you want something that can get the job done without the extra fluff, the Burgman Street is definitely the motorcycle to get on a budget.
While the Suzuki Burgman Street made some noise in our market, when the dust settles, it will be clear that the Yamaha NMAX is still the king of maxi-scooters in the Philippines. Just don't tell that to Honda PCX.
---
Related Articles
Let's take a look at a few features that make the new Suzuki V-Strom 1050 DE an extremely attractive flagship adventure bike.

Heavy middleweights that are not so heavy, here are a bunch of bikes that are light for their category.

Deciding between a Yamaha MT-07 or XSR700? Read on to figure out which bike you should get.

Here are our top five picks for motorcycles in the middle to heavy-middleweight segment that offers exceptional value.

Suzuki recently debuted the V-Strom 250 SX. Here are a few reasons why this bike is an excellent beginner-focused ADV.
---
Latest Features
Multi-compound tires are pretty much ubiquitous in the world of big bikes. What exactly is a multi-compound tire, and what are the benefits associated with them? Read on to find out

Want a bike that's super fast and looks really dapper doing so? Look no further than the Speed Triple RR from Triumph.

Follow these tips and tricks when getting ready for a long-distance ride on your motorcycle.