/ Featured Article
Top 5 best beginner motorcycle upgrades
If you're new to bikes, chances are you want to spruce up your ride—here are a few things to consider.

on Sep 25, 2022
---
Just like most things in life, we often like to personalize our motorcycles to better suit of tastes and preferences. As it would turn out, there's no one-size-fits-all when it comes to motorcycles, and manufacturers conduct intensive R&D to come up with the best compromise that ticks all the boxes when it comes to what people are looking for in a certain motorcycle. So, what if you get your new bike and find that there are a few things you want to change? Well, luckily, this is where the aftermarket comes into play. With that, let's discuss what you may want to consider upgrading on your motorcycle, especially if you're looking for a more satisfying and comfortable riding experience.
Tires
One of the most crucial components of your motorbike is the tire. It's fairly alarming to think that only this small piece of rubber is in charge of keeping you rubber side down and shiny side up, despite the fact that it's frequently disregarded. Having saying that, it's crucial to constantly keep your tires in excellent condition. After all, the state of your tires may very well determine whether you live or die. However, if you recently purchased a motorbike on a tight budget, it's likely that it came with low-quality tires that may be lacking in traction and general performance. It will be worthwhile for you to invest in a more expensive, performance-focused set in place of them.
Brake pads and lines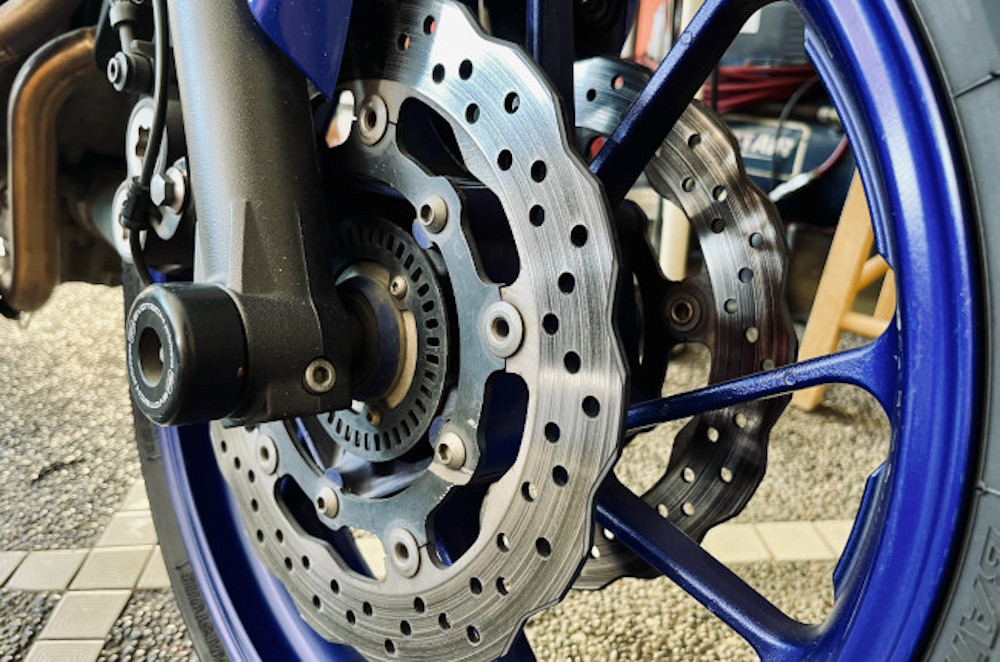 The brakes on your motorbike are without a doubt one of the most important parts of your two-wheeled steed. It goes without saying that it is crucial to make sure your bike's brakes are in excellent condition. Cheaper motorcycles have basic braking systems that are prone to early fade and wear, just like inexpensive tires. The performance of your brakes can be significantly enhanced by switching to a set of better performance steel-sintered or organic brake pads. The same goes for switching to steel braided brake lines for your bike, which often have less flex and higher heat tolerances than conventional rubber lines.
Grips
One of the easiest, quickest, and least expensive methods to improve your riding experience is by replacing your handlebar grips. Riders have the option of replacing the conventional handlebar grips with ones made of a softer material, which will lessen friction strain on your skin and via your gloves while also reducing handlebar vibrations. Additionally, in order to fit your hand size, some manufacturers provide a range of sizes. Customizing the grip material and grip size to your needs can benefit your hands and arms and make riding for long periods of time much more enjoyable.
Saddle
A touring seat will considerably improve your ride's comfort if you're riding for several hours or days at a time. Since the entire seat is frequently changed, touring seats are normally sold by the motorcycle's manufacturer or by trustworthy third parties. Touring seats include a higher-quality cushion material and are developed with comfort in mind. The cost of purchasing a seat that is custom-made to fit your motorbike will be worth it even if upgrading to a touring seat is sometimes a more expensive choice.
Suspension
The final improvement you can make to improve rider comfort is to update your suspension system. Because worn-out suspension components are unable to delicately reduce road bumps, they might provide the rider an unsettling and unsteady experience. Rear shocks may be repaired or replaced, and front forks can benefit from a new supply of premium fork oil. Assuring top-notch suspension quality will significantly improve your ride's enjoyment and associated comfort.
---
Related Articles
Here's Jinno's list of top 5 accessories for the Yamaha Tenere 700, all of which can easily be installed by average home mechanics.

Let's take a look at five things we absolutely love about the all-new CFMOTO 450 NK.

Depending on how much you carry on a daily basis, the ideal luggage option for your motorcycle will vary. Read on to see which one is best suited for your lifestyle.

Here are our picks for the top 5 best intermediate naked bikes you can buy in 2023.

Here are our top 5 picks for the best comfort-centric upgrades you can make to your sport-touring motorcycle.
---
Latest Features
Here's Jinno's list of top 5 accessories for the Yamaha Tenere 700, all of which can easily be installed by average home mechanics.

Let's take a look at our top 5 picks for the best big bikes under 200 kilograms on the market today.

Is it a good idea to continue wearing a helmet that's been in a crash? Read on to find out.