We've been asked several times by newbie riders why some motorcycles have alloy wheels while others have spoked wheels. The answer, as it turns out, isn't as simple as it may seem. Manufacturers have a whole multitude of reasons as to why they equip certain models with alloy wheels and others with spoked wheels. For some models, especially those that are built to a budget, you'll find entry-level spoked wheels running inner tubes. Commuter scooters, on the other hand, tend to have alloy one-piece wheels.
There are tons of reasons why you may want to get a motorcycle with either spoked or alloy wheels. Furthermore, you may even want to upgrade your bike's stock wheelset either to a more robust set of wire-spoke wheels, or lighter weight alloy, or even carbon-fiber wheels. Let's take a closer look at these two types of wheels, and dive a little deeper into their specific use cases.
Alloy wheels
When you think of street bikes, i.e., sportbikes, naked bikes, and even scooters, chances are the wheels you see on these bikes are one-piece alloy wheels. Alloy wheels are very practical for on-road duty, as they're lightweight, easy to manufacture, and easy to stylize in a way tht matches the design of a certain motorbike. When it comes to this type of wheelset, the common denominator lies in road-focused application. Yes, some lightweight adventure bikes like the Honda CB500X and KTM 390 Adventure come out of the box equipped with alloy wheels. However, ask any die-hard adventurer and you're bound to hear them recommend you upgrade your ADV bike's alloy wheels into wire-spoked ones.
That being said, the main benefit of alloy wheels lies in their lightweight construction. The same can be said for forged-aluminum, and even carbon-fiber wheels. For instance, top-of-the-line superbikes like the BMW M 1000 RR are equipped out of the box with ultra-lightweight carbon-fiber wheels. Efficiency-focused scooters like the Yamaha NMAX, meanwhile, also feature lightweight, one-piece aluminum wheels to improve fuel efficiency by reducing rolling resistance and unsprung weight.
Spoked wheels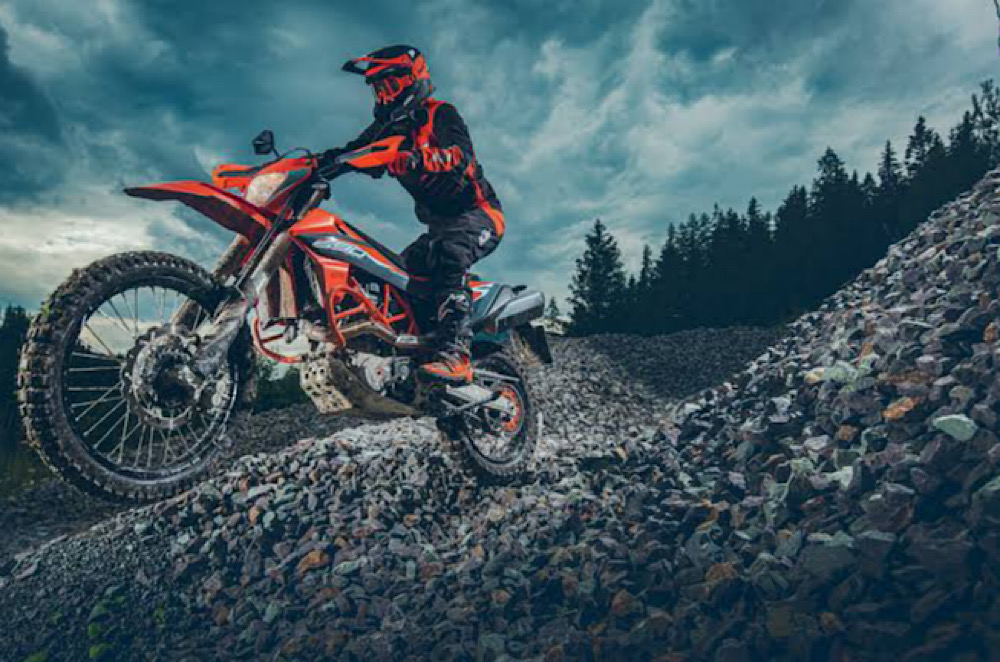 Spoked wheels, on the other hand, may be more familiar to you on off-road focused bikes like motocross machines and dual-sports. Because the entire wheel is under constant stress thanks to the tension applied by each individual spoke, it's an inherently balanced system that can be extremely robust, and capable of soaking up some pretty intense impacts. This is why heavyweight adventure bikes like the Suzuki V-Strom 1050XT and Honda Africa Twin all get wire-spoked wheels.
Conversely, you'll also see spoked wheels on budget-friendly, entry-level utilitarian motorcycles like the Kawasaki Barako. This is because entry-level spoked wheels are extremely cheap to manufacture, and can easily be mass-produced locally. Furthermore, these wheels are equipped with steel or aluminum rims which can easily be repaired in the event of damage from impacts or regular wear and tear. Spoked wheels, however, do have some drawbacks—weight and maintenance. Naturally, because spoked wheels have so many individual components, they're a lot heavier than one-piece alloy wheels. Furthermore, they require truing and adjustment every so often, as the individual tension of the spokes may change over time, and cause the wheel to become uneven.
Which one is better?
If you're going to ask us which of the two is better, well, all we can say is that they're both excellent for their intended use cases. If you're looking for a robust set of wheels to fit onto your adventure bike, and you have the intention of taking your bike down some serious trails, then by all means, upgrade your wheels to a tubeless set of spoked wheels. If you see yourself riding on the street more often, though, then maybe you're better off with a road-focused street bike such as a naked bike or sportbike.
All that being said, the way a set of wheels looks on your motorcycle can certainly play a big role in deciding if it's worthy of changing from spoked to alloy wheels and vice versa. For example, motorcycles like the Triumph Thruxton RS look drop-dead gorgeous with their fancy wire-spoked wheels. Meanwhile, BMW offers the R nineT retro-style roadster in a variety of flavors—some of which, such as the Pure, come with alloy wheels; while others, like the Scrambler, get burly wire-spoke units.
---
Related Articles
Here are a few tips to decide if you should get a big bike or small bike depending on your lifestyle.

Here are a few reasons why the CFMOTO 400 GT is hard to beat when it comes to the entry-level sport-tourer segment.

Here are a few things that make the Kawasaki Versys 650 a bulletproof choice when it comes to those looking for practicality, dependability, and value for money.

Today's match involves a head-to-head comparison between the KTM 790 Duke and BMW F 900 R.

Does your motorcycle have a full-color TFT display? Ever wonder what the pros and cons to it are? Read on to find out.
---
Latest Features
Here are a few tips to decide if you should get a big bike or small bike depending on your lifestyle.

Here are our top 5 picks for Christmas gifts for your motorcycle-loving friends and family this holiday season.

Here are a few reasons why the CFMOTO 400 GT is hard to beat when it comes to the entry-level sport-tourer segment.