/ Featured Article
Here's why motorcycles like the Zero SR hold the key to the future
We can't wait for performance-oriented electric motorcycles to enter the local market.

on Nov 28, 2021
---
Although we may not feel it just yet, the global motorcycle industry is taking a quantum leap forward when it comes to its source of power. If EICMA 2021 was any indication, it's clear to see that electric motorcycles and scooters are not just a fad. In fact, several developed countries in Asia and Europe have set strict deadlines when it comes to the adoption of fully electric or hybrid vehicles—that includes our beloved motorcycles.
Although in the Philippines, it's safe to assume that gasoline powered machines aren't going anywhere anytime soon, it will certainly be interesting to see more options when it comes to electric-powered two-wheelers. At present, most electric two-wheelers in the local market consist of tiny scooters and e-bikes which don't even require a license in order to operate. This is why we think that if a full-size electric two-wheeler maker could potentially enter the market, it would be none other than Zero.
Zero Motorcycles is one of the pioneers in the electric motorcycle industry. With a variety of models, the American company has developed a strong presence across the US and Europe. We reckon that if it does make its entry into the Philippine market, it'll make for an attractive alternative to some middleweight gasoline-powered big bikes—provided, of course, that the infrastructure for charging will be accounted for. Let's take a look as to why bikes like Zero's SR naked streetfighter indeed represent the future of motorcycling.
Familiar design
At a glance, the Zero SR presents itself as an honest, down-to-earth motorcycle. Unlike the extremely outlandish and futuristic designs we see lately, the Zero SR employs a familiar design, in a sense that it isn't trying hard to be the next big electric innovation. In fact, it can be easy to miss out on the fact that this bike is fully electric, as it takes the form of a rather conventional machine. Zero has designed the SR as a standard motorcycle built on a versatile platform. Similar to middleweight naked bikes of 500cc to 650cc, the Zero SR lends itself to a whole host of disciplines ranging from commuting, sporty riding, and even touring—provided, that is, the charging infrastructure is already in place.
Impressive performance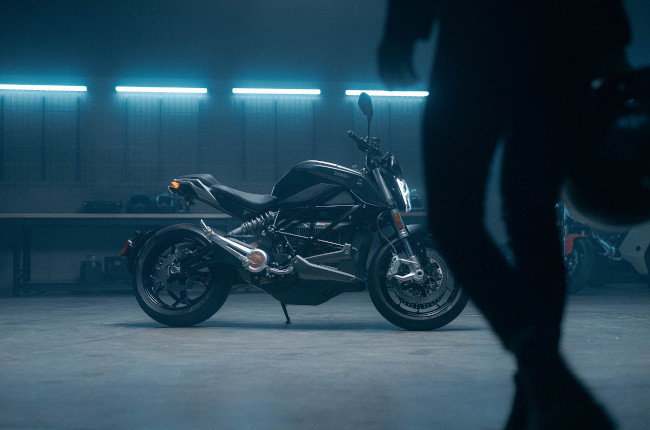 There's no denying that tomorrow's thrills will be brought about by electric motors. The Zero SR packs quite a punch with a brushless DC motor that pumps out 52 kW of power, that's 74 horsepower in internal-combustion lingo. Apart from that, the nature of electric motors is such that maximum torque, which in this case is rated at 166 Nm, is instantly accessible from a dead stop. This will certainly make for rapid acceleration, and a response that's out of this world. All these numbers add up to a real world top speed of 165 kilometers per hour.
The Zero SR is powered by a revolutionary lithium ion battery pack called the Z-Force intelligent power pack. It promises a range in excess of 250 kilometers on a single charge, and can be recharged to full battery percentage in a little over four hours. All this range and performance is kept on tap thanks to advanced riding modes consisting of Rain, Eco, Standard, Sport, and Canyon, ensuring the bike's performance is sustained and optimized across varying types of terrain. The user also has the option to create custom modes tailor fit to their preferences and riding style.
Sustainable mobility
With emissions standards and regulations getting tighter than ever, manufacturers have scrambled to bring out all the latest tech to make internal combustion engines cleaner, quieter, and more efficient than ever before. As such, it's safe to say that the technological developments of traditional engines is fast approaching its peak, as they will never truly be zero-emission machines. Electric motors, on the other hand, have the potential to become as such, especially if they are manufactured in such a way that is sustainable and free of fossil fuels. With nearly all other countries in the world rolling out EV-centric adoption programs, it's really just a matter of time until the Philippines begins incentivizing the mainstream use of electric vehicles.
---
Related Articles
Here are a few tips to decide if you should get a big bike or small bike depending on your lifestyle.

Here are a few reasons why the CFMOTO 400 GT is hard to beat when it comes to the entry-level sport-tourer segment.

Here are a few things that make the Kawasaki Versys 650 a bulletproof choice when it comes to those looking for practicality, dependability, and value for money.

Today's match involves a head-to-head comparison between the KTM 790 Duke and BMW F 900 R.

Does your motorcycle have a full-color TFT display? Ever wonder what the pros and cons to it are? Read on to find out.
---
Latest Features
Here are a few tips to decide if you should get a big bike or small bike depending on your lifestyle.

Here are our top 5 picks for Christmas gifts for your motorcycle-loving friends and family this holiday season.

Here are a few reasons why the CFMOTO 400 GT is hard to beat when it comes to the entry-level sport-tourer segment.