In order to meet the ever-evolving desires of contemporary motorcycle fans, Harley-Davidson has been working diligently in recent years to adjust and innovate its product line. The Milwaukee Motor Company needed some time to let go of its antiquated ways of doing things and accept the notion that change is the only constant in life. We're finally here, and it would be an understatement to say that H-D has been reinventing itself recently.
Harley-Davidson made it quite obvious that it was serious about keeping up with the times when it unveiled the Pan America in 2021. The Pan America, which is the company's first motorbike outside the cruiser category, is proving to be rather popular. However, the MoCo had yet another ace up its sleeve—something more in tune to the good old Harleys, but built from a revolutionary perspective. The Harley-Davidson Sportster S, which has been on the market for a little over a year, is one of the most striking cruisers in Harley's lineup and can pique the interest of those who aren't particularly interested in cruisers. Here are a few justifications.
The true definition of a power cruiser
The Milwaukee MoCo has fitted a shining gem of an engine into the Sportster S; the Revolution Max, the newest and most powerful engine in the Harley-Davidson roster. With a massive 1,250cc of displacement, this engine produces plenty of torque and power over the entire rpm range. On the Pan America, Harley modified it to produce 150 horses that are jam-packed with adventure. H-D has modified it to produce 121 horsepower and 94 ft-lbs of bottom end torque particularly for the Sportster S in order to provide a more relaxed, tractable riding experience.
Modern technology meets retro-inspired styling
The Sportster S is unquestionably the most technologically sophisticated Sportster available, in addition to offering respectable performance and eye-catching appearance. H-D has gone above and beyond to outfit it with the most cutting-edge technology. It comes with three selectable riding modes to begin with: Rain, Road, and Sport. While Road unlocks just enough for decent, polite riding, Rain mode keeps the punch away. Sport mode, on the other hand, brings out the best in the Revo Max and will undoubtedly give you an exciting ride.
Additionally, the Sportster S features a stylish full-color TFT gauge pod. It gets a ton of cool buttons and switches that are all made to make switching between the bike's many capabilities extremely simple. Along with navigation, audio, and notification compatibility with your smartphone, Bluetooth connectivity is included as standard. You may monitor the bike's vital signs on the TFT screen as well, including but not limited to battery voltage, tire pressure, ambient and engine temperatures, as well as other information.
It stays true to Harley-Davidson's roots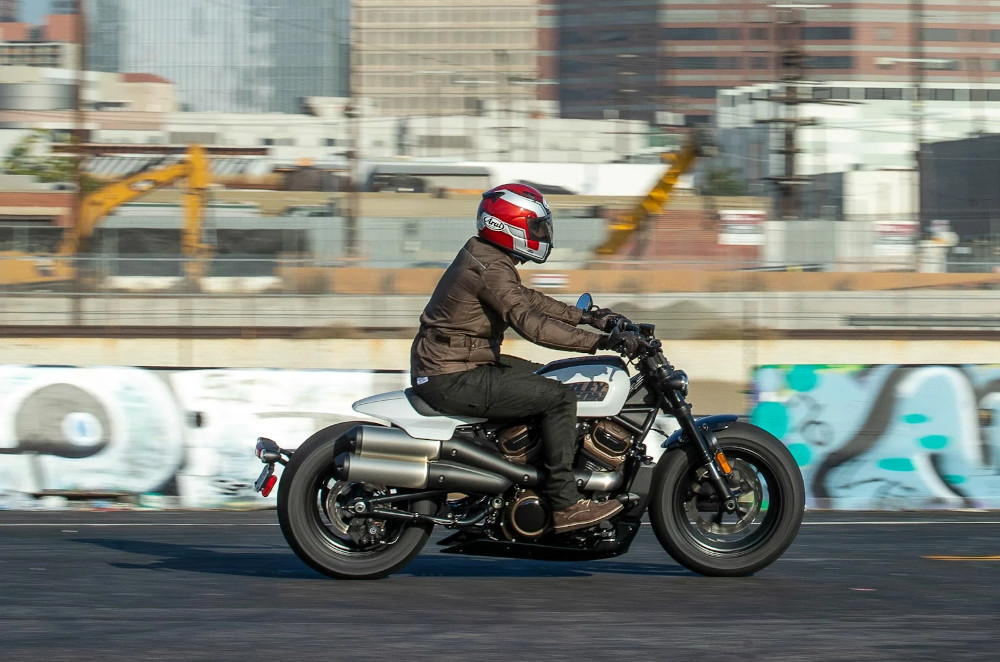 The Sportster S, like the majority of Harley-Davidsons, is deeply entrenched in the MoCo's illustrious history while being a completely new model. It is immediately obvious from one look at this bike that it is a Sportster, and a pretty attractive one at that. However, it appears that Harley-Davisson has stuck to the Sportster concept when it comes to this bike—minimalist aesthetics coupled to a straightforward chassis engineered to achieve the ideal balance between comfort and performance—despite the fact that it is jam-packed with technological advances.
Contemporary design
When it comes to the appearance of the Sportster S, we believe Harley-Davidson has struck the mark. The Sportster S clearly targets a younger, more performance-focused generation of riders, and it uses aggressive styling that includes small bodywork, big tires, and sleek, flowing lines. Despite being labeled as a cruiser, it uses flat-tracker style elements because of its upswept exhaust pipes and relatively aggressive posture. From some perspectives, it even appears that H-D has added some café racer to the mix. However, while you're riding, the bike puts you in a slightly hunched-over position with your feet stretched forward because the controls are situated up front.
It paves the way for future Harley models
This gets us to our final and most important argument, which is what has kept Harley-Davidson in business, particularly over the past few years. After taking into account the motorcycle industry's dynamic landscape, it becomes clear that Harley-Davidson is still a highly important participant. It appears that the MoCo is on the right track when it comes to redefining itself for the riders of today's motorbike age thanks to the Revo Max motor's versatility, and the Sportster S is just the start.
For those of us who are more into performance-oriented bikes, the Revolution Max could very well be the answer, and it wouldn't be surprising if Harley-Davidson were to come up with a sporty naked bike with this engine. After all, rumors of the Bronx making a comeback have been floating around since earlier this year.
---
---
Related Articles
Want to ride a big bike but don't want to break the bank? These 5 affordable models may be worth considering.

Floating discs or solid discs—which one is better and is it worth upgrading to aftermarket rotors?

Here are 5 Chinese-made motorcycles we're looking forward to seeing in the local market in 2023.

Here's our list of the top 10 lightweight big bikes worth considering in 2023.

With the start of the new year, spirits are high that we can be better than ever before. Here's what we have set as our New Year's Resolutions for the year ahead.
---
Latest Features
KTM has teamed up with RIDE ACADEMi to offer advanced street-riding skills to everyday riders.

Want to ride a big bike but don't want to break the bank? These 5 affordable models may be worth considering.

Floating discs or solid discs—which one is better and is it worth upgrading to aftermarket rotors?