When Triumph launched the revised Rocket 3 into the global market last year, the British manufacturer gave new meaning to the saying "bigger is better." Today, the current generation Triumph Rocket 3 boasts one of the largest production engines found in any motorcycle, and packs quite a punch in the performance side of things.
In the Philippine market, we've begun to see this heavyweight cruiser in the wild more often, with more and more people choosing this bike as their weapon of choice—be it for weekend rides, or the daily commute. Having said all that, here are 5 things we love about the Rocket 3, and why it's worth your hard-earned cash.
The power
The words "Triumph Rocket 3" and "torque" are all too commonly used in the same sentence—and rightfully so. As mentioned earlier, the Triumph Rocket 3 boasts the largest engine found on any production motorcycle currently available in the market. Displacing a whopping 2,458cc, the Rocket 3's engine is bigger than most cars' engines in the local market. Employing a three-cylinder configuration, the Rocket 3 churns out a neck-snapping 163 ft-lbs of torque and 165 horsepower. This makes this heavyweight cruiser quite the rowdy machine, especially when it comes to outright acceleration.
Head-turning styling
As much as the Rocket 3 is a performer, it's also quite the looker. With head-turning styling that's sure to make you the center of attention anywhere you go, the bike employs modern-day styling with a nod to Triumph's signature design language. Its long wheelbase further accentuates the bike's heft, while its muscular fuel tank, thick tires, and beefy suspension exude performance. Just like Triumph's other street-oriented machines, the Rocket 3 gets a twin-headlight setup which gives it an unmistakable appearance when it's approaching you from head-on.
Rich heritage
Triumph first introduced the Rocket 3 in 2004, under the Rocket III moniker—denoted by Roman numerals. Just like the current bike, it boasted a massive engine with a displacement of 2,294cc. Just like the modern-day version, it made use of an inline-three-cylinder layout, and pumped out loads of power and torque. The first-generation Rocket III was also quite the design exercise for the Hinckley company, serving as a major departure from the company's svelte and streamlined design language. These days, the modern-day Rocket 3 slots perfectly into Triumph's street-oriented lineup, and is the dream machine of many two-wheeler enthusiasts looking to get into cruisers.
Comfort
Given the Rocket 3's hefty size and weight, as well as all the power it packs between your legs, it's easy to mistake this bike as quite the unwieldy monster. However, it's actually quite an approachable machine. With its upright ergonomics, cushy seat, and low seat height, the Rocket 3 is a very comfortable machine which is ideal for long-distance touring. The bike has also proven to be very light on its feet, lending itself to rather spirited riding, contrary to what its appearance would suggest. Granted, of course, the Rocket 3 is no beginner's machine. However, it can certainly offer quite a comfy ride.
The price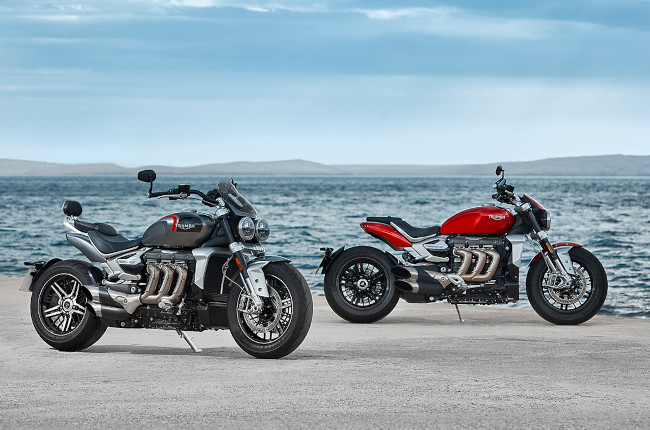 The Triumph Rocket 3 is, without a doubt, one of the most premium cruisers in the local market. In fact, it holds the spot as the most expensive motorcycle in Triumph's model range. That said, it certainly carries with it all the luxurious bells and whistles you'd expect from a motorcycle of this caliber. It will also surely make you the center of attention when it comes to bike nights and hangouts with your riding buddies. Starting at P1,590,000, the Rocket 3 is also available in a touring-oriented GT variant, which will set you back an even steeper P1,650,000.
---
---
Related Articles
Here are some of our experiences with Japanese and European motorcycle ownership that are worth sharing.

Want to ride a big bike but don't want to break the bank? These 5 affordable models may be worth considering.

Floating discs or solid discs—which one is better and is it worth upgrading to aftermarket rotors?

Here are 5 Chinese-made motorcycles we're looking forward to seeing in the local market in 2023.

Here's our list of the top 10 lightweight big bikes worth considering in 2023.
---
Latest Features
Let's take a moment to discuss the dangers of overloading your motorcycle, and the safety and mechanical issues that may arise due to this.

Here are some of our experiences with Japanese and European motorcycle ownership that are worth sharing.

KTM has teamed up with RIDE ACADEMi to offer advanced street-riding skills to everyday riders.