When Triumph released the Trident 660 in the local market earlier this year, big bike aficionados were left in awe as the British manufacturer finally offered an affordable, multi-cylinder, performance-oriented motorcycle. Having enjoyed impressive sales figures over the past few months, the bike has certainly proven to be quite a hit. However, just like all things, the Trident 660 isn't perfect.
Having said that, if we absolutely had to nitpick on the Hinkley company's latest offering, there are just a few things we wish could be improved. Let's take a closer look at 4 things we believe could be improved on with the Triumph Trident 660.
Power delivery
The Triumph Trident 660 is equipped with a 660cc inline three-cylinder motor. It features modern-day amenities consisting of electronic fuel-injection and liquid-cooling. Although derived from Triumph's 675cc triple found in the previous iteration of the Street Triple, as well as the Daytona 675R sportbike, the Trident 660 only makes 80 horsepower, as opposed to the previous bike's 128 horsepower. Granted, of course, it's down some 15 cubes, however, the Trident's power output simply leaves a lot to be desired.
It is important to note, however, that Triumph designed the Trident as a beginner-friendly bike for the international market. That being said, despite producing more power than other 650cc class bikes, the Trident's power delivery feels very muted, and doesn't have as much of a peppy nature as some of its competitors.
Engine characteristics
Jumping off of the previous point, a motorcycle, particularly a performance-oriented big bike, is all about soul and character. Unfortunately, the Triumph Trident's engine characteristics simply didn't cut it for us, particularly because of the bike's lackluster power delivery and engine feel. As mentioned earlier, Triumph's engineers tuned the bike to be a very beginner-friendly motorcycle, particularly targeted towards new and returning riders. As such, it's easy to understand why Triumph mapped the engine the way they did.
As the aftermarket for this motorcycle continues to grow, we're certain that full-exhaust systems with supplementing ECU remaps and flash-kits will be made available for this bike. It's clear to see that the very artificially muted feeling is due to the way the engine has been mapped from the factory. As such, an ECU reflash is sure to breathe new life into this rather docile power plant.
Brakes
The Triumph Trident 660 makes use of a twin disc brake setup up front, mated to a single rotor at the rear. Instead of radially mounted calipers, however, it uses axial sliding calipers. This gives the brake lever a rather wooden feeling, and requires quite a bit of a pull in order to return the level of response you would expect from a bike of this caliber.
All things considered, however, the Triumph Trident's brakes are decent, and they certainly hold their own in the mid-tier middleweight naked street bike segment. Additionally, upgrading to a better set of brake pads, as well as fitting high-performance steel braided brake lines could certainly go a long way in improving brake performance and feel.
Instrument panel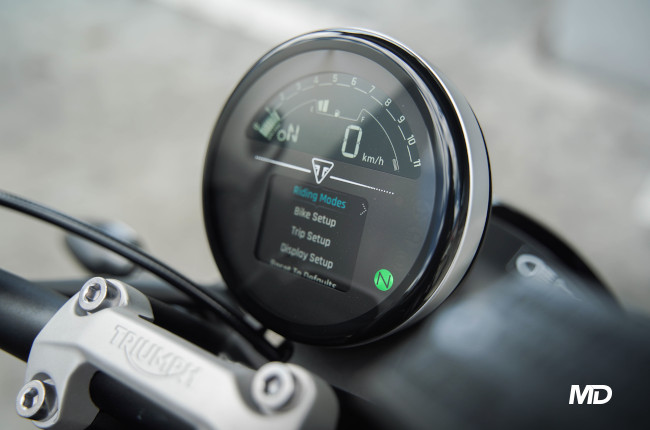 Triumph has clearly gone for a neo-retro styling approach for the Trident 660. Competing directly with Japanese machines such as the Honda CB650R and Yamaha XSR700, the Trident 660 gets retro-inspired styling cues such as a round headlight and a round digital instrument panel. However, it seems like the instrument panel could use some tweaking, as we found the fonts to be just a tad too small. Additionally, the large empty space makes us think that Triumph could have rearranged the layout of information to offer a more visually pleasing design.
After all is said and done, there's no denying that the Triumph Trident 660 offers an incredibly enticing package which combines comfort, performance, and an affordable price tag. At just P499,000, the Trident 660 is the most affordable inline-three cylinder motorcycle currently available in the market.
---
---
Related Articles
Both the KTM 790 Duke and Triumph Street Triple RS are extremely popular middleweight naked bikes. Let's take a closer look at the two of these bikes in this comparo.

If you're thinking of riding your bike without gloves on, think again. Here are a few reasons why wearing gloves is an absolute must.

Triumph really hit the nail on the head with the new Speed Triple 1200 RR. Here are a few reasons why the Speed Triple RR is a one-of-a-kind machine.

If you're new to big bikes, it's probably a good idea to stay away from performance-oriented supersports. Here are 5 reasons why.

These are our top 5 picks when it comes to beginner-friendly big bikes in the Philippines for 2023.
---
Latest Features
Both the KTM 790 Duke and Triumph Street Triple RS are extremely popular middleweight naked bikes. Let's take a closer look at the two of these bikes in this comparo.

To waterproof or not to waterproof—that is the question. Read on to see if investing in waterproof riding gear is worth it?

If you're one of those people who never wash their motorcycle jackets, now may be the time to change that. Here are a few tips on how to wash your motorcycle jacket.