If you buy a 650cc-class motorcycle, you can expect a few things. You can expect that it might be a bit too much for a beginner to handle, but it will have more than enough power for you to grow into.
Let's face it, convincing your significant other or your own mother to allow you to buy a motorcycle for most people is a nigh-impossible task. A two-wheeled death machine is as approachable as a two-wheeled death machine, and pointy bits and big displacements will only make your at-home life more difficult if they're campaigning to keep you at home and safe from danger. Heck, even asking permission to buy a small displacement motorcycle is like asking them if it's okay to do drugs or start smoking. It's a gateway into the more powerful and more expensive, but we've got an almost perfect solution for you: The Triumph Trident 660.
2021 Triumph Trident 660 Review
What You Will Like
Smooth performance
Well-damped suspension
Competitive price point
Outstanding tech and safety package
Approachable behavior and styling
What You Won't Like
Awkward tank grips
Engine gets quite hot
Limited turning radius
Design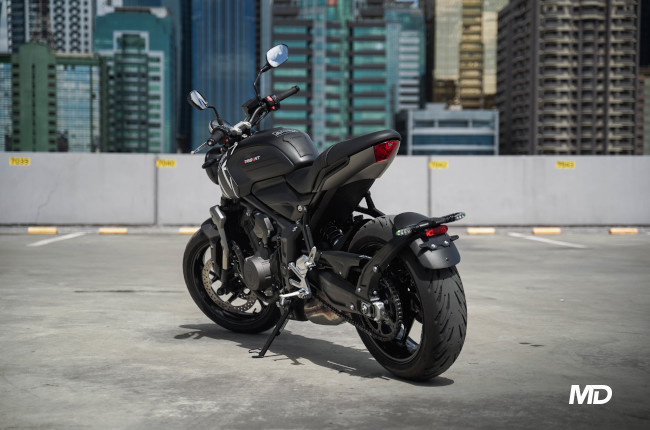 Most sport or sport naked motorcycles have fairings that can cut through your sight like what LASIK surgery does to your corneas. That is not the case with the Trident 660. Personally, the bike is quite underwhelming. It looks like your bog-standard motorcycle, but with lots of refinement. You could also say it looks a bit dull especially when you take a look at the competition, but that's really not the whole story.
See, other motorcycles want to look the part. They want to look fast and like they're overcompensating for something. Sportbikes in particular are great at this, and the sport nakeds in the market adopt a similar approach, matching the promised performance with the looks of a razor-sharp performance machine. That's all well and good if you're 12, but the Trident is ultimately more mature, more approachable, and unassuming. It's more like a gentleman's pocket knife, and not a Katana or a Scalpel—not as outlandish, or as tool-like. The exterior design is presentable in a board room.
That being said, it's clean-cut. While it may not make alarm bells ring in your head, it will make you want to look at it and go in for a closer look. It's got enough modernity to go with it though since it has LED lights all around and a very modern frame. It's not all perfect though. The tank cutouts don't really mold well with your legs. The Trident was evidently designed for a taller rider, and the shape of the grips themselves are convex in the wrong places. You'll find that your knees will be angled down also thanks to the footpegs, bringing them closer to the engine case.
Performance
The looks betray the Trident's performance, however. Triumph swear by their three-cylinder engines, and we're huge fans of it simply because it's the best of all worlds. At 660ccs of displacement, you get 80 hp and 64 Nm of torque mated to a 6-speed manual gearbox, which surprisingly produced up to 25 km/L on the highway. Now, don't let the power figures tell the whole story because we found the powerband of the bike to be extremely linear throughout the entire rev range which makes it predictable and relatively friendly. At low RPMs, it's a puppy dog. It doesn't bite hard and the electronic throttle smooths out any input—lacks a bit of response, though. The engine even has enough grunt for you to filter through traffic in second gear. At its midrange, we will neither confirm nor deny that it has the power to do a clutch-up wheelie and the smoothness for you to carve corners. At its top-end, it'll do 200 km/h—still neither confirming nor denying. That being said, it's faster than a common parallel-twin 650. It's just so smooth all around, and it won't shock you, but that's also another point of consideration, do you want to get shocked?
The suspension is pretty much perfect. Showa shocks really get the job done nicely, and it's perfectly tuned for the weight of the bike and a rider that weighs about 70 kg to 100 kg. It's very forgiving in the corners, and even on concrete, it does a spectacular job of keeping your head level and your butt from feeling numb. Cornering hard on the Trident is also quite fun. The bike is light enough so you don't feel like you're doing bench presses all day but substantial enough for you to feel secure.
Let's summarize it this way: It's not a teenager going through puberty. There is no hormonal imbalance, there are no temper tantrums, and there is no protest. The Trident 660 is more like a mature athlete that's not yet past his prime. It knows when to act and behaves when the situation calls for it. Crack the throttle open, however, and you feel the resolve.
Comfort
As stated prior, the Trident is comfortable, with a few drawbacks related to its ergonomics. While the handlebars are great, it's really the tank and the seat that could make you feel a little uncomfortable. There seat itself isn't so flat, and has a substantial swoop up that will keep you in place, but it doesn't let you move around as much. Perhaps it boils down to the nature of this bike being a less serious but still capable machine. Though, it still seems a bit odd that the tank cutouts don't really mold to your legs.
Though the real challenge with making this a daily rider is with regard to engine heat. We were able to test the Trident in damp conditions. That being said, it gets quite hot, especially in traffic. Going back to your leg position, because your knees are angled down quite a bit, you might end up touching the top of the cylinder head, and the heat radiating from it is enough to cause a bit of discomfort.
Tech and Safety
Again, it's not as raw as a sportbike. You've got ABS, traction control, a rain mode, and even a slipper clutch. Triumph's traction control is very aggressive, and it really makes you behave. Considering that the bike has a substantial amount of torque, we agree with Triumph's decision to equip the Trident with such a feature.
On top of that, you also get a digital display for your instrument cluster with a small TFT that can adopt multiple functions like your trip computer, gear position indicator, odometer, fuel consumption meter among other features. For some, you may find the gauge cluster a bit small, and seeing your speed and RPM at a glance may be a challenge, but seasoned riders won't find this as troublesome.
Even the rivals don't come as equipped as the Trident. Sure, it's another layer to get through if you like doing wheelies, burnouts, and drifts, but that's not for everyone. To normal people, these rider aids and safety features can save your life, and allow you to ride home to your family. Just don't push it if you don't know what you are doing.
Usability
The Trident is pretty light considering that it packs 3-cylinders in its frame. At 189 kg, it's no small bike, but it's not a huge one either. It's also low to the ground with a seat height of just 805 mm, giving beginners a perfect platform to put two feet down. Riders 5 ft 6 inches in height might tiptoe a little bit, but grow to 5 ft 8 inches, and you'll be able to flat-foot this bike.
In-city usability is also great. The powerband is not that overwhelming and is totally usable. You can crawl comfortably in first and second gear. The clutch isn't too heavy, but we wish that it was adjustable like the brake lever. The only downside is that in tighter situations, you won't be able to maneuver as well because the steering lock to lock is very tight—almost similar to that of a sportbike. We wish that Triumph gave it a bit more angle. That being said, it's not the best bike for low-speed maneuvers. Even with the handlebars, it comes with, you might struggle a bit to make a tight turn.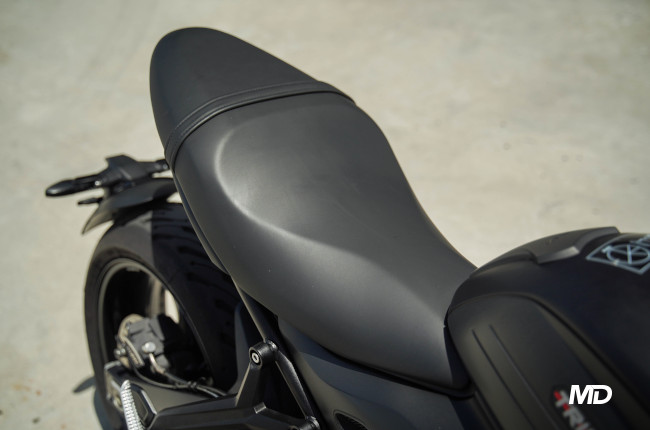 We also have to deduct a few points for pillion riding. While the bike is stable, the seat itself isn't that comfortable to be on. Plus, there are no grab bars, so your rider has to hold on to your waist to secure themselves on the bike—but hey, bonding time with your date.
Verdict and Price
Personally, the engine is a peach to wring out and putter along with. Sadly, it runs a little hot and can cause mild discomfort. The ergonomics could be better, but the bike itself is such an approachable package that even your wife might not look at it as a two-wheeled death machine, and priced as low as P499,000 it's a heck of a good deal. The tech alone is a saving grace, and the approachable looks and well-behaved performance only help seal the deal.
So is the Trident 660 a beginner bike? Not exactly. With discipline and a willingness to learn, you can start on it. Just ease into it and you'll be fine. Watch videos and read up on how to ride first before you start on it because starting on a big bike isn't impossible, but it'll just be a higher hill to climb compared to a scooter or a small bike. That being said, it's friendly enough to start on. Keep it in rain mode until you get used to working a throttle on a motorcycle. Once you get the hang of riding, it's not wild enough to keep you from learning, but it has enough power to keep you entertained for quite some time.
While we can rave on and on about the Trident, we cannot ignore the competition. The Honda CB650R is certainly a popular choice in the 650 class. With 4-cylinders, it screams at high RPMs, but won't really surprise you at the low-end. Predictable? Yes? Overly styled? Perhaps. It looks more modern than retro that's for sure. It also goes for around the same price as a Trident, so it qualifies as the Triumph's closest rival. Of course, you cannot forget the XSR 700, however, this bike's based on the MT series of Yamaha, and has heaps of torque so it's not the most beginner-friendly. After that, you can look at the tried-and-tested Suzuki SV650. It's a simpler bike, and it also has a V-twin engine which has its own character. Then following that, take a look at the CFMOTO 700 CL-X. The CF is more of a scrambler than a street bike, but that doesn't stop it from being a great performer on the road. Even after comparing all of these bikes, The Trident really feels like it's something quite special—not gonna lie.
Photo Gallery
---
---
Related Articles
Furygan, a French gear manufacturer, has a new street jacket in the form of the Speed Mesh Evo. Let's take a look at its features and why I think it's one of the best street jackets out ther...

Here is our first ride impressions of the brand-new 2023 Honda Transalp XL750 after a short test ride.

Let's take a closer look at the new 2023 Triumph Street Triple RS, and what it has to offer now that it's packing more tech and performance than ever before.

Here's a very premium way to get into retro motorcycles and motorcycles in general, the Royal Enfield Hunter 350.

3.6

/

5

Shark's Spartan RS is an entry-level sport-touring motorcycle helmet that's far from entry-level.
---
Latest Review
Furygan, a French gear manufacturer, has a new street jacket in the form of the Speed Mesh Evo. Let's take a look at its features and why I think it's one of the best street jackets out ther...

Here is our first ride impressions of the brand-new 2023 Honda Transalp XL750 after a short test ride.

Let's take a closer look at the new 2023 Triumph Street Triple RS, and what it has to offer now that it's packing more tech and performance than ever before.