Few motorcycles are as worthy of a poster on your bedroom wall than the BMW S 1000 RR. This legendary superbike was, at first, seen as a major detraction in BMW Motorrad's model range, as it was, and continues to be the only supersport motorcycle in the Bavarian motorcycle manufacturer's model range. However, given just how impressive the BMW S 1000 RR was, it immediately quelled any doubts surrounding its worthiness of a BMW badge.
As it would turn out, the BMW S 1000 RR, in all its iterations, has gained mass following all over the world. With its limited-edition variants highly sought after by collectors, as well as its superior riding aids loved by track aficionados, the BMW S 1000 RR is truly a revolutionary sportbike. This bike is now on its third iteration, and it's better than it ever has been. Having said that, let's take a closer look at 5 cutting-edge features you'll find on the BMW S 1000 RR
Technologically advanced engine
The BMW S 1000 RR is equipped with a 999cc inline four-cylinder engine which churns out a neck-snapping 205 horsepower and 74 ft-lbs of torque. It makes use of some cutting-edge technology such as BMW's proprietary ShiftCam technology which optimizes the engine's torque curve to produce even more grunt in the upper reaches of the rev range. The ShiftCam technology selects valve timing and lift which also offers a better spread of power across the entire rev range.
Slick transmission
Of course, a powerful engine sitting on the bleeding edge of technological advancement is of no use if not mated to an equally impressive transmission. Sportbike transmissions are among the most meticulously engineered pieces of kit in the market today, and the BMW S 1000 RR's is no exception. It gets a sharp six-speed manual transmission which is smooth as butter. Additionally, BMW has fitted the bike with a bidirectional quick-shifter as standard, meaning you can change gear up and down without the need to actuate the clutch lever. The updated BMW S 1000 RR also boasts a new slipper-assist anti-hop clutch for smoother street ridability.
Superbike styling
The BMW S 1000 RR is unmistakably a performance-oriented machine. Even to non-motorcyclists, it's clear to see that this bike means business in the performance department. The updated S 1000 RR features a thoroughly restyled design, with a new fairing with symmetrical headlights, slim yet muscular bodywork, as well as an exposed subframe which makes the bike look extremely lightweight and sporty. LED lighting adorns the BMW S 1000 RR on all sides, while a full-color TFT instrument panel boasts a myriad of vital information, keeping the rider fully informed of the bike's vitals at all times.
Razor-sharp handling
When it comes to handling, the BMW S 1000 RR is one of the sharpest tools in the shed. BMW has extensively reworked the bike's suspension to feature what it's calling Dynamic Damping Control (DDC). Now, DDC enables the suspension to make micro adjustments every ten milliseconds via an electronically actuated valve that connects to a bypass line. This way, damping is reduced or increased in a split second, in accordance to the terrain you're riding on, be it on the street or on the track. As a result, the BMW S 1000 RR is one of the most seamless, dynamic, and comfortable supersport bikes in the market.
Telepathic electronics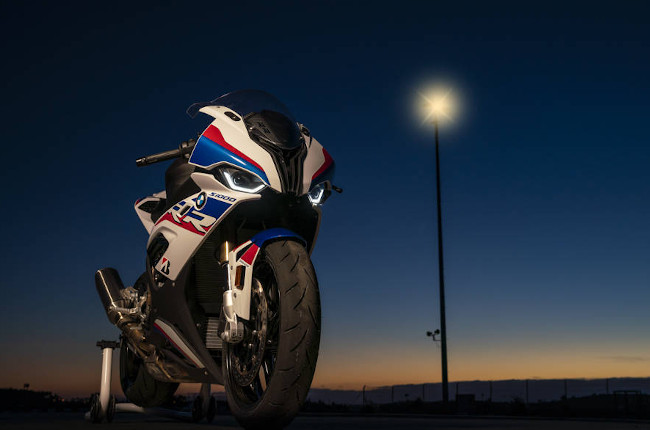 The BMW S 1000 RR is equipped with four Ride Modes as standard which consist of Rain, Road, Dynamic, and Race. All four riding modes have meticulously been engineered to deliver peak performance for their respective road and weather conditions Apart from optimizing performance, these sophisticated ride modes also improve safety, thanks to the bike's advanced stability control system governed by its six-axis Inertial Measurement Unit (IMU).
Additional ride modes can be unlocked in the Pro package. These consist of Race Pro 1, Race Pro 2, and Race Pro 3—all of which unlock cutting-edge features such as adaptive engine braking, Dynamic Traction Control (DTC), wheelie-control, and even launch control. All these features elevate the performance of the BMW S 1000 RR particularly in a race track environment.
---
---
Related Articles
Every pro is matched with a few cons, here are 5 pros and cons related to the R 1250 GS.

Here are a few reasons why the Royal Enfield Continenta GT 650 is the best beginner-friendly cafe-racer in the market.

If your motorcycle is out of warranty, it's now your duty to make sure you stay on top of its maintenance no matter what, or run the risk of facing a hefty repair bill.

Today, it's a toss-up between the Honda CB1000R and the Suzuki GSX-S1000. Read on to learn more about these two liter-class naked sportbikes.

Kawasaki's Ninja ZX-25R could very well be the best entry-level track bike. Here are a few reasons why.
---
Latest Features
Your motorcycle's brakes are among the most vital systems on your bike. Here are a few tips on how to keep them in good shape, as well as how to get the most longevity out of them.

Every pro is matched with a few cons, here are 5 pros and cons related to the R 1250 GS.

Here are a few reasons why the Royal Enfield Continenta GT 650 is the best beginner-friendly cafe-racer in the market.