/ Featured Article
The 400cc Highway Dilemma Pt.1
Here's a brief history on how motorcycles have been controlled on our major Philippine expressways.
---
For nearly four years, I have taken my motorcycle to work on a regular basis. I admit that I am part of the less than 5% of motorcycle riders who will actually take their big displacement motorcycle into Makati, brave EDSA and SLEX/Skyway traffic, contend with disrespectful drivers, and then come home during rush hour. Rain or shine, I'd ride. Tiring? Yes, but I was always smiling. I was home before any of the cars were, and I had more time to spend with my family and friends. That was a win right there, and all because my motorcycle was above 400cc. But we are lucky these days, because, for those old enough to remember, there was once a time when motorcycles were never allowed on expressways
That's right, the big motorcycles you see at gas stations on major highways, and the thrill your kids get when they see them zipping by on SLEX/NLEX - those didn't exist until very recently. How recent? Think less than two decades. Here's a brief history, without getting too technical. Many thanks to Motorcycle Philippines forums and a handful of people I've talked to over the course of my riding life - your insights are invaluable. Also a big thank you to information and stories by the motorcycling friends I've met that fought for what we enjoy today, mainly James Mirasol and his group of friends (who also got caught and had their tickets thrown out in the end).
In 1968, it was a known fact that older members of the motorcycle community remember a specific incident that unfortunately resulted in the death of a police officer. During a visit by philanthropist John D. Rockefeller III to the Philippines, part of his agenda was to visit the International Rice Research Institute (IRRI) in Los Banos, Laguna. Motorcycle escorts from the police were assigned to the convoy, and the riders were supposedly told to wear traditional Filipino hats instead of helmets. This move, with an emphasis on "giving a nationalistic welcome", resulted in the tragic death of one of the escorting policemen, and the lack of a helmet contributed greatly to the severity.
In a typical knee-jerk reaction to a preventable accident, the Department of Public Works and Communications (Now known as the Department of Public Works and Highways or DPWH) issued an Administrative Order entitled "Revised Rules and Regulations Governing Limited Access Facilities", specifying that: "On limited access highways, it is unlawful for any person or group of persons to: Drive any bicycle, tricycle, pedicab, motorcycle or any vehicle not motorized." No motorcycles were permitted to traverse "limited access highways" from then on.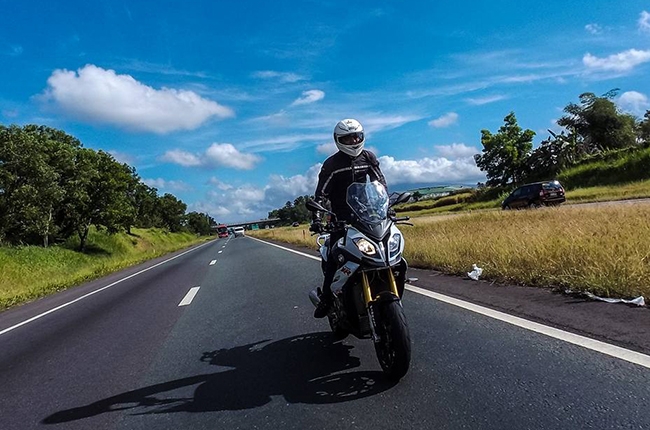 In April of 1993, the DPWH issues Department Order No. 74 which designates the South Luzon Expressway, Nichols to Alabang sections, and the North Luzon Expressway, Balintawak to Tabang sections, as limited access facilities "subject to such rules and regulations that may be imposed by the DPWH thru the Toll Regulatory Board (TRB)". Take note that the limited access facility is identified as only a section of both the North and South Luzon Expressways and the TRB is given no authority to extend this. But In 1997, when the TRB issues the Revised Rules and Regulations on Limited Access Facilities, and they overstep the original and already questionable authority granted by the DPWH under Article I of the order, stating: "The Toll Regulatory Board (or the Board), in accordance with Department Order No. 74, hereby declares the North and South Luzon Expressways, including the Balintawak to Tabang Section of the North Luzon Expressway and the Nichols to Alabang Section of the South Luzon Expressway, as Limited Access Facilities or Expressways". This statement effectively renders the entire North and South Luzon Expressways as limited access facilities. The Coastal Toll Road connecting Manila to Cavite, a road which motorcyclists has safely traversed for many years, would also be declared a limited access facility sometime in 1998 or 1999 thereby preventing all motorcyclists from using it.
The year 2000, 32 years later, still saw the ban in effect, as the guidelines stated in the above Administrative Order were implemented in the Revised Rules and Regulations on Limited Access Facilities issued in 1997 by the Toll Regulatory Board (TRB). This was approved by then DPWH secretary Gregori R. Vigilar who was known to express very strong anti-motorcycle sentiments. The ban was enforced by the Philippine National Construction Corporation(PNCC) , which was the entity legally allowed to operate tollways under Presidential Decree No. 1112 issued in 1977. Interestingly, Secretary Vigilar was also chairman of the TRB and PNCC.
It was not until 2001 when a group of motorcycle clubs representing over five thousand members filed a civil action in Makati's courts, challenging the longstanding TRB rule. The petitioners claim that the ban is illegal under existing law, and it threatens public safety by forcing motorcyclists to use alternative roadways that are not as safe as tollways, which, by design, are free of many variables and hazards that contribute to vehicular accidents. Take note that, based on data from the LTO in 1999, the likelihood of motorcycle-involved accidents were less than one percent of total accidents, and the numbers would be less should motorcycles be allowed to access tollways. At the time, a central argument in the case is Republic Act No. 2000, also known as the Limited Access Highway Act, that only authorizes the exclusion of trucks, buses, and other commercial vehicles from the tollways. However, the petitioners observe that the TRB has outlawed only motorcycles on the tollways even though no such authority to do so exists under the law.
In July of the same year, the Makati Regional Trial Court 147, in a Writ of Preliminary Injunction ruled that motorcyclists have a legal right as licensed motorists to use the tollways. Judge Teofilo L. Guadiz Jr. said that the DPWH and TRB have no power or authority to ban motorcycles on expressways, therefore making the ban void and illegal, citing also the issue of motorcyclists using more dangerous side roads. DPWH then hastily issues Department Order 123, Series of 2001, seeking to amend the original motorcycle ban of 1968 by restricting motorcycles with only 400cc and up to use the tollways. No public consultation on the provisions of of DO 123 were held, and would affect 99% of the motorcycle population (at the time, 1% of the motorcycling population were big bikes). The catch is that this department order violates the Writ of Preliminary Injunction issued by the courts two days earlier. Apprehensions by the PNCC of motorcyclists, while clearly in violation of the standing order, were going on, and several motorcyclists have filed lawsuits, with tickets being dismissed and officers facing contempt of court.
Fast forward to the present and, unfortunately, due to political reasons by motorcyclist groups and more pressing issues of the government, the 400cc rule has been the status quo. The TRB has also reiterated in an ultimatum to toll operators that 399cc and 398cc bikes are sneaking onto expressways, violating the longstanding rule, despite the LTO registering them as 400cc. Now, understandably, the law is clear cut, but the fact that the LTO and motorcycle manufacturers have been finding a loophole around an arguably dated law is a big issue here.
To be honest, there are very few motorcycles with an exact engine size of 400, as these are always rounded up on paper, but those much farther from the nearest hundred will have a problem in any case. It's all very messy and very controversial, as several parties are claiming that it's clearly an elitist movement, favoring more expensive motorcycles and those with the cash to purchase them. There's also the safety issue that some have brought up, which I will tackle in a follow up article, as we debunk some of the info that's been going around about weight, speed, and safety considerations, so keep an eye out for that one.
At the end of the day, we already have too many laws and almost no enforcement. In my eyes, we can choose to uphold all, or none at all, and there are no lines to be adjusted when they're already drawn in the sand. For now, the crackdown has begun and motorcyclists must still be vigilant about the bikes they bring on the highways. Until a real motion to change the law is filed or another civil action forces the hand of the TRB and toll operators, the status quo stays, even though it was a knee-jerk reaction to begin with. So instead of going after motorcycles that are less than 5% of total highway users a regular day, how about enforcing people passing on the shoulder, hogging the left lane, or making dangerous lane changes? Those make things dangerous for everyone. That will have more of an effect on traffic safety and flow than anything else. Let us enjoy our two-wheeled vehicles in peace, as we're already paying the same as class 1 vehicles for some reason. But that's a story for another time, and if you've made it to the end of this article, I'm already preaching to the choir.
---
Related Articles
Changing sprocket size is popular for performance riders looking to get the most out of their bike's performance. Let's take a look at the pros and cons of doing so.

Here's a quick listicle of activities you can do if you can't ride your motorcycle because of bad weather.

Never ignore these 3 warning signs that could mean that your bike needs a new chain and sprocket.

Looking to buy an automatic transmission motorcycle? Let's take a closer look at two of the most popular transmission types: DCT and CVT.

Here are 5 maintenance items you should never skip, especially during the rainy season.
---
Latest Features
Here are 5 helmets to consider if you're looking for a high quality helmet that won't break the bank.

Here's Jinno's list of top 5 accessories for the Yamaha Tenere 700, all of which can easily be installed by average home mechanics.

Let's take a look at our top 5 picks for the best big bikes under 200 kilograms on the market today.