/ Review
Furygan Mistral Evo 3 Jacket — Gear Review
Presenting, your next jacket, probably. Furygan's entry-level riding jacket is far from being just another jacket.

on Nov 25, 2022
Furygan is a new brand in the country, and when I got in touch with the distributors, WWR Manila, it was hard to resist bringing one of their jackets home. For most riders, Furygan's sporty yet sedate designs will be enough to fit almost any bike, and the Mistral Evo 3 will not only fit most riders' styles but also a bunch of budgets. Oh, and did I mention that it is French?
You can imagine my disbelief when WWR came in with Furygan. I've heard of the brand from word of mouth and international news outlets, but I never expected that someone in the Philippines had the vision to see that the brand would do well here. If you're shopping in the sub-P10,000 price range for a motorcycle-specific jacket, this is a piece that's worth considering.
Design
I've been a fan of sporty jackets ever since I started riding. Still, since my job requires me to review different kinds of bikes all the time, you might understand my difficulty when it came to buying one jacket that would fit most motorcycles, be it new, retro, or adventure. Sporty jackets tend to be colorful, loud, or just plain black with a lot of technical fabrics. On top of that, literally, you may find logos everywhere, plastered all over your arms, chest, and even your back, and perhaps colors that won't necessarily match your particular bike (a common culprit is red, not all bikes are red!).
Now finally, here's a jacket that is, at least to me, a middle ground between the two styles. It's very sedate, has few logos on it, and can work on neo-retro and also modern machines—again, in my opinion, because style is very subjective. Though, you be the judge. I like the fact that the logos are not very prevalent. I'm also a fan of this jacket in the blue, brown, and black colorways, apart from the white that I (and Jinno) chose. I find that it fits motorcycles like the BMW RnineT, Yamaha XSR series, Honda CB650R, and other models that have modern-retro styling cues. The jacket also works well with sport naked motorcycles, but I'd say that it's better for you to look into Segura (Furygan's sister brand) if you own something like a Royal Enfield or if you really want to lean into the cafe-racer lifestyle. All this is to say that it's a perfect jacket to look at if you find yourself in between the neo and the retro.
As for the rest of its design, it's got vents in the underarms, torso, and back. Materials are of good quality, thick but light, and the jacket feels like it'll last you for years to come. Some of the features I like are the hooks and cinches. Furygan designed a hanger hook on the inner collar, and some belt loops to keep the jacket from riding up, and it also has four pockets in total giving you just enough storage for your wallet, a phone, or receipts. Also to dial in the fit, you get two snaps on your biceps, one for each cuff, and waist straps. One gripe that I have with this jacket is native to the white variant of it, which tends to get dirty easily and retain stains. Over time, it might look more worn compared to the black version.
Comfort and Fit
Furygan has a good selection of materials for its Mistral Evo 3. Textiles ensure slide protection is quite thick, and the vents are also made from 3D mesh which allows for a lot of air through the panels. The jacket also features an inner comfort liner which is good for keeping your skin from chaffing on the outer layers of the piece. The jacket is also quite light to wear compared to other jackets tanks to the D3O armor and perhaps the lack of a back protector.
Meanwhile, the fit is definitely European, with the forearms being tighter than most jackets. Also, Furygan actually brings in the small sizes for this jacket, so thin riders such as myself will fit into this with no problem. However, I will note that the midsection and the arms of this particular model are a little trim compared to others. Slim riders will appreciate how tailored the jacket feels while healthier riders may need to size up.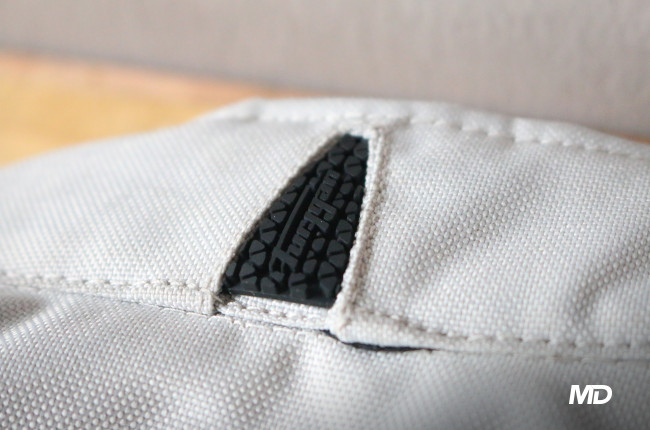 Other than that, a complaint that I have about this jacket is that it tends to get a little hot compared to fully-mesh jackets. Textile is great to have and it protects way better than a full mesh garment, but the con is that a half-mesh-half-textile jacket will be hotter than a full mesh one. I felt the heat a little while going through traffic especially in the textile areas so it's something to keep in mind. On the highway, you'll definitely feel the airflow if you go faster than 60 km/h, otherwise, it'll get a little toasty. Consider this jacket if you find yourself on the highway a lot or if you do a bulk of your riding at speeds faster than 50 km/h. If you go through city traffic regularly, however, get used to some heat since the textile is a little thick. Still, better than a jacket that'll barely protect in a slide, right?
Safety
Also impressive is the fact that Furygan was able to supply this jacket with D3O shoulder and elbow armor pads. These pads are extremely flexible and comfortable to wear, but they're also CE-Level-1 rated, which means they will do you good for minor to major impacts. I recommend an upgrade to CE Level 2 if you want to protect against severe impacts.
However, the back protector and the chest protector are sold separately, and Furygan has its own proprietary chest protector, but the back protector looks like it's a standard D3O unit. It's worth trying out the generic D3O back protector, but you will really have to go to Furygan if you want the chest armor.
To conclude the safety section on a happier note, however, the jacket is single-A rated for slides. It'll protect you against most slides, which should be enough for your daily or weekend ride.
Verdict and Price
At the start of this review, I mentioned that this jacket is perfect for riders looking for a catch-all motorcycle jacket for under P10,000. Well, be prepared to only pay P8,500 for the Furygan Mistral Evo 3. Let's review, it's a European brand with CE Level 1 D3O armor, sans a back protector, has textile that is Class A rated for slides, and is very conservative when it comes to logos and its overall design.
In my view, the Mistral Evo 3 is a home run if you like clean designs. It's also perfect if your style is somewhere in the middle of neo and retro, heck you could even wear this on an adventure bike and it won't look too out of place. It's kind of that "jacket-of-all-trades" so to speak which is why it was my choice and Jinno's as well. It is also the most affordable in the lineup, but I don't think "entry-level" is a good descriptor for it. As far as I've seen, it's got some high-end features going for it, great build quality, and a not-so-European price, even if it is from a European brand.
I'd recommend Furygan for riders that have a mid-sized budget for gear. There are more affordable jackets out there, but if you want something a little bit more special, then the Mistral Evo 3, or any jacket from WWR's selection could be worth a look for a little bit more coin.
---
Related Articles
The Pan America is not without its flaws, but it's a great first attempt at a proper adventure-tourer from the brand.

4.2

/

5

It can compare with a Vespa, full stop, but does it beat it?

4.1

/

5

The new ADV scooter has a 157cc engine, traction control, and a host of other improvements over its predecessor.

We stretched the RC 200's legs on track and were thoroughly impressed.

The Augi AR6 Racing is a versatile all-around sport riding boot with a novel enclosure system.
---
Latest Review
We were one of the first to get our hands on the KTM 890 Duke R in the Philippines. Read on to see what makes this bike so special.

CFMOTO's electric subsidiary, ZEEHO, proves that the future is indeed electric with the AE8. Read all about this next-gen electric scooter in our full review.

4.6

/

5

We got the chance to run the Mitas Touring Force sport-touring tires through their paces. Read on to see if they're worth your hard-earned money.