/ Review
Augi AR6 Racing Boot—Gear Review
Whether at a track day or a sporting tour, Augi's AR6 Racing boot is a mix of comfort, convenience, and protection for longer rides, fast ones, or a little bit of both.

on Apr 04, 2022
Admittedly, one of the first pieces of gear that I got when starting out my life on two wheels was a pair of boots, Timberland boots to be exact. Back then, it was unclear whether I'd go neck-deep into the world of motorcycles so I got a happy-medium option that offered just enough protection but with the style that I could still take off the bike. Fast forward a few years later and I'm up to my ears into the motorcyclist lifestyle and my casual boots have been taking a beating.
With this in mind, and with the idea that I'd be riding a lot, boots once again came to mind. Casual riding sneakers were out of the question this time around and I wanted a more dedicated pair for long rides and the occasional track day. To my dismay, name-brand boots are very expensive with some going for P20,000 or more. Not wanting to compromise on quality, however, I found Augi which is distributed by Triumph JT. Special thanks to Jayson for recommending this pair.
Design and build
When perusing the showroom of Triumph JT in Caloocan, the AR6 in its black and red colorway struck me the most out of all the boots on the rack. Jayson remarked that it is part of Augi's new line of boots and it's likely that the other models will follow suit once the line gets a full overhaul. The boot features the total package that you can come to expect from a pair of this type such as toe sliders, shift pads, reinforced soles, reinforced heel counter, ankle protectors, as well as a sturdy synthetic leather upper.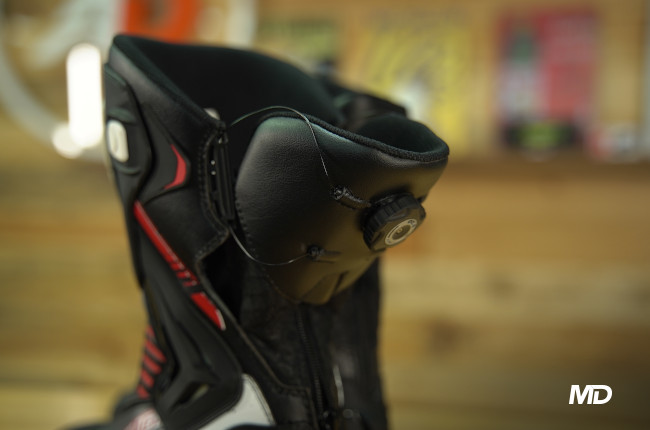 The main selling point of the AR6 is that it comes with an ATOP cable enclosure system. It doesn't use any buckles or laces to secure your foot inside the boot. Instead of fiddling with buckles and straps, all you have to do is twist and zip, yep, as simple as that. After your ride, simply twist the dial the other way, unzip and slide your feet out. It's one of the more convenient enclosure systems that I've experienced, and it's usually found in way more expensive boots. To have this type of system at this price point is commendable.
However, there was a minor quality control issue that I encountered after a few rides with the boots with the sole separating from the heel. I will admit that I am a harsher rider than most and I do tend to walk around a lot after I ride, usually taking the boots around while malling or at events and squatting down to take low-angle pictures, so that could explain the sole separation. After noting the issue and after a quick message to Jayson, I got a replacement pair and the boots have been doing fine ever since. With that being said, it always pays to inspect and try on your boots before checking out at the counter. Still, no love was lost for the AR6s, and Jayson's recommendation of "trust me, they're comfy," still rings true even after several hundred-kilometer rides.
The sizing fits true, but I do have to mention that my feet are quite narrow. If you have a flat foot or wide foot I do recommend that you go half a size up. The toe box was a little stiff at first and it took about two rides to get used to the bulk and the added protection, but after a ride or two, the boots feel like they're one with you while on the bike. They look a little funny off the bike though, as our esteemed video host, Jinno Rufino, mentioned.
Performance and safety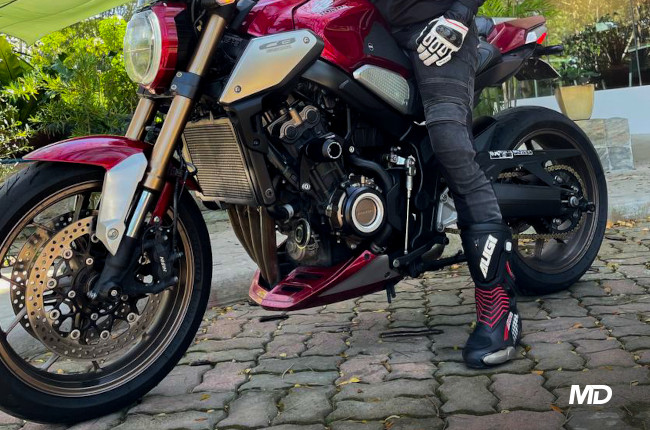 I'd be lying if I said that the boots didn't give me a placebo effect while riding, but on a more positive note, it did reinforce good cornering habits and helped me keep my legs supported while my toes were on the pegs. The sole was pretty stiff out of the box and stayed stiff for quite a few rides. After the upper broke in, the boots were still stiff but only in places where it really mattered for support. If you're coming from an ankle-cut boot, expect the cuff to snag a little on the bike from time to time as the boots are quite bulky, but do expect a ton more support, especially while you stand on the pegs. You don't have to rely that much on your leg muscles to keep yourself supported on the pegs, and that's good for taking corners harder and giving you a sense of stability while leaning over.
Once you get used to the bulk, the Augis fit securely and give you a one-to-one feeling while on the bike with added stiffness in all the right places. It takes a little while to get acquainted with the muscle strength and memory needed to toe the shifter up and to get used to finessing the rear brake with such a reinforced sole, but it's all a matter of practice. I ride a Honda CB650R and these boots match well with the footpegs of my bike. The sole felt very precise on metal footpegs, but I was not able to test these boots on a bike with rubber footpeg inserts. With that, I feel that the boots will work best on sportbikes and sport nakeds. Sport tourers are also good, and you can perhaps rock these on an adventure bike, but the AR6s will be a little out of place on a scooter, but don't let me tell you how to dress while dragging knee on your Vespa.
On the safety front, the boots have flexible thermoplastic on the shin, toe shifter, and heel in case of slides, while the ankle protection is made from a rubber material for impact protection. The toe sliders are made out of thermoplastic and Zinc alloy and Triumph JT has a stock of replacement sliders should you wear your current set out. Fortunately, I didn't test just how protective these boots are, but there are some cases where Augi boots prevented a crash from ending a rider's career, which I feel we do have to mention.
Verdict and price
For a retail price of P10,950, it's a bit of an ask for a new rider, but for the riders that want a racing boot that can double as a sport-touring boot, the Augi AR6 is one of the better values for money in the market today. I took these boots out on long rides through provincial roads, highways, and the twisties and they've gone above and beyond what I thought was possible at this price point. Still, there are other more affordable options available in the market if you comb online sites like Shopee or Lazada. Typically, there are boots retail for less than P10,000, but after trying those pairs, the Augi's won the day when it came to out-of-the-box quality as well as design.
I'd wholly recommend the Augi AR6 to any rider that values protection and on-bike comfort. There is something also reassuring about a boot that goes up to your shins, but it's not for everybody. If you go on long rides, head to the track, or perhaps want a little bit of leg insurance, nothing beats a full-height boot and the AR6 is optimal as a second pair of "more serious" boots. I still alternate between these boots and my casual pair depending on the occasion. If I'll be spending a considerable time off the bike, I'd rock the casual pair, but if I'm going far, I'd opt to take the Augis.
Again, not everyone will rock a pair of boots like these. In fact, as I was leaving the Triumph JT showroom in Caloocan, a fellow rider asked me how much the boots were. I replied with the retail price and he was in immediate shock. I understand that a lot of Filipinos don't have the luxury of being able to afford boots like these, and my reply to him was: "They are pricey, but I'd take the P10,950 receipt over a hefty hospital bill any day."
Special thanks to Jayson of Triumph JT for accomodating our many questions and touring us around the Triumph JT headquarters in Caloocan.
Photo Gallery
---
Related Articles
We recently got our hands on the shiny new Shark Spartan RS helmet, and we were thoroughly impressed.

The PackTalk Edge is the latest and greatest from Cardo, find out whether it's worth buying on this Gear Review.

Let's take a look at the Kriega Trail 18 backpack, and see why this bag is one of the best all-rounders in the market.

Poweroad's lithium batteries offer lightness and longevity for your motorcycle, but is it worth upgrading to and can you upgrade to it?

If you're in the market for a new pair of touring boots, Falco's Land 3 could fit the bill perfectly. Read more about it here.
---
Latest Review
Read on to learn more about the capable Aprilia Tuono 660, a disruptive force in the middleweight sportbike segment.

4.4

/

5

We got the chance to run the 2023 Triumph Speed Triple 1200 RR through its paces, and needless to say, it was a thrilling, adrenaline-fueled ride.

We recently got our hands on the shiny new Shark Spartan RS helmet, and we were thoroughly impressed.