/ Review
2022 Aprilia SR GT 200—First ride impressions
This is the Aprilia SR GT 200 scooter. Yes, the makers of the RSV4 and Tuono have a scooter.

on Apr 01, 2022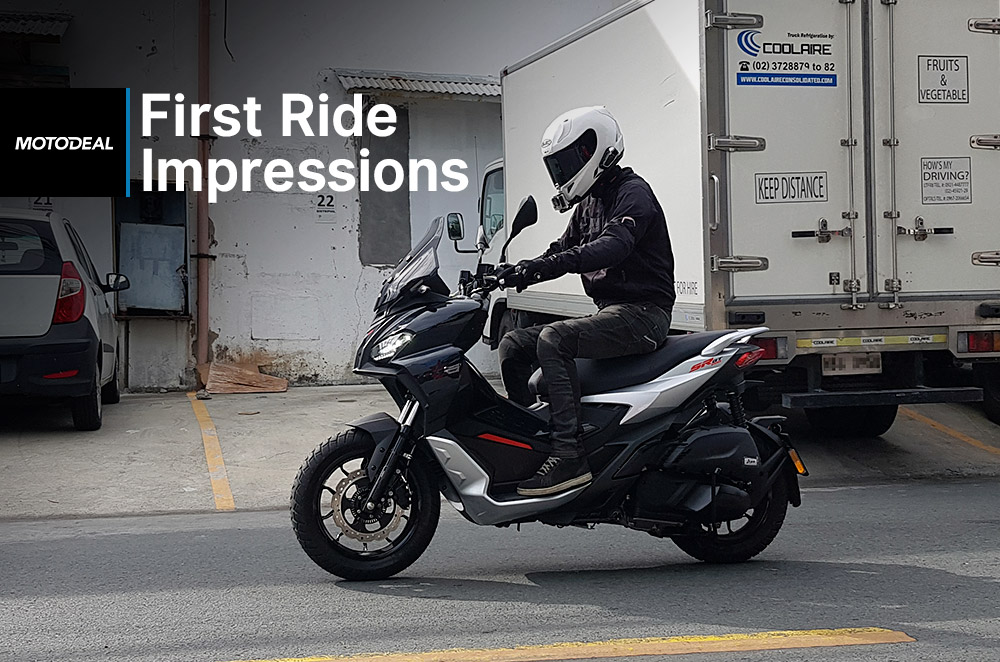 The trend of sporty maxi scooters continues in the Philippines, but this time it's not Yamaha nor is it Honda doing something special, it's Aprilia. Now, Aprilia you say? Do you mean the same guys that make the fire-breathing RSV4 and the Tuono V4? Yes. It's that Aprilia and they have a scooter. It's not all too common to see this Italian brand plying the streets, but with the new SR GT 200 scooter, the brand might just turn into a household name.
We were invited by Biker Box to test ride the new scooter around a few streets, humps, and bumps, and safe to say that our test ride made us want to consider taking the scooter out for a longer ride.
Exterior impressions
Aprilia usually hits the nail on the head with their designs, and the SR GT 200 does not disappoint. It's remarkable how the brand can go from designing something as sporty as a Tuono to something as approachable as a scooter. Then again, we have to consider that the Piaggio Group is in charge of the Aprilia brand, and there is one other Italian marque that's quite used to designing some of the nicest scooters in the industry, Vespa. If you were on the fence about a Vespa because of its looks, then look no further. Aprilia's scooter is much more masculine, but it straddles the same price point as its Vespa cousins. It's a shame that the unit we got to test wasn't in a fancier color, but that comes at a premium.
It's no surprise that the model has a good fit and finish. Not a creak nor a rattle to be felt while mounting. Though I have to say that the bike is a little tall, it's a welcome compromise given that you get extra suspension travel for the urban jungle. That being said, I stand at five foot eight inches tall, and I did have to tiptoe a little bit to put both my feet on the ground. One-foot-flat-foot is totally doable for a person of my size.
Riding impressions
After turning the key and thumbing the starter, we were greeted by a bright LCD display. It's a rather strong backlight. It was sunny during our run with the scooter, and there was no issue reading the digits on the screen. The engine fired up just like any other scooter in its class would, silent without any hint of intrusion, except for the rumble that the 174cc single had. It's not a 160cc, nor is it a 155cc so it's a little more understandable given that this is a slightly bigger thumper than its competition. In this segment of motorcycles, every cubic centimeter of displacement counts so being about 24ccs above 150 should be an added point in the SR GT's favor. From the get-go, the scooter was eager to get off the line. The CVT responded well to throttle inputs, yet its power delivery was still as approachable as a standard 150cc scoot. The bump in displacement translates well enough in practice and the engine didn't need a big fistful of throttle to get going. Open up the taps and it won't surprise you either, which isn't a bad thing so even some rather inexperienced riders don't need to be afraid.
Humps and bumps were no problem for the suspension of this scooter. We'd venture to say that it can be up there in terms of comfort and stands to be one of the most comfortable 150 to 200cc class bikes in the category, though further testing is needed. The streets outside of Bikerbox were well-paved, but humps were everywhere and we took our sweet time going over them to feel out the damping of the suspension. No disappointment for the time being.
Verdict
After a bit of small talk with the rest of the staff, the Aprilia SR GT 200 is one way to get an Italian brand in your garage, and another way to get around town if you're too lazy to bring your big Aprilia out. It's also a fantastic opportunity for a brand like Aprilia to not just make a name for themselves to pretty much everyone, but it's also a great way to reach consumers considering the price point that it commands in comparison to the rest of the bigger-displacement bikes in the Aprilia stable.
Priced at, P219,000, it's a bit much considering that you can get a 400cc big bike for expressway access, but not everyone wants that anyway. Vespa does well in the country precisely because it's as premium as scooting around town gets. Heck, there are plenty of people that pay over P200,000 for a 150cc Vespa GTS or Sprint, and there is quite a handful that don't fancy the classic look in the first place. Underpinned by the Piaggio Group's engineering, this is essentially a Vespa but with a much bolder and sportier stance plus a little more displacement and suspension travel. If a brand like Vespa can make it, then why can't Aprilia? For those of sportier tastes and with a penchant for perhaps some light off-roading, the Aprilia SR GT 200 can work.
However, the question of whether it is worth the price against the NMAX 155 or the Honda ADV 150, remains unanswered. Vespa to Aprilia, a comparison makes sense, but the premium pricing over its more common rivals makes it a bit of a nail-biter. Still, in terms of design, this is up there with the Vespas, and it's equally as stylish, albeit with a different design language altogether.
---
---
Related Articles
Read on to learn more about the capable Aprilia Tuono 660, a disruptive force in the middleweight sportbike segment.

4.4

/

5

The Honda Rebel's scrambler of a brother, the CL500, is a more standard-looking beginner big bike. Is it any good? Here's a first impression.

Yamaha's Mio Fazzio has generated quite a buzz since its launch. Is it worth the hype? Read on to find out.

Here is our first ride impressions of the brand-new 2023 Honda Transalp XL750 after a short test ride.

CFMOTO's electric subsidiary, ZEEHO, proves that the future is indeed electric with the AE8. Read all about this next-gen electric scooter in our full review.

4.6

/

5
---
Latest Review
Read on to learn more about the capable Aprilia Tuono 660, a disruptive force in the middleweight sportbike segment.

4.4

/

5

We got the chance to run the 2023 Triumph Speed Triple 1200 RR through its paces, and needless to say, it was a thrilling, adrenaline-fueled ride.

We recently got our hands on the shiny new Shark Spartan RS helmet, and we were thoroughly impressed.