/ News
Yamaha rolls out Y-Connect mobile app
Stay connected with the world around you regardless of the roads you travel.

on Feb 22, 2021
---
These days, it's very important for people to stay connected with the world around them regardless of where they go. Thanks to innovations in technology, work can be done from anywhere. With this in mind, Yamaha has launched the Y-Connect app, a mobile application meant to keep Yamaha riders connected with their mobile phones while onboard their motorcycles.
The new app works for both iOS and Android, and is compatible with Yamaha motorbikes fitted with the Y-Connect feature. It allows riders to view notifications for calls, messages, and other apps via the bike's instrument panel. Furthermore, it acts as a control module for the various features of the motorcycle. In the Y-Connect App, riders can configure certain settings of their bikes, depending on the model of their motorcycle. It even features a nifty fuel consumption tracker, which not only gives a real-time analysis of your fuel consumption, but even recommends fuel stops and alternate routes to save on gas.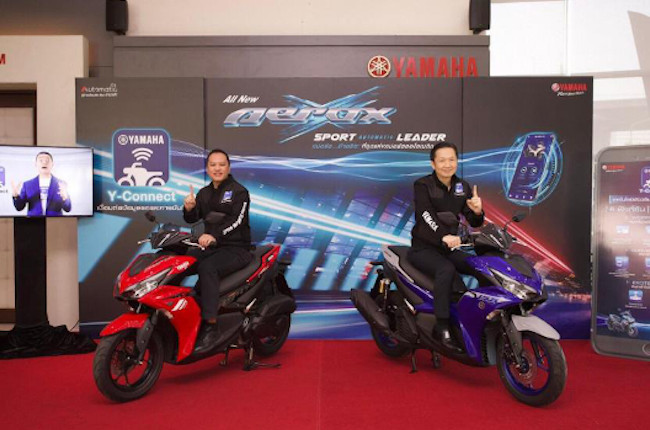 The Yamaha Y-Connect App also serves as your techie assistant when it comes to keeping your motorbike in tip top shape. It sends notifications to your phone when your next service interval is coming up, so you can rest easy knowing you'll never miss an oil change. Additionally, the app constantly scans the motorcycle's engine control unit, or ECU in order to ensure the bike's health at all times. The moment it senses an error, it will shoot a malfunction notification to your phone, along with a recommended course of action in order to rectify the problem.
Lastly, a social aspect has been integrated into the app for those who like to add a touch of competition to their daily commute. No, it isn't about who can get from point A to B fastest, but rather, eco riding and fuel efficiency mileage. Similar to mobile apps designed for cyclists such as Strava and Zwift, Yamaha Y-Connect features a global leaderboard for riders all across the globe to compete against each other and rack up eco riding points.
As of this moment, Yamaha has yet to finalize the list of motorcycles that will come equipped with the Y-Connect feature in the local market. In other countries like Indonesia and Malaysia, bikes like the Yamaha Aerox and Sniper get Y-Connect integration. That said, we can expect these bikes along with the likes of the NMAX, MT-15, and others to come equipped with this feature in the near future.
---
---
Related Articles
The new Yamaha RayZR scooter has been launched in India, featuring what the company calls a hybrid system.

Big names are banding together to create a more sustainable electric future.

Yamaha has launched its newest scooter, the Mio Gear. It features a scratch-resistant body, LED headlights, and more.

Yamaha is expected to roll out new sportbikes following the launch of the highly successful YZF-R7 in the global market.

Yamaha has pledged to be fully carbon-neutral by the year 2050. This will undoubtedly result in some changes in its model lineup.
---
Latest News
Kymco has launched the DTX 125 adventure scooter in Europe. We think it would make a decent runabout in Manila's busy roads.

Uncovered Chinese regulatory documents indicate that Aprilia is preparing to launch the new Tuono 250 soon.

Recently retired racing veteran Valentino Rossi is set to launch a new range of eMTBs.